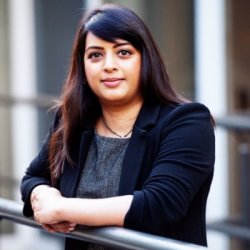 Dr Neesha Oozageer Gunowa
---
Senior Lecturer and Pathway Lead in Community Nursing
PhD, DN, RN, QN
About
Biography
Dr Neesha Oozageer Gunowa, PhD, is a Senior Lecturer and the Pathway Lead for Community Nursing at the University of Surrey.  She is a qualified nurse, district nurse and her clinical career as a nurse spans 15 years. Neesha completed her PhD at the the Oxford Institute for Nursing, Midwifery and Allied Health Research (OxINMAHR) and she is the recipient of a number of prestigious awards including Council of Deans of Health Fellowship, BJN Wound Care Nurse of the Year 2022 and Florence Nightingale Leadership and Travel Scholar.  Her expertise is focused on community nursing, nurse education and pressure ulcer identification with a strong dimension focused on health inequities. Her international networks and collaborations are extensive via virtue of her grant acquisition and research trainee supervision and include links with the US, Australia and Sweden.  Dr Neesha Oozageer Gunowa is a Senior Fellow of the 
Higher Education Academy, RCN Education Forum Steering Committee Member, a proud Queen's Nurse and Trustee of The Queen's Nursing Institute (QNI).
Areas of specialism
Community Nursing; Pressure Ulcers identification and assessment; Health Inequities; Nurse Education
Previous roles
2014 -
2020
Senior Lecturer
Kingston University and St. George's University of London
Affiliations and memberships
The Queen's Nursing Institute
Queen's Nurse & Trustee
National Wound Care Strategy Board
Invited board member
Royal College of Nursing

RCN Education Forum Steering Committee Member
Research

Research interests

My research interests include Health inequities, Pressure ulcers/injuries and Community Nursing.  I am keenly interested in inclusion and diversity in clinical practice to help people of all backgrounds to have equitable and healthy lives.
Teaching
I am the Module Leader for the following modules:
Community Practitioner Nurse Prescribing (V100)
Leading & Managing Long Term Conditions
Specialist Practice Portfolio.
I teach across the following programmes and modules:
District Nurse Pathway
Leading and Managing Long Term Conditions
Prescribing V100 
Primary & Community Care Policy
Specialist Practice Portfolio
I teach at a range of levels from 4 – 7.
Publications
Early identification of changes to the skin is one of the most important tools to protect patients who are at risk of developing pressure ulcers (Haesler, 2019). Analysis of the recording of pressure ulcers on a Trust's Incident Management system (Datix) shows that Black and Asian patients have higher representation when reporting grade 3 and 4 pressure ulcers than White patients. Staff surveys were carried out to understand the impact of patient skin tone on staff confidence when managing early signs of pressure-related tissue damage. Analysis of these surveys show that staff progressively had less confidence in identifying early signs of tissue damage in patients with dark skin tones. This reduction in confidence is consistent across different staff ethnicities and across different levels of staff experience managing pressure ulcers. Recommendations for practice to address this issue based on responses from staff about what they think works in management and identification of early signs of skin damage in patients with dark skin tones have been made.
Dismantling structural racism challenges nurses to consider the extent to which issues of inclusion, diversity and race are operationalised in day-to-day professional practice. This includes nurse education. To be truly effective, any examination of teaching content in nurse education needs to be investigated through document analysis plus observation in the classroom. However, tools to ensure consistency between these methods of collecting data are limited. To design a structured tool for collecting data by analysing teaching materials and observing teaching on pressure injuries and people with darker skin tones. This novel approach of using a single tool provides a unique opportunity to explore teaching materials and what is actually taught in the classroom. The data collected can assist with comparative analysis, enabling an in-depth view of curriculum content. The nuanced and subtle data gathered using the complementarity of analysis between teaching materials and teaching observations in the exemplar tool presented created a unique data set for examination. This tool has broad applications for nurse researchers, particularly for examining topics that are often perceived to be sensitive, such as race and skin tone. It can be used for in-depth scrutiny of classroom teaching, to develop and influence curriculum content and team discussions, and in larger studies exploring nurse education content.
In this article, we aimed to explore the literature to ascertain what research evidence exists in relation to the identification of pressure injuries in people with dark skin tones. Pressure injuries development has been widely researched and documented; however, much of this work does not address ethnicity or race and assumes Caucasian-ness. Thus, the perceptions of people with dark skin tones and the influence of skin pigmentation on identification and management of pressure injuries is under examined. Literature review. A comprehensive electronic database search was undertaken of PubMed, Cumulative Index for Nursing and Allied Health Literature, Cochrane and British Nursing Index (BNI) between 1990-July 2016. Alongside the electronic data, journals, books, papers from conferences, relevant national and international organisations and reference lists were also used to help source key studies. A search of the literature revealed 11 relevant articles. The foci of studies included the following: risk of sustaining a pressure injuries based on skin tones, identification of pressure injuries amongst people with dark skin tones, pressure injuries and place of care and socio-economic impact on pressure injuries development. Overall, findings indicate that people with darker skin tones are more likely to develop higher stage pressure injuries. Reasons for this are not fully elucidated; however, it may be associated with current skin assessment protocols being less effective for people who have darker skin tones resulting in early damage arising from pressure not being recognised. From the literature reviewed, it can be seen that there is a lack of guidance and evidence, and people with darker skin tones are more likely in comparison with people presenting as Caucasian to develop higher stage pressure injuries. The current literature suggests a need for researchers and clinicians to consider skin tone variances rather than ethnicity when exploring comprehensive skin assessment.
Objective To explore health disparity in on‐campus undergraduate nurse education through the analysis of teaching and teaching material exploring pressure injuries. Background As a discipline, nursing espouses ideologies of inclusion, equity and valuing diversity. However, little is known about how these ideologies translate into clinical care. Pressure injury prevention is a routine aspect of nursing care; yet, there is evidence of inequity in relation to clinical care and patient assessment, as people with darker skin tones have a higher prevalence of severe pressure injuries before detection of damage occurs. Despite limited literature being available surrounding the topic of pressure injuries and skin tone diversity, it remains the responsibility of nurse educators to address contemporary issues and health disparity within the nursing curriculum. Design A multiple method collective case study. The STROBE checklist was followed in reporting this study. Methods Documentary and observational data of lectures regarding pressure injuries were collected during 2017 and 2018 from five Higher Education Institutes in England delivering approved nursing undergraduate programmes. Results Documentary analysis confirmed all Higher Education Institutes overwhelmingly directed teaching and learning activities about pressure injury towards people with Caucasian skin tones. Observation of teaching indicated all teaching sessions only contained brief, separate and superficial information on people with pressure injuries and darker skin tones. There was no discursive language or awareness of colour or colour blindness. Conclusion Radical critique of all teaching and learning activities needs to occur, to help explore, improve and meaningfully and authentically include diversity and inclusivity in nurse education, and in particular, how people across the skin tone spectrum are included and represented in teaching and learning activities. Relevance to clinical practice Critical examination of current teaching practice is crucial to address disparity and ensure care for people with darker skin tones is optimised. Nurse educators have a responsibility to educate for the care needs of all, as the quality of nurse education has a direct impact on care delivery and health disparity. This paper highlights the importance of addressing skin tone diversity and offers the opportunity for reflective practice, not just in formal education, but in clinical settings by preceptors and senior staff.
Additional publications
Oozageer Gunowa, N., Hutchinson, M., Brooke, J. & Jackson, D. (2018) Pressure injuries in people with darker skin tones: a literature review, Journal of Clinical Nursing, 27(17-18), pp. 3266-3275. ISSN (print) 0962-1067
Oozageer Gunowa, N., Brooke, J., Hutchinson, M. and Jackson, D. (2020) Embedding skin tone diversity into undergraduate nurse education: Through the lens of pressure