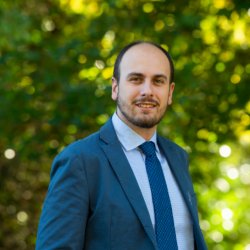 Dr Francesco Ciampa
---
Lecturer in Composite Materials and Smart Structures
Biography
Dr Francesco Ciampa is a Lecturer in Composite Materials and Smart Structures at the Department of Mechanical Engineering Sciences of the University of Surrey. Previously, he was a Lecturer at the University of Bath. Dr Ciampa has ten years of multi-disciplinary experience in numerical and experimental testing of materials and structures for the aerospace and energy sectors, in which non-destructive inspection, structural health monitoring, smart composites and energy harvesting have been his major focus areas. Dr Ciampa specialises in ultrasonic and thermographic techniques for both metallic and composite materials and he created new acousto-ultrasonic solutions for detecting and localising acoustic emissions with sparse transducer arrays.  These sensing solutions are currently used by leading aerospace companies. Dr Ciampa has published in highly impact factor journals and he has received funding from various sources as both PI and Co-I including Royal Society, EPSRC and EU.
My publications
Highlights
TOP 5 PUBLICATIONS
ANDREADES, C., MAHMOODI, P., CIAMPA, F. Characterisation of Smart CFRP Composites with Embedded PZT Transducers for Nonlinear Ultrasonic Applications. Composite Structures 206, 456-466, 2018. IF: 4.10. 
DYRWAL, A., MEO, M., CIAMPA, F. Nonlinear Air-Coupled Thermosonics for Fatigue Micro-Damage Detection and Localisation. NDT & E International 97, 59-67, 2018. IF: 2.78. 
CIAMPA, F., MANKAR, A., MARINI, A. Phononic Crystal Waveguide Transducers for Nonlinear Elastic Wave Sensing. Scientific Reports 7(1), 14712, 2017. IF: 4.12. 
CIAMPA, F., SCARSELLI, G., PICKERING, S., MEO, M. Nonlinear elastic wave tomography for the imaging of corrosion damage. Ultrasonics 62, 147-155, 2015. IF: 2.37. 
CIAMPA, F., MEO, M. Impact detection in anisotropic materials using a time reversal approach. Structural Health Monitoring 11 (1), pp. 43-49, 2012. IF: 3.79. 
Publications