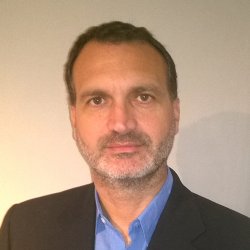 Professor Giuseppe Schettino
---
Professor of Medical Physics
Biography
Giuseppe graduated in Nuclear Physics at the University of Naples (Italy) in 1994 and obtained his PhD from King's College London (UK) (X-ray diffraction group) in 1999 working on the development of ultrasoft X-ray microbeams for radiobiological applications.
Following two postdoctoral experiences at the Gray Cancer Institute in the UK (2000-2004) (Low dose hypersensitivity response project) and the Center for Radiological Research at the Columbia University in New York (2004-2007) (High throughput biodosimeter project), he worked as Lecturer at the Centre for Cancer Research and Cell Biology (CCRCB) in the School of Medicine for Queen's University Belfast from 2007 to 2013.
In 2013, Giuseppe joined the Medical Radiation Group at the National Physical Laboratory (NPL) as Principal Research Scientist. He also covered the role of Head of Science for the Medical Physics area from 2015 to 2018.
In 2018, he become Professor of Medical Physics at the University of Surrey with a joint position with the National Physical Laboratory. 
He is also Honorary Senior Lecturer for the Queen's University Belfast and the University College London.
Research
Research interests
My main research interest is in radiation biology, advanced radiotherapy and dosimetry. It includes detection and calculation of nano- and micro-scale dose distribution, DNA damage induction by ionising radiation and its repair, radiobiological modelling, cell signalling and the resulting lethal and sub-lethal effects in normal and tumor in vitro and in vivo models.
Current ongoing research activities are focused on dosimetry and radiobiology for MRI-based radiotherapy, biological effectiveness of proton and ion beams, use of gold nanoparticle as radio-sensitizers, definition of new dosimetry quantities closely related to biological response and biological optimization of treatment plans.
I am also leading UK activities for standardization of dosimetry and QA processes for pre-clinical radiotherapy & radiobiology research. This program is sponsored by the UK government through the Innovate UK agency and supported by the UK Clinical and Translational Radiotherapy Research Working Group (CTRad) and Cancer Research UK (CRUK).
My publications
Publications
The clinical introduction of magnetic resonance imaging guided radiotherapy has
prompted consideration of the potential impact of the static magnetic field on biological
responses to radiation. This review provides an introduction to the mechanisms of
biological interaction of radiation and magnetic fields individually, in addition to a
description of the magnetic field effects on megavoltage photon beams at the
macroscale, microscale and nanoscale arising from the Lorentz force on secondary
charged particles.
A relatively small number of scientific studies have measured the impact of combined
static magnetic fields and ionising radiation on biological endpoints of relevance to
radiotherapy. Approximately half of these investigations found that static magnetic
fields in combination with ionising radiation produced a significantly different outcome
compared with ionising radiation alone. MRI strength static magnetic fields appear to
modestly influence the radiation response via a mechanism distinct from modification
to the dose distribution. This review intends to serve as a reference for future biological
studies, such that understanding of static magnetic field plus ionising radiation
synergism may be improved, and if necessary, accounted for in magnetic resonance
imaging guided radiotherapy treatment planning.
Kokurewicz K., Brunetti E., Welsh G. H., Wiggins S. M., Boyd M., Sorensen A., Chalmers A. J., Schettino G., Subiel A., DesRosiers C., Jaroszynski D. A.
(2019)
Focused very high-energy electron beams as a novel radiotherapy modality for producing high-dose volumetric elements,
Scientific Reports
9
10837
pp. 1-10
Nature Research
The increased inertia of very high-energy electrons (VHEEs) due to relativistic effects reduces scattering and enables irradiation of deep-seated tumours. However, entrance and exit doses are high for collimated or diverging beams. Here, we perform a study based on Monte Carlo simulations of focused VHEE beams in a water phantom, showing that dose can be concentrated into a small, well-defined volumetric element, which can be shaped or scanned to treat deep-seated tumours. The dose to surrounding tissue is distributed over a larger volume, which reduces peak surface and exit doses for a single beam by more than one order of magnitude compared with a collimated beam.
Additional publications
Ricketts, K., R. Ahmad, L. Beaton, B. Cousins, K. Critchley, M. Davies, S. Evans, I. Fenuyi, A. Gavriilidis, Q.J. Harmer, D. Jayne, M. Jefford, M. Loizidou, A. Macrobert, S. Moorcroft, I. Naasani, Z.Y. Ong, K.M. Prise, S. Rannard, T. Richards, G. Schettino, R.A. Sharma, O. Tillement, G. Wakefield, N.R. Williams, E. Yaghini, and G. Royle, Recommendations for clinical translation of nanoparticle-enhanced radiotherapy. Br J Radiol, 2018: p. 20180325.
Ghita, M., C. Fernandez-Palomo, H. Fukunaga, P.M. Fredericia, G. Schettino, E. Brauer-Krisch, K.T. Butterworth, S.J. McMahon, and K.M. Prise, "Microbeam evolution: From single cell irradiation to preclinical studies", (2018) Int J Radiat Biol. p.1-32.
Ghita, M., S.J. McMahon, H.F. Thompson, C.K. McGarry, R. King, S.O.S. Osman, J.L. Kane, A. Tulk, G. Schettino, K.T. Butterworth, A.R. Hounsell, and K.M. Prise, "Small field dosimetry for the small animal radiotherapy research platform (SARRP)", (2017) Radiat Oncol. 12 (1); p.204.
Kokurewicz, K., G.H. Welsh, E. Brunetti, S.M. Wiggins, M. Boyd, A. Sorensen, A. Chalmers, G. Schettino, A. Subiel, C. DesRosiers, and D.A. Jaroszynski, "Laser-plasma generated very high energy electrons (VHEEs) in radiotherapy", (2017) Proc. SPIE. Conference Volume 10239 (Medical Applications of Laser-Generated Beams of Particles IV: Review of Progress and Strategies for the Future);
Ghita, M., S.J. McMahon, L.E. Taggart, K.T. Butterworth, G. Schettino, and K.M. Prise, "A mechanistic study of gold nanoparticle radiosensitisation using targeted microbeam irradiation", (2017) Sci Rep. 7 p.44752.
Dummott, L.M., G. Schettino, P. Seller, M.D. Wilson , M.C. Veale, and S. Pani, "Effects of dead time on quantitative dual-energy imaging using a position-sensisitve spectroscopic detector", (2017) Proc. SPIE. 10132 (Medical Imaging 2017: Physics of Medical Imaging); p.1-9.
O'Keeffee, S., L. Chen, E. Lewis, M. Grattan, A.R. Hounsell, G. Whitten, and G. Schettino, "Effects of Magnetic Field on an Optical Fibre Radiation Dosimeter", (2017) Sensors IEEE. p.1-3.
Rosa, S., C. Connolly, G. Schettino, K.T. Butterworth, and K.M. Prise, "Biological mechanisms of gold nanoparticle radiosensitization", (2017) Cancer Nanotechnol. 8 (1); p.2.
Acheva, A., G. Schettino, and K.M. Prise, "Pro-inflammatory Signaling in a 3D Organotypic Skin Model after Low LET Irradiation-NF-kappaB, COX-2 Activation, and Impact on Cell Differentiation", (2017) Front Immunol. 8 p.82.
Subiel, A., Ashmore R., and Schettino G., "Standards and Methodologies for Characterizing Radiobiological Impact of High-Z Nanoparticles", (2016) Theranostics. 6 (10); p.1651-1671.
Marshall, T.I., P. Chaudhary, A. Michaelidesova, J. Vachelova, M. Davidkova, V. Vondracek, G. Schettino, and K.M. Prise, "Investigating the Implications of a Variable RBE on Proton Dose Fractionation Across a Clinical Pencil Beam Scanned Spread-Out Bragg Peak", (2016) Int J Radiat Oncol Biol Phys. 95 (1); p.70-7.
Taggart, L.E., S.J. McMahon, K.T. Butterworth, F.J. Currell, G. Schettino, and K.M. Prise, "Protein disulphide isomerase as a target for nanoparticle-mediated sensitisation of cancer cells to radiation", (2016) Nanotechnology. 27 (21); p.215101.
McQuaid, H.N., M.F. Muir, L.E. Taggart, S.J. McMahon, J.A. Coulter, W.B. Hyland, S. Jain, K.T. Butterworth, G. Schettino, K.M. Prise, D.G. Hirst, S.W. Botchway, and F.J. Currell, "Imaging and radiation effects of gold nanoparticles in tumour cells", (2016) Sci Rep. 6 p.19442.
Chaudhary, P., T.I. Marshall, F.J. Currell, A. Kacperek, G. Schettino, and K.M. Prise, "Variations in the Processing of DNA Double-Strand Breaks Along 60-MeV Therapeutic Proton Beams", (2015) Int J Radiat Oncol Biol Phys. 95 p.86-94.
Ghita, M., C.B. Coffey, K.T. Butterworth, S.J. McMahon, G. Schettino, and K.M. Prise, "Impact of fractionation on out-of-field survival and DNA damage responses following exposure to intensity modulated radiation fields", (2015) Phys Med Biol. 61 (2); p.515-526.
Palmans, H., H. Rabus, A.L. Belchior, M.U. Bug, S. Galer, U. Giesen, G. Gonon, G. Gruel, G. Hilgers, D. Moro, H. Nettelbeck, M. Pinto, A. Pola, S. Pszona, G. Schettino, P.H. Sharpe, P. Teles, C. Villagrasa, and J.J. Wilkens, "Future development of biologically relevant dosimetry", (2015) Br J Radiol. 88 (1045).