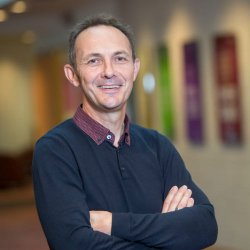 Dr Graham Berridge
---
Principal Teaching Fellow in Events
PhD; MA; BA (Hons); National Teaching Fellow
About
Biography
Dr. Graham Berridge is a Principal Teaching Fellow and is Head of the Department for Events in the School of Hospitality and Tourism. He has over 25 years' experience teaching in Higher Education and of working on a range of events from community to international sports. He coordinates several local cycling events annually. He is also a certificated assessor for the A Greener Festival initiative. He is the author of the book Events Design and Experience and has published and presented extensively on the subject of events and experience. His current research interests are directed mainly by qualitative studies – notably an on-going experiential ethnography on participant experiences at long-distance ( sportive ) cycle events, and he has a number of active research projects on mobile methods for data capture (cycling), art and décor at the tour de France and the consumption and festivalisation of cycling.
He is a founder member of AEME and is a member of the Critical Event Studies group and the Event Design Research Centre. In 2008 he was awarded a Research in Teaching Excellence (RiTE) grant to research the practices of bidding and pitching for event contracts. Part of this research included a semester teaching at the University of Queensland, Brisbane. In 2010 he was awarded National Teaching Fellowship status as recognition for his excellence in teaching, learning and research for events. 
His research interests centre on deepening our understanding of the meanings and experiences people get from attending events, focussing on the design and analysis of those experiences. He has an ongoing interest in the impacts of events and with a specific interest in cycling. He has numerous published research papers in the events field dating back to 2000 and is the author of the textbook Events Design and Experience published by Elsevier. His PhD, awarded in 2015, is titled: Event Experiences: Design, Management and Impact. 
Research collaborations
Leeds Metropolitan University
Sheffield Hallam University
Napier University
A Greener Festival
Affiliations
Fellow of the Higher Education Academy
Member of AEME; LSA
Research

Research interests

Research interests

Experiential Ethnography
Event Experiences
Event Design
Cycling and society
Student Emotions & Feedback
Supervision
Postgraduate research supervision
PhD - Developing a model of crowd management based on group behaviour theory; The case of The Hajj
Joint supervisor
Teaching
Event Industry
Event Design
Eventful Cities
Business Events
Critical Event Studies
Publications
Authored books: 
Berridge, G. (2007) Event Design and Experience. Elsevier BH: Oxford.
Research papers:
Berridge, G., May, D., Kitchen, E. and Sullivan, G. (2019). A study of spectator emotions at the Tour de France. Event Management. 4, 2019.
Berridge, G., Moore, T., & Ali-Knight, J. (2018) Promoting and assessing sustainability at Festivals: a Case Study of the 'A Greener Festival' initiative in Seraphim,H, and Nolan, E (eds) Green Events and Green Tourism: an international Guide to Good Practice. Greenleaf Publications.
Westwood, C., Schofield, P. & Berridge, G., 2018. Agricultural shows: visitor motivation, experience and behavioural intention. International Journal of Event and Festival Management, 9(2), pp.147-165.
Berridge, G. (2014) The Gran Fondo and Sportive experience: A look at cyclists' requirements and event professionalization. Event Management. V18, 1
Berridge, G. (2012) Event Experience: A case study of differences between the way in which organizers plan an event experience and the way in which guests receive the experience. Journal of Parks and Recreation Administration, V30,3
Berridge, G. (2012) The promotion of cycling in London: the impact of the 2007 Tour de France Grand Depart on the image and provision of cycling in the capital. Journal of Sport and Tourism, Vol.17, 1.
Berridge, G. (2010) Event Pitching: The role of design and creativity. International Journal of Hospitality Management. Vol. 29, 2.
Berridge, G. (2007) Destination Image: how events and experiences can be effective re/imagineering tools. Orion Journal of International Hotel Management, #3.