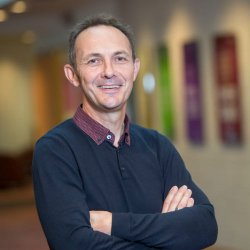 Graham Berridge
---
Senior Teaching Fellow in Events
Biography
Biography
Graham joined the University in 2014 as a Senior Teaching Fellow in Events. He has been at the forefront of the emergence of event management in higher education since the late 1990s and developed one of the earliest full undergraduate events courses in 2000 at the University of West London. He is a founder member of the Association of Events Management Education (AEME) and the Event Design Research Centre. In 2008 he was awarded a Research in Teaching Excellence (RiTE) grant to research the practices of bidding and pitching for event contracts. Part of this research included a semester teaching at the University of Queensland, Brisbane. In 2010 he was awarded National Teaching Fellowship status as recognition for his excellence in teaching, learning and research for events.
His research interests centre on deepening our understanding of the meanings and experiences people get from attending events, focussing on the design and analysis of those experiences, their impacts and with a specific interest in cycling. He has numerous published research in the events field dating back to 2000 and is the author of the textbook Events Design and Experience published by Elsevier. He is currently completing his PhD by publication.
His background in events ranges from working in community festivals and galas through to national and international sports events. He was British Cycling Representative for Mountain Biking at the 1996 Atlanta Olympics and is still actively involved in running amateur cycle events.
Research interests
Experiential Ethnography
Event Experiences
Event Design
Cycling and society
Research collaborations
Leeds Metropolitan University
Sheffield Hallam University
Affiliations
Fellow of the Higher Education Academy
Member of AEME; LSA
My publications
Publications
There has recently been a significant upsurge in popularity in cycling with not only increased participation evident but also new participants taking up cycling, especially in the UK, parts of Europe, US, and Australia. The branch of cycling that has witnessed the largest growth, in both numbers of events and participants, is the ?gran fondo? or ?sportive? cycle event. However, very little is known about either the organization of these events or the cultural experiences of cyclists participating in them. The focus of this article is to provide an exploratory narrative of the characteristics of a gran fondo or sportive, explored via a participant observation approach and interpreted through the use of experience theory. Drawing upon the exploratory stage of a larger ?experiential ethnography? of cyclists at these types of events, the article presents observation findings from 12 event days to identify key characteristics of these events as experienced by participants. These are understood and contextualized within a discussion around the nature and concept of event experiences and related to the need for professional event organizers to identify experience components by applying models of experience within a management framework.