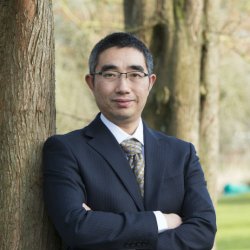 Dr Guohong Tian
---
Senior Lecturer in Automotive Engineering
About
Biography
Dr G Tian joined the University of Surrey in June 2015. Prior to this, he was a Lecturer at Sir Joseph Swan Centre for Energy Research, Newcastle University from 2010 to 2015, after serving Birmingham University as a Research Fellow from 2008.He has many years of experience in internal combustion engine research. He has collaborated with a number of industrial partners including Jaguar Land Rover, Cummins, BP, Shell, JCB, Continental and Avid.
University roles and responsibilities
Departmental rep of Faculty International Relations Committee and Mobility Committee

Departmental coordinator of Headstart and Summer School
Research

Research interests

Alternative fuels for Internal Combustion engines
Engine spray and combustion diagnostics
Advanced engine combustion technologies
Novel engines technologies including free piston engine, con-rod-less engine and scroll engine
Engine waste heat recovery by organic Rankine cycle
Desalination

I am developing a state-of-the-art engine test bench with an FTIR based emission analyser. The test bench will be capable of conducting any up to 180kW heavy or light duty engine research in the area of alternative fuel, advanced combustion technology, waste heat recovery system or after-treatment system development. The bench can also be used as a platform for engine sub-systems research and development.

A high speed imaging system for spray and combustion research is under development, together with a supercritical injection test rig. For more information please get in touch.

Research projects

KTP project with William Medcalf Limited

This project aims to use modern engine development technologies to improve vintage Bentley engine performance without losing the original taste of the drivability.

ADVICE-ADvancing user acceptance of general purpose hybridized Vehicles

This project is funded by Improved Cost and Efficiency. Our aim in this H2020 project is to understand and optimise the thermal energy management of an hybrid vehicle IC engine
Supervision
Postgraduate research supervision
Mr Ioannis Kalargaris, project topic: Pyrolysis oils in commercial scale IC engines
Mr Simon Emhardt, project topic: Development of Scroll Expander
Teaching
ENG1062 Fluid Mechanics & Thermodynamics
ENG2119 Powertrain design & Chassis Engineering
ENG2087 Design Project
I am interested in taking promising graduate research students in the area of vehicle powertrain system. If you need support in applying for a scholarship for a PhD studentship, including CSC scholarship, please get in touch.