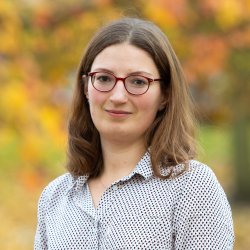 Dr Helen Sims-Williams
---
Postdoctoral Research Fellow in the Surrey Morphology Group
BA (UCL), MPhil, DPhil (Oxford)
About
Biography
My research investigates the relationship between language change and language structure. I use data from language change as evidence for questions about the mechanisms underlying change and how language is structured in the mind, incorporating quantitative and computational tools of analysis.
I am a postdoctoral researcher in the Surrey Morphology Group (SMG). My current project, Predicting Language Evolution (funded by the Leverhulme Trust), aims to produce statistical models of morphological change.
Before returning to Surrey I was a researcher at the Centre for Language Evolution at the University of Edinburgh, where I developed computer simulations to explore links between sociolinguistic typology and linguistic complexity, as part of the ERC project The Evolution of Linguistic Complexity.
From 2016-2019 I was a postdoctoral researcher in SMG working on the AHRC funded project Loss of Inflection.
In 2016 I completed my PhD at the University of Oxford on the subject of Analogy in Morphological Change.
Areas of specialism
Morphology;
Historical linguistics;
Greek;
Computational linguistics
My qualifications
2016
DPhil in Linguistics
University of Oxford
2010
MPhil in Linguistics
University of Oxford
2008
BA (Hons) in Classics
University College London
Publications
This paper demonstrates that morphological change tends to involve the replacement of low frequency forms in inflectional paradigms by innovative forms based on high frequency forms, using Greek data involving the diachronic reorganisation of verbal inflection classes. A computational procedure is outlined for generating a possibility space of morphological changes which can be represented as analogical proportions, on the basis of synchronic paradigms in ancient Greek. I then show how supplementing analogical proportions with token frequency information can help to predict whether a hypothetical change actually took place in the language's subsequent development. Because of the crucial role of inflected surface forms serving as analogical bases in this model, I argue that the results support theories in which inflected forms can be stored whole in the lexicon.
Additional publications
Sims-Williams, Helen (2021). Token Frequency as a Determinant of Morphological Change. Journal of Linguistics, 58(3), 571-607.
Sims-Williams, Helen and Hans-Olav Enger (2020). The Loss of Inflection as Grammar Complication. Diachronica 38(1), 111-150
Bond, Oliver, Sims-Williams, Helen, and Matthew Baerman (2020). Contact and Linguistic Typology. In Raymond Hickey (ed.), The Handbook of Language Contact (2nd Edition). Wiley-Blackwell.
Sims-Williams, Helen and Matthew Baerman (2020). A Typological Perspective on the Loss of Inflection. In Svenja Kranich and Tine Breban (eds), Lost in Change: Causes and processes in the loss of grammatical constructions and categories. John Benjamins. 21-49.
Sims-Williams, Helen, & Matthew Baerman (2019). Loss of Inflection Database. University of Surrey.               https://lossofinflection.surrey.ac.uk
Sims-Williams, Helen (2016). Analogical Levelling and Optimisation: The Treatment of Pointless Lexical Allomorphy in Greek. Transactions of the Philological Society, 114(3), 315-338.
Sims-Williams, Helen (2016). Analogy in Morphological Change. (PhD Thesis, University of Oxford).