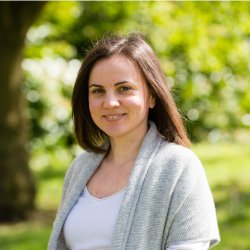 Dr Ioanna Anninou
---
Senior Lecturer in Marketing
PhD in Marketing, Senior Fellow of the Higher Education Academy
About
Biography
Before joining Surrey Business School, Joanna has been an ESRC funded Doctoral Candidate (including teaching and research assistant duties) at Cardiff Business School, Cardiff, UK. She received a BSc in Marketing and Communication from Athens University of Economics and Business and holds two MSc degrees both from Cardiff University, one in Strategic Marketing (Distinction) and the other in Social Sciences Research Methods (Distinction-part of an 1+3 ESRC Quota award). In the past, she has worked in the industry holding marketing related roles (more recently acted as a product manager in the FMCG sector), which has advanced her practical knowledge of marketing practices.
Her research is concerned with understanding why consumers behave the way they do, taking into consideration the influence of their affect. It covers three key areas: research and theories of affect/ emotions, environmental influences and decision making.
Departmental duties
Programme Director: BSc Business Management
Research

Research interests

Joanna's current research work lies in the developing research area of consumer confusion and her research interests include:

the formation of retail environments,
shopping motivation,
consumer emotions and decision-making,
differences (and bridging potential) of cognitive with behavioural psychology and;
the theoretical and practical implications of using either the extensional or the intentional languages and philosophical frameworks in consumer research.
Teaching
Joanna is a Senior Fellow of the Higher Education Academy and an experienced teacher on most marketing modules. Her expertise lies more with consumer behaviour, digital marketing and marketing research.
Digital Marketing in Retail (UG)- Module Leader
Digital Marketing and Social Media
Applied Marketing Research
Research in Marketing (UG)
International Fashion Marketing (UG)- Module Leader
Marketing Strategy (UG)
Publications
Additional publications
Book Chapters
Anninou, I. (2022). Tourism Confusion. In Buhalis D (Ed). Encyclopaedia of Tourism Management and Marketing. London: Edward Elgar Publishing. 
Anninou, I. (2019). Using online panels as a data collection technique. In SAGE Research Methods Cases (ed. Brindle, P.). London: SAGE Publications.
Anninou, I., Foxall G. & Pallister, J.G. (2015). Consumer Confusion: A BPM perspective. In Foxall R.G. (Ed). Routledge Companion to Consumer Behavior Analysis. Oxon: Routledge.