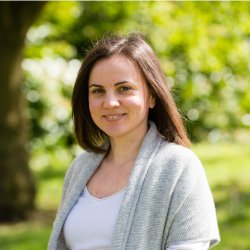 Dr Ioanna Anninou
---
Senior Teaching Fellow in Marketing/ Programme Director BSc Business Management
PhD in Marketing
Biography
Biography
Before joining Surrey Business School, Joanna has been an ESRC funded Doctoral Candidate (including teaching and research assistant duties) at Cardiff Business School, Cardiff, UK. She received a BSc in Marketing and Communication from Athens University of Economics and Business and holds two MSc degrees both from Cardiff University, one in Strategic Marketing (Distinction) and the other in Social Sciences Research Methods (Distinction-part of an 1+3 ESRC Quota award). In the past, she has worked in the industry holding marketing related roles (more recently acted as a product manager in the FMCG sector), which has advanced her practical knowledge of marketing practices.
Her research is concerned with understanding why consumers behave the way they do, taking into consideration the influence of their affect. It covers three key areas: research and theories of affect/ emotions, environmental influences and decision making.
Departmental duties
Programme Director: BSc Business Management
Research
Research interests
Joanna's current research work lies in the developing research area of consumer confusion and her research interests include:
the formation of retail environments,
shopping motivation,
consumer emotions and decision-making,
differences (and bridging potential) of cognitive with behavioural psychology and;
the theoretical and practical implications of using either the extensional or the intentional languages and philosophical frameworks in consumer research.
My teaching
Joanna is a Fellow of the Higher Education Academy and an experienced teacher on most marketing modules. Her expertise lies more with consumer behaviour, digital marketing and marketing research.
Digital Marketing in Retail (UG)- Module Leader
Digital Marketing and Social Media
Applied Marketing Research
Research in Marketing (UG)
International Fashion Marketing (UG)- Module Leader
Marketing Strategy (UG)
My publications
Publications
Purpose This study examines functional foods, a relatively recent development in the food industry, from the perspective of consumer decision-making. It deals specifically with consumers' attitudinal dispositions towards such products and seeks an overall comprehension of the elements of decision-making factors that precede their purchase. Design/ Methodology This exploratory work methodologically utilises several elements of a grounded theoretical approach, in-depth interviews with consumers (and food industry experts) and, more importantly, the constant comparative method of analysis. Findings The analysis indicates that three levels of decision-making processing form consumers' final functional food choices in either affirmative or negative ways. At the abstract level, consumers position functional foods within their food system. A 'benefit negotiation' process acts as the central route of decision-making. Finally, during the 'appraising' stage a representation of each functional food is built. This representation should not be perceived as a rigid one as it can be influenced by personal characteristics, marketing activities and, more importantly, monetary considerations. Originality/Value The paper proposes a decision-making framework that takes choice issues into consideration. It builds on (connecting and challenging) some of the existing consumer literature on functional foods. The findings indicate the dynamic nature of consumers' decision-making which is shaped by motivational and other personal factors. The study identifies the concept of perceived efficacy of such foods, a concept discussed widely in previous literature, as a subordinate aspect when compared to consumers' consumption motivation, perceived importance and perceptions of pricing. The paper discusses the implications for theory, research and practice.
This study aims to provide insights on the concept of experience, its effect on consumer behavior and the role of previous experiences. It uses a behavioral framework and measures the reinforcing and aversive experiential influences on (approach and avoidance) behavior. The study involved 260 participants from an online research panel. The descriptions of two retail situations were used, chosen to differ in terms of levels of previous experience/learning history. The results indicate that confusion, as aversive consequence of retail situations, acts along with functional and social reinforcement to determine behavior. The study further explains and proves the role of accumulated previous encounters on determining the reinforcing and aversive elements of experience. The implications for theory and marketing management are discussed.
Purpose – The purpose of the paper is to suggest a novel framework of consumer confusion based on the appraisal theories of emotions. Extant theoretical and empirical evidence on confusion continues to be vague on the connection between the emotional dimensions and behavioural consequences. The appraisal theories of emotions can help to expand the field of inquiry which is related to the topic of consumer confusion. Design/methodology/approach – A concept- centric review of 112 publications on consumer confusion and research on emotions, provides an integrative critical analysis of the nature of confusion and extends the literature. The review demonstrates that past research has advanced our understanding but not sufficiently explained all of the processes implicated in consumer confusion. Findings – On the above grounds, the paper suggests that although confusion is environmentally driven, it can be seen as a dynamic process implicating two levels of consumer appraisals. Uncertainty/ lack of understanding, goal inconsistency and motivational state form the basis of confusion; agency attribution and coping potential are, however, shaping the development of subsequent emotions and ultimately the expectations on consumer behaviour. Considered as a dynamic process, confusion has coping and behavioural implications. At the most central level the importance of agency (or attribution) and coping potential is highlighted and the way these appraisals lead to different emotions and behaviours is discussed. Originality/value – The paper advances extant consumer decision-making literature and proposes diverse emotions that are associated with the experience of confusion, behaviours that are expected, along with marketing implications and actions required for each of them.
Additional publications
Book Chapters
Anninou I. (2019). "Using online panels as a data collection technique". In SAGE Research Methods Cases (ed. Brindle, P.). London: SAGE Publications.
Anninou, I., Foxall G. & Pallister, J.G. (2015). Consumer Confusion: A BPM perspective. In Foxall R.G. (Ed). Routledge Companion to Consumer Behavior Analysis, Routledge: Oxon.