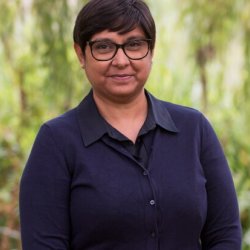 Dr Janet Ramdeo
---
Lecturer in Higher Education (Inclusive Education), Programme Director for Surrey Open Pathway.
BA(Hons), PGCE/QTS, MA, MEd, EdD, SFHEA
About
Biography
I joined Surrey Institute of Education in July 2022, having previously worked in various academic and programme leadership roles in universities in London and Cambridge since 2006.  Prior to my HEI career, I was a primary classroom practitioner for six years after achieving Qualified Teacher Status.  I have a background in teacher education within HEI, including international teacher development and initial teacher training (ITT). At LSBU and UCL Institute of Education, I led the postgraduate employment-based ITT programmes, working closely with schools across London to enhance school-based mentor provision and local training delivery.  
In recent years, due to my research interest, I became more engaged with issues of 'race' equality in educational spaces, and more broadly in inclusive educational experiences for students. 
I gained Senior Fellow of the Higher Education Academy (SFHEA) in 2018. 
Areas of specialism
Teacher Education;
'Race' Equality;
Inclusive Education
University roles and responsibilities
Programme Director for Surrey Open Pathway (CPD route to Advance HE accreditation for Descriptors 1-3: AFHEA, FHEA, SFHEA)

University of Surrey Governance: Student Success Group (Ex-officio member)

University of Surrey Race Equality Charter (REC) Implementation Team (de facto Chair)

Office for Student Complaints, Appeals and Regulation (OSCAR) Panel Member

Surrey Institute of Education representative on FHMS Faculty Education Committee

Equality, Diversity and Inclusion (EDI) Forum (member)
Institutional Lead for Research England/OfS 'Surrey Black Scholars' Project

Chair of the Inclusive Curricula Framework (Inclusive Education) Working Group (2022/2023)
My qualifications
2022
EdD - Professional Doctorate in Education
2014
MEd - Master of Education (with Distinction)
2005
MA - Professional Studies in Education (Leadership and Management)
1993
BA(Hons) - Modern European Studies
Previous roles
Senior Teaching Associate - Education Reform and Innovation (International)
University of Cambridge
Programme Leader: Employment Based Routes (Early Years, Primary and Secondary
Initial Teacher Training) inc. School Direct (salaried)

UCL Institute of Education
Director of Employment Based Routes (ITT)
London South Bank University
Senior Lecturer in Education (Primary and Early Years)
St. Mary's University, Twickenham
Affiliations and memberships
Advance HE
Senior Fellow of the Higher Education Academy (SFHEA). Awarded 2018.
British Educational Research Association (BERA)
SIG membership: Race, Ethnicity and Education, Social Justice, ECR Network.
Conference Abstract Reviewer (2023).
Reviewer for The Curriculum Journal (January 2023 - current)
Consultancy: Cambridge Assessment (International Education) in partnership with Cambridge University Press. Cambridge Early Years Programme (India):  Designing the Assessment Framework and Practitioner Guidance documents for the project.  August-October 2020
Research

Research interests

My research interest is primarily in 'race' equality/inequalities, specifically focusing on examining the lived experiences of racialised women through the lenses of Black feminism and intersectionality.  I also have an interest in wider issues of equality, diversity and inclusion.

Students with similar research interests seeking supervision (PGRs and PGTs) can contact by email for further discussions. 

Research projects

Raising racial and ethnic representation within performing arts training: evaluating the effectiveness of implementing an Inclusive Curriculum Framework

SEDA Research and Evaluation Small Grants 2023 (June 2023 - July 2024) and

Fluor Global University Support Programme (May 2023 - April 2024)

Indicators of esteem

April 2023- (current) - Quality Assessor for Office for Students (OfS)

2022/2023 (four-year tenure) - External Examiner for PGCE Primary Key Stages 2/3, Newcastle University (current)

2019/2020 (three-year tenure) - External Examiner for PGCE Primary School Direct, Liverpool Hope University (complete)

April-June 2020 – External Advisor for the Periodic Review of Education Department portfolio (Undergraduate, Postgraduate Taught, PGCE and International), University of Chichester (complete). 

Invited Speaker: "Why are YOU researching US?": researcher self-reflexivity in research involving Black women.  Research seminar 'Researching an 'other': reflections on ethical tensions and pitfalls', UCL Institute of Education (30 June 2022) and London Metropolitan University (19 June 2023).

Invited Guest Lecture: Black female teachers in white-dominated school spaces - Challenging normative views.  Lecture to the PGCE ITE cohort, London South Bank University, 22 September 2022.

Invited Guest Keynote Speaker (International): Teacher Development and Education in England: Initial Teacher Training and beyond, 2nd Annual EDU Forum, Jinan, Shandong Province, China, 20 May 2019.
Supervision
Postgraduate research supervision
I am currently supervising the following PhD candidates:
Yasmeen Malik - Exploring the Interplay of Professional Identity, Socialisation, and Personal Identity among Undergraduate Radiotherapy Students.  Comparing the Clinical Experiences of Racial and Ethnic Minority Groups and the White Majority European descended Groups in the UK: "Adapting to Fit in" or "Fighting to Belong" (working title).
Teaching
I teach on the Postgraduate Certificate in Learning and Teaching in Higher Education and act as a Personal Tutor to participants on this programme. 
I am a Personal Tutor on the MA in Higher Education programme.
I conduct Continuous Professional Development (CPD) workshops on aspects of 'Inclusive Education', (e.g., Diversifying the Curriculum; Universal Design for Learning) for Surrey Institute of Education. 
In addition to being the Programme Director, I am also a mentor and reviewer for the Surrey Open Pathway to HEA Fellowship (AFHEA, FHEA and SFHEA). 
Publications
Ramdeo, J.
(2012)
Black and Minority Ethnic (BME) trainee teachers' narratives on 'difference': voiced perspectives of self and identity, in Inman, S. and Rogers, M. (Eds) Holding on to our values: Teacher education for sustainable development and global citizenship, London: CCCI London South Bank University, pp. 18-32. ISBN: 978-0-946786-75-6.
Ramdeo, J.
(2011)
Voiced perspectives on 'difference: using narrative to examine lived experience of Black and Minority Ethnic (BME) trainee teachers on an employment-based route', in Inman, S. and Rogers, M. (Eds) Building Capacity for ESD/GC in times of change: 2011 Conference Proceedings, London: UK TE ESD/GC Network, pp. 100-105. ISBN: 978-0-946786-72-5.
Six Black and Minority Ethnic (BME) students currently on a Primary Graduate Teacher Training (GTP) training route were interviewed to examine their notions of 'difference'.  The modes identified by Brah (1996) to define 'difference' are used as the basis of the semi-structured interviews to produce narrative constructs.  The findings reveal a set of common themes which underpin the narratives and provide evidence for the need to address challenges face by, not only BME students on the training course, but pupils who experience a sense of 'difference' within schools. This pilot study focusses on ethnicity, although disability is also referred to.  
Ramdeo, J.
(2021)
The role of self-reflexivity in racialised researcher identity formation for research involving Black women educators: "Why are YOU researching US?". EdD Colloquium, June 2021 (Online, Oxford Brookes University).
Who is best placed to research the lived experiences of Black women educators? The intricacies of researchers being 'matched' racially and/or ethnically and by gender, and the precariousness of assumed insider/outsider positionality when approaching potential research participants from Black communities gave me cause for thought and self-reflexivity through my research journey as a racialised researcher.  In the epistemological, methodological and political decisions entwined in interracial research, the location of power and the role of knowledge holders and constructors requires delicate navigation through the researcher/researched relational quagmire. My initial oversimplified and misplaced perceptions of insiderness, as a female racially minoritised educator, created a presumed ease of access to Black women educators as research participants and resulted in me being asked, "Why are YOU researching US?".  Self-reflexivity, involving both self-monitoring and self-knowledge, therefore played a central role in considering the impact of multiple statuses, or 'status sets', on the methodological processes, how Black women educators were represented and who created knowledge about them for public consumption. Examining my researcher identity through a self-reflexive mirror repositioned me in the research process, reconstructed my researcher self-knowledge and enhanced my commitment to produce research outcomes which act to challenge normative stereotyped perspectives of Black women.  
Wang, T. and Ramdeo, J.
(2020)
The role of teacher agency in internationalization of teacher education: A longitudinal enquiry about cross-country teacher professional development programme. BERA Annual Conference, September 2020
Ramdeo, J.
(2022)
Racialised researcher reflexivity in research involving Black female teachers: "Why are YOU researching US?", BERA ECR Network Symposium Series 2022 (Framing Research: Theories, Concepts and Reflexivity in Educational Research), October 2022 (online).
Ramdeo. J.
(2023)
Gatekeeping of researcher positionality: should this be the norm in research with/on racially minoritised participants?, RMC 2023 (The London Institute of Social Studies Research Methodology Conference: Decolonising Research Methodologies and Methods), June 2023 (Birkbeck University).
In 2020, Dr Addy Adeleine and nine other Black academics, researchers, community representatives and professionals involved in research wrote an open letter to UKRI to highlight the inequalities in the award of £4.3 million to explore Covid-19 and its disproportionate impact on Black, Asian and Minority Ethnic communities.  They noted that none of the funding was awarded to Black academic leads but that one member of the awards assessment panel was co-investigator on three of the six successfully awarded studies. They raised in their letter the apparent lack of critical reflection on the inherent systems, processes and power imbalances and questioned the balance of panelists who have specific specialism and training in race, ethnicity and inequality as an independent field of inquiry.  They further noted concerns presented by Black individuals, many of whom have repeatedly expressed a desire to challenge and study the impact of systemic and structural racism but are invisible when appropriate research funding is awarded.  In this situation, questions arise about who was gatekeeping the qualifications, backgrounds and particularly the positionality of the academic leads awarded this funding. Why did the awarding panel neglect to consider that "members of affected communities should be leaders in the response and not just be supportive voices within the research framework"?  What made the successfully awarded academic leads most suited to explore the experiences of racially minoritised communities when Black academic leads were bypassed?
Gatekeeping in social science research is often associated with access to participants, particularly vulnerable, marginalised or minoritised communities, for data collection purposes (Aaltonen and Kivijärvi, 2019; Emmel et al, 2007; Singh and Wassenaar, 2016).  However, this paper raises the question of whether there should also be gatekeepers from conception to dissemination that ensure that researchers consider and articulate the researcher/researched power dynamics and 'who they are' in the research process involving these communities, particularly when there is not a match between the researcher and researched.  The ethical approval process will generally require researchers to consider power imbalances and whilst some ethnographic researchers explicitly express their positionality in the dissemination of their research, this is not consistent and the depth of reflexivity varies.  More problematic is the broader issue of who is being afforded the opportunities to conducted funded research with minoritised communities without gatekeeping whether they are justifying 'who they are' and what makes them the most appropriate researchers to conduct this research, as highlighted by the open letter to UKRI. 
In research that specifically involves racially minoritised communities, locating the researcher in areas related to social and political contexts of the research and the researched group, including the impact of 'race' and ethnic differences or similarities, and researcher ontological and epistemological beliefs which influence their research are particularly pertinent.  Researcher positionality "reflects the position that the researcher has chosen to adopt within a given research study" (Savin-Baden and Major, 2013, p. 71), influencing how research is conducted, its outcomes and results.  Holmes (2020) notes that some aspects of positionality are considered fixed, such as social identities (gender, 'race'/ethnicity, skin-colour, nationality) whilst other aspects are more fluid, subjective and contextual, such as political views and personal life experiences.  Fletcher (2010) notes that the researcher positionality, and specifically researcher biographies related to 'race' and/or ethnicity, problematises fieldwork and permeates all stages of the research – from "the questions they ask, to those that are ignored, from problem mutilation to analysis, representation and writing" (2010, p. 2).  Positionality is informed by reflexivity.  Reflexivity is the concept that researchers "should acknowledge and disclose their selves in research, seeking to understand their part in it, or influence on it" (Cohen et al, 2011).  Although much has been written about researcher positionality (Manohar et al, 2017; Milner, 2007, as examples), articulation of a researcher's position relies on the researcher's willingness to declare their ontological and epistemological standpoints in relation to the researched group, the importance researchers place on discussing this concept, the openness to be critiqued on researcher/researched differences and power structures which are presented or omitted in research outputs and who, if anyone, is asking them 'who they are' in relation to their researched community.  Although positionality statements are increasingly being included in outputs, not all researchers conducting studies with racially minoritised groups explicitly acknowledge their positionality.  Should this be a choice or an expected norm? Who could and should hold researchers accountable for acknowledging and disclosing their selves if the researcher themselves do not?
I am a racially minoritised Early Career Researcher (ECR) but I was not 'race' matched to the Black women participants in my own research project.  During the research process and in disseminating my work, I experienced multiple forms of checks and balances through gatekeepers who forced me to robustly articulate my positionality and who I am in the research process, making the researcher biography inescapable.  Was this to authenticate my suitability to carry out research with Black communities in a way that the example of the UKRI failed to do?  This paper presents an autoethnographic perspective of the experiences of being asked four specific questions by a range of stakeholders through the research activity and publication process, acting as gatekeepers about my positionality.  I then raise the question of whether the practice of gatekeeping researcher positionality should be embedded in the research process with racially minoritised participants, from conception to dissemination, and who or what processes could potentially act as these gatekeepers.
References:
Aaltonen, S. and Kivijärvi, A. (2019) Disrupting professional practices with research-driven intervention.  Researcher-gatekeeper negotiations in the context of targeted youth services, Qualitative Social Work, 18(4), pp. 621-637.  DOI: 10.1177/1473325018757080.
Cohan, L., Manion, L. and Morrison, K. R. B. (2011) Research Methods in Education, London: Routledge.
Emmel, N., Hughes, K. and Greenhalgh (2007) Accessing socially excluded people- Trust and the gatekeeper in the researcher-participant relationship, Sociological research online, 12(2) pp. 43-55.  DOI: 10.5253/sro.1512.
Fletcher, T. (2010) "Being inside and outside the field". An exploration of identity, positionality and reflexivity in inter-racial research, Leisure Identities and Authenticity (LSA Publication), Vol. 107, pp. 1-20.
Holmes, A. G. D. (2020) Researcher Positionality – A Consideration of Its Influence and Place in Qualitative Research – A new Researcher Guide, International Journal of Education, 8(4), pp. 1-10.  DOI: 10.34293/education.v8i4.3232.
Manohar, N., Liamputtong, P., Bhole, S. and Arora, A. (2017) Researcher Positionality in Cross-Cultural and Sensitive Research, Handbook of Research Methods in Health Social Sciences, pp. 1-15.  DOI: 10.1007/978-981-10-2779-6_35-1.
Milner, H. R. (2007) Race, Culture, and Researcher Positionality: Working Through Dangers Seen, Unseen, and Unforseen, Educational Researcher, 36(7), pp. 388-400, DOI: 10.3102/0013189X07309471.
Savin-Baden, M. and Major, C. H. (2013) Qualitative Research: The Essential Guide to Theory and Practice, London: Routledge.
Singh, S. and Wassenaar, D. R. (2016) Contextualising the role of the gatekeeper in social science research, South African Journal of Bioethics and Law, 9(1), pp. 42-46.  DOI: 10.7196/SAJBL.465.
Ramdeo, J.
(2023)
Black women educators' stories of intersectional invisibility: experiences of hindered careers and workplace psychological harm in school environments, Educational Review
Current research that specifically examines the racialised experiences of Black women school educators in England at different stages of their careers is scarce, creating a vacuum of understanding that can challenge barriers to their recruitment and retention.  This article focusses on how race and gender identities mutually and simultaneously hinder and harm Black women as education professionals and sustains their inferiority in the eyes of whiteness through intersectional invisibility.  Findings are drawn from personal stories of four Black women educators, shared through narrative inquiry methodology to illuminate ways in which androcentric and ethnocentric prototypical social group members maintain dominant power structures and reinforce the subordination of Black women educators as non-prototypical to manifest as experiences of invisibility and harm.  Individual stories illustrate experiences of the invisible/hyper-visible dichotomy impeding career progression, of undertaking invisible work, of assumptions about their legitimacy in school spaces and of wellbeing concerns.  From the standpoint of intersectionality's ability to create critical citizenry, this article raises awareness of the need for action by senior leaders in English schools and beyond, to challenge and eliminate the intersectional invisibility experienced by their Black women staff.  Conclusions signpost to actions that can shape localised policy and practices to improve Black women educators' experiences.  As Black women educators contribute to the success of underrepresented learner groups, there are significant institutional benefits to reducing Black women educator attrition, increasing representation at all levels and improving their wellbeing.
Ramdeo, J.
(2023)
Challenging and reconstructing controlling images of Black womanhood in school workforces: Black women teachers' counter-narratives of agency, commitment, and resistance through consciousness of Black feminist thought. BERA Annual Conference, September 2023 (Aston University).
Educational research examining the lived experiences and the value of Black women teachers within the teaching workforce in England has remained under-explored.  Tereshchenko et al. (2020) acknowledges that "research has not attended to the impact of nuanced inequalities that matter in the professional lives of teachers from different ethnic subgroups" (2020, p. 22).  Further, Bradbury et al. (2022) state "there is a lack of research which examines the experiences of women of colour in teaching" (2022, p. 4).  The ways in which Black women teachers in England experience their school workplaces as racialised spaces tend to be embedded and essentialised within broader conversations about a much wider aggregated demographic of 'minority teachers' or 'BAME (Black Asian and Minority Ethnic) teachers' and is often highlighting their oppression.  Addressing the research vacuum specifically involving Black women teachers, beyond the leadership lens, this paper provides a platform for 10 participants at various stages of their careers to voice their racialised and gendered intersectional experiences of working in English schools.  Moreover, rather than contributing to existing discourses on oppression and subjugation, its focus turns to positive counter-narratives of Black women teachers and the benefits of their presence in school spaces.  It utilises the little used consciousness of Black feminist thought framework (Collins, 2000) to create counter-narratives of success, activism, and navigational capital (Yosso, 2005) to challenge dominant normative stereotyped views of Black women at work, which is rarely found in literature. This paper, therefore, adds to the discourse of Black feminist literature and provides an England-wide positive perspective of Black women teachers, which is scarce.  
To answer the research question, 'How do Black women teachers successfully navigate and operate in white-dominated educational workspaces?', this paper presents the outcomes of interviews with 10 Black women teachers to understand how they challenge normative assumptions of stereotypes or controlling images (Collins, 2000) and oppression to form professional identities grounded in agency, resistance, and commitment to enhancing social justice within their school workplaces.  Counter-narratives were produced by examining their personal stories through the four lenses of consciousness of Black feminist thought (Collins, 2000), as a mechanism to challenge and reconstruct prevailing stereotypes placed on Black womanhood.  Through the four lenses of self-definition, self-valuation, self-reliance, and self-knowledge, thematic analysis (Braun and Clarke, 2012) illuminated stories which revealed how Black women teachers engaged in activities of personal empowerment, despite facing racialised oppression and appropriated stereotyping within their schools. Inductively emerged themes illustrate examples of research participants championing their own skills, qualifications and abilities, their commitment to young people's education and the teaching profession, utilising their agency for positive change, and resisting the practices of normative group members which maintain Black women teachers' subordination.
Black feminist research recognises the importance of enabling participants to share their stories to create counter-narratives.  Hence, narrative inquiry methodology was utilised, which centralised the lived experiences of those who chose to participate in this research. Narrative inquiry allows storied lives, which frame lived experiences, to act as windows to comprehend individual's social realities (O'Toole, 2018).  Recruited through mutually known contacts who acted as trusted gatekeepers, the participants met the criteria of defining as 'Black or Black British', 'female', 'qualified as a teacher' and 'working in a predominantly white school staff demographic'.  Personal stories were collected through unstructured interviews to provide participants freedom to narrate their experiences how they wished to. Further, Osler (1997) notes, interviews enabling Black women to share their personal stories can be painful as they recall incidents of perceived oppression.  Therefore, participants' vulnerabilities were considered in the university's ethical approval process to mitigate any emotional harm and possible adverse effects of researcher/researched power dynamics.  Each interview was audio recorded and transcribed creating a rich and powerful dataset.  To build trusting relationships, researcher positionality was also considered in depth, with assumed insider/outsider researcher positions interrogated, particularly as the researcher is not 'race' matched (Vass, 2017). 
As Black women teachers can contribute to the success of underrepresented learner groups, there are significant institutional implications and benefits to increasing their representation at all levels and recognising their value as staff members beyond stereotyped roles supporting behaviour and Black History Month (Haque and Elliot, 2017).  Recruitment and retention could potentially improve with narratives which demonstrate how Black women teachers can thrive and be agents of change for social justice.  Reverse mentoring schemes can develop school leaders' racial literacy to drive for structural and cultural changes to create more inclusive workplaces which acknowledge the value of Black women teachers.  
References (required)
Bradbury, A., Tereshchenko, A., and Mills, M. (2022) Minoritised teachers' experiences of multiple, intersectional racisms in the school system in England: 'carrying the weight of racism', Race, Ethnicity and Education. DOI: 10.1080/13613324.2022.2069734
Braun, V. and Clarke, V. (2012) Thematic Analysis, in: Cooper H., Camic, P. Sher, K., Panter, A.T., Long, D and Rindskopf, D. (eds.) APA Handbook of Research Methods in Psychology. Vol. 2 Research Designs: Quantitative, qualitative, neuropsychological, and biological.  Washington D.C.: American Psychological Association, pp. 57-71.
Collins, P.H. (2000) Black Feminist Thought: Knowledge, consciousness, and the politics of empowerment. London: Routledge. 
Haque, Z. and Elliot, S. (2017) Visible and Invisible Barriers: The Impact of Racism on BME Teachers. Available from: https://neu.org.uk/media/2936/view [Accessed 6 October 2018].
Osler, A. (1997) The education and careers of black teachers: changing identities, changing lives. Buckingham: Open University Press.
O'Toole, J. (2018) Institutional storytelling and personal narratives: reflecting on the 'value' of narrative inquiry, Irish Educational Studies, 37(2), pp. 175–189.  DOI: 10.1080/03323315.2018.1465839.
Tereshchenko, A., Mills, M., and Bradbury, A. (2020) Making progress? Employment and retention of BAME teachers in England.  London: UCL Institute of Education
Vass, G. (2017) Getting inside the insider researcher: does race-symmetry help or hinder research? International Journal of Research & Method in Education, 40(2), pp. 137-153.  DOI: 10.1080/1743727X.2015.1063045.
Yosso, T. J. (2005) Whose culture has capital?  A critical race theory discussion of community cultural wealth, Race, Ethnicity and Education, 8(1), pp. 69-91.  DOI: 10.1080/1361332052000341006.