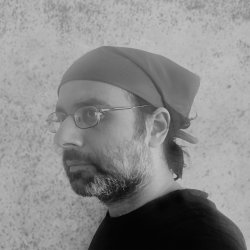 Dr Jeevan Rai
---
Associate Lecturer in Music and Creative Music Technology
B.Sc. (Hons), M.Mus., Ph.D.
News
In the media
Match and Fuse
Composer
Worldwide FM
Teaching
Current teaching
BMus Compositional Programming A (FHE6)
BMus Compositional Programming B (FHE6)
BMus Modernism and Postmodernism (FHE6)
BMus Composition 3A (FHE6)
BMus Composition 3B (FHE6)
MMus Screen Music Studies (FHE7)
MMus Composition A (FHE7)
MMus Composition B (FHE7)
Previous years
BMus Creating Music with Computers 1A (FHE4)
BMus Creating Music with Computers 3A (FHE6)
BMus Creating Music with Computers 3B (FHE6)
BMus Screen Music Studies (FHE5)
BMus Music Project 1B/2B/3B (FHE4–6)
Publications
Armstrong, T. and Rai, J. C.
(2017)
Moto
Armstrong, T. and Rai, J. C.
(2015)
Sketching, Creativity and the Open Work

A joint paper exploring the creative process behind a page from Albumleaves for trumpet and string quartet in light of Collins (2005) synthesis model of compositional creativity. The paper also touched on aspects of the sketching process in electronic music.
Rai, J. C.
(2016)
Pivotal Code: digital morphisms in solo computer-music multimodality
The digital medium's endless adaptability in translating between all kinds of data frequently encourages computer music to bleed into other disciplines. In particular, solo musicians and sound artists operating in multimedia find themselves juggling several dimensions of creative process at once, but almost always rely on technology as a grounding device for what might otherwise be tenuous transgressions between crafts. This phenomenon is compounded by a delinearization of conception and execution prevalent in DIY-electronicism, across aesthetic, poietic and code-level strata.
Taking my recent generative audiovisual installation Ax Evrtd (2016) as an example, I inspect the role that programming languages have as an interface between sonic and graphic creativity, and the implicit mappings that particular coding habits engender between disciplines when acting as a pivot between them, ultimately elevating code higher in the hierarchy of compositional processes than any of the art forms it is assumed to be merely facilitating. If the history of art is a history of technology, we must ask: is it appropriate to describe such digital multimedia work as 'interdisciplinary' — an interpolation of separate disciplines — or is it rather more accurate to understand it as a multimodal creative act bound by the common, even principal, medium of coding?
Rai, J. C.
(2016)
E/x-plot (quadrophonic)
Quadrophonic performance at Chelsea College of Art. Selected for performance at the International Festival of Electroacoustic Music.
Rai, J. C.
(2016)
E/x-plot (octaphonic)
Presented at International Computer Music Conference, TivoliVredenburg, Utrecth.
Rai, J. C.
(2015)
Neon
Score for saxophone quartet. Performed by Delta Saxes.
Armstrong, T. and Rai, J. C.
(2015)
threeleaves
Score for trumpet and live electronics. 
Rai, J. C.
(2014)
Lifeblood
Twenty-minute solo audiovisual performance for live electronics and two planes of visuals for Audiovisual Hollywood's Competitors and Contemporaries in the Early Sound Film Era conference.
Dobson, S. and Rai, J. C.
(2014)
jr~sd: EIME
Dobson, S. and Rai, J. C.
(2013)
jr~sd: Vibe
Armstrong, T. and Rai, J. C.
(2013)
Araxne (WIP)
Staged work for two voices, harpsichord and live electronics. Originally supported by Barbican PIT, subsequent work-in-progress version performed with Jane Chapman, Melanie Pappenheim and Rebecca Askew.
Rai, J. C.
(2016)
no place for this
A reflection on the gradual curtailment of art spaces/venues under austerity Bri- tain, the increasing marketisation of the few that remain, and consequently the tendency for even 'progressive' spaces/venues to be setting agendas not according to the movement of contemporary art but preconceived models of art as com- modity, no place for this is a part-generative ambient durational work which will never be heard in the full form in which it was conceived (quadrophonic durational performance). Instead, every performance will be a compromise upon the composer's original design: fragments of it are presented in settings that only provide reduced dimensions on listening. 
Kilworth, T. and Rai, J. C.
(2013)
Stasis
Collaborative duet with Tom Kilworth for piano and live electronics at the SQ+ concert series at Great St Barts.
Dobson, S. and Rai, J. C.
(2015)
jr~sd: Halloween
Sansom, M. et al.
(2014)
Played Out
Rai, J. C. and Snowpoet
(2017)
Mermaid (Jeevan Rai rework)
Match and Fuse, Worldwide FM
Rai, J. C. and Wright, J. A.
(2014)
Idealized Classification of a Specimen Guitar
Poster presented at International Guitar Research Conference
Rai, J. C.
(2014)
Creative coding, liveness, and DSP typology
Rai, J. C.
(2016)
Analogue. Digital. Laptop. Performer. What? Huh?
Rai, J. C.
(2016)
Multicodality