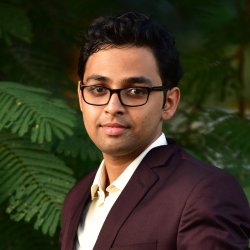 About
Biography
Dr. Joydip Ghosh received his Ph.D. degree from Dept. of Physics, Indian Institute of Technology Guwahati, India in 2021. His doctoral thesis was focused on ''Investigation on Halide Perovskite Nanostructures and Thin Films for Optoelectronic and Solar Cell Applications''. He joined Prof Paul Sellin's research group, Dept. of Physics, the University of Surrey in June, 2021 as a postdoctoral research fellow. His present research interest is perovskite-based direct radiation detector and scintillator. 
Research

Research interests

Development of perovskite single-crystal and the polycrystal radiation detector.
Perovskite nanocrystal scintillator.
X-ray imaging.
Gamma-ray spectroscopy.
Photophysics of perovskite semiconductor.