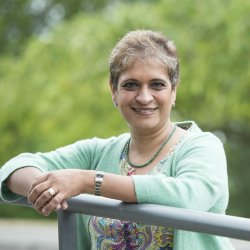 Professor Kamila Hawthorne MBE
---
Associate Dean Medicine, Director of Medical Education
MD FRCP FRCGP FAcadMEd DRCOG DCH(Lond) DFFP PGCMedEd
About
Biography
I have been an MRCGP Examiner since 1997, becoming a member of the Simulated Surgery Core Group in 2002, and of the Clinical Skills Assessment Core Group in 2006, leading to the nMRCGP exams in 2007, which became the licensing exams for British general practice.
I have been the Faculty Representative on RCGP Council for the SE Wales Faculty since 2007, Chair the Assessment and Curriculum Development Group of the MRCGP, and in 2015 have been elected as Vice Chair (Professional Development) for RCGP Council.
Major Honours and Distinctions
RCGP/ Medical Insurance Agency Research Training Fellowship, 1991-1994
Tawe Prize in Research, RCGP Spring Symposium 1997
UK Doctor of the Year Awards, Takeda /Diabetes prize, October 2000.
Shortlisted for 'Asian Woman of the Year' Award, 2003 (Professionals category) and for 'Welsh Woman of the Year' Award 2004 (Science and Technology category).
Innovations in Teaching award, Cardiff University, May 2007.
Royal College of GPs medal: nMRCGP Foundation Medal 2007.
Excellence in Teaching award, Innovations category (for the development of the Diversity Curriculum), Cardiff University, July 2008.
'GP of the Year' prize - British Polio Fellowship, 2010 (patient nomination).
'Best Practice Team 2011' prize - RCGP Wales Awards, (patient nomination).
Harvard Macy Scholar 2011 (Programme for Leading Innovations in Health Care Delivery and Education).
Awarded an MBE for services to General Practice in the 2017 Queen's New Years Honours list.
My qualifications
2013
Fellow of the Academy of Medical Educators
2007
Fellow of the Higher Education Academy
2006
Postgraduate Certificate in Medical Education
Cardiff
1997
MD. Overcoming cross-cultural difficulties in diabetes management - making diabetes health education relevant to a British South Asian community.
Manchester
Research

Research interests

I have a longstanding interest in Black and Ethnic Minority (BME) communities' experiences of access to health care in the UK, particularly in Type 2 Diabetes, dating back to 1991. I have worked with a number of BME communities in Nottingham, Manchester and Cardiff, and also worked closely with Diabetes UK (Cymru). I have been a member of the Trustee Board of Diabetes UK from 2011-2013.

Between 2001 - 2008, I led an integrated community project in Cardiff (the HeartLink Project) for BME communities to raise awareness of diabetes and heart disease, funded by the Health Inequalities Fund (Welsh Assembly Government). I have published a Cochrane Review on culturally appropriate diabetes health education for ethnic minority groups, updated in 2014.

I have a concomitant interest in Medical Education and Assessment Research, and have researched into e-learning and interactive modules in Diversity Teaching. I have an Innovations in Teaching Award from Cardiff University to develop links with other schools in the University in Diversity Teaching. More recently, I have been working on a research project funded by the Association of Royal Medical Colleges with a Knowledge Transfer Project grant to analyse the sociolinguistic characteristics of candidates taking the Clinical Skills Assessment module of the MRCGP exams (the Membership of the Royal College of GPs, a licensing examination for GPs in the UK). This has resulted in a published book, e-learning modules and peer reviewed papers.

I was awarded an MBE in the 2017 Queen's New Years Honours, for services to general practice. I continue to practise clinically on a part-time basis as a GP in Cardiff.
Teaching
I have been teaching undergraduate medical students since 1991, which has included teaching students in my own general practice surgery, as well as core academic learning and teaching duties at the School of Medicine, Cardiff University, from 2002 - 2015. These included Sub Dean for Assessments, Associate Dean for Quality and Governance and from 2012 - 2015 I was also Director for Community Learning, for the new medical undergraduate programme. This was be a patient-centred, community-focused course that integrated scholarship and science with clinical medicine from the first year. I have also developed and chaired the Equality and Diversity Committee for Medical Education at Cardiff. 
I have been external examiner at Barts' and The London, Imperial College Medical School and Peninsula Medical School, and am External Examiner for the MSc/ PG Cert in the Delivery of Primary Health Care, Faculty of Education, Health and Social Care, Winchester University.
As Associate Dean for Medicine and Professor of Medical Education, I have been leading a bid from the University of Surrey to the Higher Education Funding Council for England (HEFCE) and Health Education England (HEE) for medical student places to launch a new medical school in Surrey. I have also designed and developed a new Postgraduate Diploma programme for Physician Associates at Surrey, which began in September 2016.