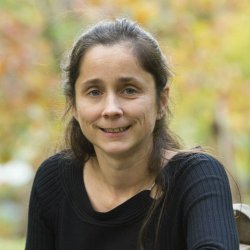 Dr Kate Plant
---
Senior Teaching Fellow in Eukaryotic Genetics and Toxicogenomics
About
Biography
Originally from County Durham I did my undergraduate degree in Biochemistry and Genetics at the University of Nottingham, graduating many moons ago! I went on to do a PhD in the lab of Dr Garry Morgan, looking at the regulation of transcription in the frog, Xenopus laevis. After completing my PhD in 1996, I spent two years working with Dr Frances Flinter at Guy's Hospital, identifying mutations within the COL4A5 gene that result in the genetic kidney disorder Alport Syndrome. I then spent 5 years working in the lab of Professor Nick Proudfoot in Oxford, where I honed my molecular skills and learned the delicate art of the Nuclear Run On Assay. During this time I studied intergenic transcripts in the beta-globin gene cluster, among the first long, non-coding RNA species to be identified.
In 2003 I came to work at the University of Surrey, first as Post Doc for my husband Nick and Professor Gordon Gibson, and later as a lecturer in Eukaryotic Genetics and Toxicogenomics. Over the past five years I have shifted my focus to concentrate on teaching, which is where my heart lies, and was delighted to be short-listed for the Vice Chancellor's Teaching Award in 2016.
Research interests
My interest lie at the interface between molecular biology and toxicology; I am interested in mechanisms of gene regulation particularly in response to xenobiotic exposure and this reflects in the projects I offer to final year students.
Teaching
BMS1025 and BMS1043: Cell Biology (Module Leader)BMS1040: Evolutionary Origins of Biodiversity (Module Leader)BMS1048: Health Challenges for the 21st Century (Module Leader)BMS2036 Molecular Biology (practical organiser)BMS2069: Plant Biology (Module Leader)BMS3048: Research Project (Module Leader, tutorial giver and project provider)Plus various guest appearances in Vet Medicine, Applied Toxicology (MSc) and Pharmaceutical Medicine (MSc).
Departmental duties
Programme Director Biological Sciences,Programme Director Biomedicine with Data Science and Biomedicine with Electronic EngineeringFinal year project organiserModule Leader for several undergraduate modules.
Affiliations
Member of the British Toxicology Society
Publications
PLANT, K.E., ANDERSON, E.A., SIMECEK, N., BROWN, R., FORSTER, S., SPINKS, J., TOMS, N., GIBSON, G.G., LYON, J. & PLANT, N. (2009) The neuroprotective action of the mood stabilizing drugs lithium chloride and sodium valproate is mediated through the activation of the homeodomain protein Six1. Toxicology and Applied Pharmacology, 235, 124-134
PUSHPARAJAH, D. S., UMACHANDRAN, M., PLANT, K. E., PLANT, N. & IOANNIDES, C. (2008) Up-regulation of the glutathione S-transferase system in human liver by polycyclic aromatic hydrocarbons; comparison with rat liver and lung. Mutagenesis 23: 299-308
PUSHPARAJAH, D. S., UMACHANDRAN, M., PLANT, K. E., PLANT, N. & IOANNIDES, C. (2008) Differential response of human and rat epoxide hydrolase to polycyclic aromatic hydrocarbon exposure: Studies using precision-cut tissue slices. Mutation Research - Fundamental and Molecular Mechanisms of Mutagenesis 640: 153-161
PUSHPARAJAH, D.S., UMACHANDRAN, M., NAZIR, T., PLANT, K.E., PLANT, N., LEWIS, D.F.V. & IOANNIDES, C. (2008) Up-regulation of CYP1A/B in rat lung and liver, and human liver precision-cut slices by a series of polycyclic aromatic hydrocarbons; association with the Ah locus and importance of molecular size. Toxicology In Vitro 22: 128-145
CHEEMA M.S., PLANT N.J., GIBSON G.G., & PLANT, K.E. (2007) Response of nuclear import factor encoding genes to xenobiotics: Analysis of the human karyopherin alpha 2 promoter. Toxicology, 240, 179-180
PUSHPARAJAH, D. S., UMACHANDRAN, M., PLANT, K. E., PLANT, N. & IOANNIDES, C. (2007) Evaluation of the precision-cut liver and lung slice systems for the study of induction of CYP1, epoxide hydrolase and glutathione S-transferase activities. Toxicology 231: 68-80.
PLANT, K. E., EVERETT, D. M., GIBSON, G. G., LYON, J. & PLANT, N. J. (2006) Transcriptomic and phylogenetic analysis of Kpna genes: a family of nuclear import factors modulated in xenobiotic-mediated liver growth. Pharmacogenetics and Genomics 16: 647-658.
OSKARSSON, A., ULLERAS, E., PLANT, K. E., HINSON, J. P. & GOLDFARB, P. S. (2006) Steroidogenic gene expression in H295R cells and the human adrenal gland: adrenotoxic effects of lindane in vitro. Journal of Applied Toxicology 26: 484-492.
GIBSON, G. G., PHILLIPS, A., AOUABDI, S., PLANT, K. & PLANT, N. (2006) Transcriptional regulation of the human pregnane-X receptor. Drug Metabolism Reviews 38: 31-49.
PLANT, K. E., DYE, M. J., LAFAILLE, C. & PROUDFOOT, N. J. (2005) Strong polyadenylation and weak pausing combine to cause efficient termination of transcription in the human (G)gamma-globin gene. Molecular and Cellular Biology 25: 3276-3285.
CRUNKHORN, S. E., PLANT, K. E., GIBSON, G. G., KRAMER, K., LYON, J., LORD, P. G. & PLANT, N. J. (2004) Gene expression changes in rat liver following exposure to liver growth agents: role of Kupffer cells in xenobiotic-mediated liver growth. Biochemical Pharmacology 67: 107-118.
BOUKOUVALA, S., PRICE, N., PLANT, K. E. & SIM, E. (2003) Structure and transcriptional regulation of the Nat2 gene encoding for the drug-metabolizing enzyme arylamine N-acetyltransferase type 2 in mice. Biochemical Journal 375: 593-602.
PLANT, K. E., ROUTLEDGE, S. J. E. & PROUDFOOT, N. J. (2001) Intergenic transcription in the human beta-globin gene cluster. Molecular and Cellular Biology 21: 6507-6514.
PLANT, K. E., BOYE, E., GREEN, P. M., VETRIE, D. & FLINTER, F. A. (2000) Somatic mosaicism associated with a mild Alport syndrome phenotype. Journal of Medical Genetics 37: 238-239.
TOPALOGLU, R., PLANT, K. E. & FLINTER, F. (2000) A novel G472R mutation in is Turkish family with X-linked Alport syndrome. Pediatric Nephrology 14: 480-481.
FLINTER, F. & PLANT, K. (1998) Why are mutations in COL4A5 not detectable in all patients with Alport's syndrome? Nephrology Dialysis Transplantation 13: 1348-1351.
PLANT, K. E. & MORGAN, G. T. (1998) Stimulation of RNA 3 ' processing by flanking DNA in Xenopus oocytes. Gene 210: 335-344.
PLANT, K. E., VETRIE, D., GREEN, P. & FLINTER, F. A. (1997) Mutation detection in Alport Syndrome: a large scale screen of all 51 exons of COL4A5. American Journal of Human Genetics 61: A343-A343.
PLANT, K. E., HAIR, A. & MORGAN, G. T. (1996) Genes encoding isoforms of transcription elongation factor TFIIS in Xenopus and the use of multiple unusual RNA processing signals. Nucleic Acids Research 24: 3514-3521.