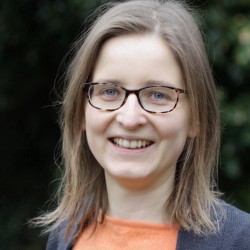 Dr Klara Wanelik
---
Surrey Future Fellow
DPhil
About
Biography
Klara is a host-microbe ecologist, with a particular interest in the natural variation observed between individual hosts. Her work explores the causes and consequences of this natural variation in the context of health and disease. She applies an interdisciplinary approach to study this variation across scales: from variation in genes, to physiological pathways and whole-host behaviour. 
She obtained her BA, MA and DPhil from the University of Oxford. During her DPhil, she studied how the social structure of a seabird colony (particularly natural variation in social behaviour) affected the transmission of a tick-borne virus. Between 2015-2020, she continued her interest in host-microbe ecology and moved to the University of Liverpool for a postdoc looking at the causes and consequences of natural variation in the immune response of wild rodents, with a focus on the role of (host) genetic variation. In 2020 she moved back to the University of Oxford, where she studied commensal microbes, more specifically the gut microbiome, looking again at the causes and consequences of natural variation in wild rodents.
Areas of specialism
Host-microbe ecology;
Animal health & disease
Affiliations and memberships
Fellow of Advance HE
(FHEA)
Research

Research interests

Klara's current research programme aims to answer the question "What makes a superspreader?", initially using a poultry model system and a common poultry pathogen, Avian pathogenic Escherichia coli (APEC).