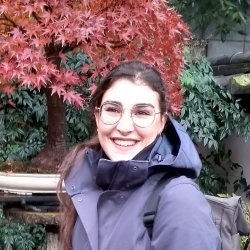 Dr Laura Moschini
---
Research Fellow in Theoretical Nuclear Physics
About
Biography
I grew up in Italy and I studied Physics at Università degli Studi di Padova, in a pretty town close to Venice, until I graduated in 2013. Then, I was granted a PhD fellowship by Istituto Nazionale di Fisica Nuclear INFN and worked on my thesis under a joint supervision of Università degli Studi di Padova (Italy) and Universidad de Sevilla (Spain). After receiving my PhD in Theoretical Nuclear Physics from both universities in 2017, I have worked as a postdoctoral researcher at the Université libre de Bruxelles (Belgium) with the financial support of European Union's Horizon 2020 research and innovation programme. At the beginning of 2020 I started my research associate position at the University of Surrey, initially supported by a STFC grant and I am currently involved in a project funded by Leverhulme Trust. My research is focused on unraveling the reaction mechanism in nuclear processes using quantum dynamics techniques. These reactions are involved in element creations in the universe and are object of international facilities experiments. In particular, I am interested in developing a model to simultaneously describe the interplay of different processes happening during a reaction between two atomic nuclei, and within the Leverhulme Trust project I am going to study the effect of external environments, such as laser fields, on nuclear reactions. In my free time I enjoy listening to audio books, cooking a delicious risotto or hiking in the woods.
Research

Research interests

My Research interests include: Quantum Dynamics, Exotic Nuclei, Theory of Open Quantum Systems, Nuclear Theory, Nuclear Molecules, Nuclear Direct Reactions, Nuclear Fusion, Relativistic Effects to Nuclear Reactions.
Supervision
Postgraduate research supervision
I co-supervise Nicholas Thomson thesis on laser assisted studies within Leverhulme Trust project.