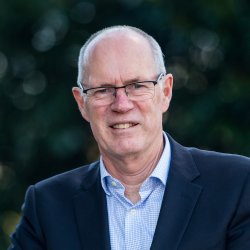 Professor Leo Jago OAM
---
Emeritus Professor
BE, BEc, M.Bus, Grad Cert in Tertiary Ed, PhD
Biography
Biography
Leo is an Emeritus Professor in the School of Hospitality and Tourism Management. Prior to his retirement from Surrey he was Professor in Hospitality and Events and Head of Department of Hospitality. He joined the University of Surrey in August 2014 after three years as the inaugural Chief Economist and General Manager of Tourism Research Australia, where he was responsible for the establishment and management of Australia's national tourism research agenda.Prior to that, Leo spent 12 years as Professor and Director of university research centres in Australia and the UK, including six years as deputy CEO and Director of Research for Australia's national Cooperative Research Centre for Sustainable Tourism, which was a partnership between industry, government and academe.Leo's research has focused on events both business events and major events where he has undertaken research on behalf of international agencies such as the UNWTO and the Joint Meetings Industry Council. He was the foundation editor of the International Journal of Festival and Event Management.In addition to his academic experience, Leo owned and operated a range of successful tourism and hospitality businesses over a period of 18 years. His time as an operator underpinned his passion for communicating the outcomes of academic research in forms that are accessible to industry and government stakeholders.Leo is an inaugural Fellow of CAUTHE and was awarded an OAM in the Queen's Birthday Honours List for services to the tourism industry and education.
Research interests
The holistic impact of events
The contribution of business events to knowledge creation & dissemination
Labour turnover
SME management
Performance benchmarking
Affiliations
Fellow of CAUTHE
Fellow of ATRi
International Advisory Board Member of BEST EN
International Advisory Board Member of IFEA
Advisory Board Member of Griffith Institute for Tourism
Advisory Board Member of Australian Centre for Event Management
Visiting Professor at Edinburgh Napier University
My publications
Publications
Dwyer L, Pham T, Jago L, Bailey G, Marshall J
(2014)
Modeling the Impact of Australia's Mining Boom on Tourism: A Classic Case of Dutch Disease,
JOURNAL OF TRAVEL RESEARCH
55
(2)
pp. 233-245
SAGE PUBLICATIONS INC
Fedline L, Deery M, Jago L
(2013)
A Longitudinal Study of the Impacts of an Annual Event on Local Residents,
Tourism Planning and Development
10
(4)
pp. 416-432
Dwyer L, Forsyth P, Fredline L, Deery M, Jago L, Lundie S
(2007)
Yield measures for special-interest Australian inbound tourism markets,
Tourism Economics
13
(3)
pp. 421-440
Different tourism stakeholders mean different things by 'yield' and this presents a barrier to communication and policy discussion. Primarily, this paper provides an overview of different concepts of yield. It also operationalizes several of these measures using inbound tourism expenditure data for Australia so that the origin markets and market segments identified as generating high yields under the various measures can be compared. The paper further identifies the manner in which the concept of yield can be broadened to embrace sustainable yield by incorporating measures of environmental and social impact. It concludes with a discussion of the policy implications of the study.
Deery M, Jago L
(2009)
A framework for work-life balance practices: Addressing the needs of the tourism industry,
Tourism and Hospitality Research
9
(2)
pp. 97-108
This paper examines the key issues associated with work-life balance (WLB) with a particular focus on practices within the tourism industry. It provides an overview of the general literature and then the research that relates specifically to WLB in the tourism industry. It builds on previous research in this area to present an adapted framework for addressing the key variables of WLB that can be tested in subsequent research. © 2009 Palgrave Macmillan.
Deery M, Jago L, Fredline L
(2012)
Rethinking social impacts of tourism research: A new research agenda,
Tourism Management
33
(1)
pp. 64-73
Understanding the social impacts of tourism on communities is extremely important for government at all levels so that action can be taken to reduce the likelihood of a community backlash against tourists and tourism development. Given that the residents of many tourism destinations are a fundamental part of the tourism 'product', resident attitudes and behaviour have a sizable impact on the success or otherwise of a destination. Research on the social impacts of tourism on communities is substantial and ongoing and while advances have been made in the area, the research has not addressed some of the deep seated issues faced by tourist destinations. This paper provides a critique of the social impact of tourism literature, highlighting the inadequacies in the research that has been conducted to date, which then leads to the development of a new conceptual framework. The paper traces the key developments in social impact research and argues that the predominance of quantitative methods potentially limits our ability to gain a more in-depth understanding of the impacts and how they influence both the host community and tourists. The paper finds that the quantitative focus from previous social impact research has led to a narrow understanding of the issues surrounding social impacts and proposes a new research agenda based on 'layers' of social impact understanding through the use of ethnography or phenomenology. The paper concludes with recommendations to progress social impact research beyond simply describing the issues towards explanations of why they occur by suggesting that social impact research examine, in greater depth, the values and intrinsic characteristics of the host residents. © 2011 Elsevier Ltd.
Dwyer L, Deery M, Jago L, Spurr R, Fredline L
(2007)
Adapting the tourism satellite account conceptual framework to measure the economic importance of the meetings industry,
Tourism Analysis
12
(4)
pp. 247-255
© 2007 Cognizant Comm. Corp.Thisarticle presents the findings from research undertaken for the United Nations World Tourism Organization that examines the global meetings industry. In particular, the research investigate the type, source, and credibility of data collected on the meetings industry and the potential to use the data for evaluating the economic contribution of the meetings industry. In so doing, the article details the data that are available and presents a method, using the Tourism Satellite Account (TSA), to evaluate the meetings industry on a global basis. The research found that the industry lacked clear definitions and therefore inconsistent data. The article provides suggested definitions and a conceptual framework for use in a TSA evaluation of the meetings industry.
Deery M, Jago LK
(2001)
Hotel management style: A study of employee perceptions and preferences,
International Journal of Hospitality Management
20
(4)
pp. 325-338
This study investigates employee perceptions of, and preferences for, management practices within a five-star, medium-sized hotel. In particular, the study examines the hypothesis that hotel managers have become more consultative. Using longitudinal data over a 4-yr period, the study examines the perceptions of staff of the management practices and styles in the changing environment of one hotel. The findings suggest that, while staff prefer a decisive style of management, supervisors and department heads were perceived as being autocratic. In fact, in the 4yr over which the data had been collected, the style of management had become less consultative and more autocratic. Implications for management are discussed, as are recommendations for future research. © 2001 Elsevier Science Ltd.
Pham T, Jago L, Spurr R, Marshall J
(2015)
The Dutch Disease effects on tourism - The case of Australia,
Tourism Management
46
pp. 610-622
© 2014 Elsevier Ltd.Industries in an economy are inter-dependent on each other. However, the relationship among them is not always positive. The recent mining boom in Australia has adversely affected many other non-mining related industries, including tourism, through the effects of resource constraints and a strong appreciation of the exchange rate. This paper examines in detail the mining boom effects on tourism in specific markets such as those for inter-state, intra-state and inbound tourism through the movement of price indexes of each market across states and territories in Australia. Furthermore, while negative impacts on tourism are consistent with the traditional Dutch Disease theory, this paper also highlights an important point to policy makers that strategic planning for investment in accommodation and aviation can have positive impacts on tourism during and after the boom has passed.
Li S, Bowdin G, Heslington E, Jones C, Jones S, Mulligan J, Tara-Lunga M-O, Tauxe C, Thomas R, Wu P-Y, Blake A, Jago L, Jones C
(2013)
The Economic Impact of the UK Meeting & Event Industry,
Meeting Professionals International Foundation
The UK Economic Impact Study (UKEIS), commissioned by
the Meeting Professionals International (MPI) Foundation and
undertaken by Leeds Metropolitan University, represents a
landmark study for the UK meeting industry. It is, to date, the
most comprehensive assessment of the economic impact of the
industry on the British economy.
Although there has been growing recognition that the meeting
industry makes a substantial economic contribution, the evidence
base to support such a claim has, until now, been fragmented.
Several valuable studies have been undertaken in recent years
that have incorporated elements of the meeting industry, but their
approach to economic modelling and data gathering have varied
significantly. The lack of consistency and alignment with international
standards has also prevented comparison between the value
of the industry in one country and another. More importantly, it
has made it difficult for the representatives of the meeting industry
to provide evidence of its significance effectively.
In order to provide a comprehensive profile of the UK meeting
industry and to measure its economic impact robustly, the UKEIS
adopted a framework designed by the UN World Tourism Organisation
(UNWTO) for measuring the sector?s economic importance.3
This framework has been used for similar studies of the meeting
industry in the USA, Canada, Mexico, Australia and Denmark. One
of its particular strengths is that it connects with official national
accounting systems, specifically Tourism Satellite Accounts.
Deery M, Jago L
(2015)
Revisting Talent Management, Work-life Balance and Retention Strategies,
International Journal of Contemporary Hospitality Management
27
(3)
pp. 453-472
Li S, Jago L
(2012)
Evaluating economic impacts of international sports events,
In: Shipway R, Fyall A (eds.), International Sports Events: Impacts, Experiences and Identities
2
pp. 13-26
Routledge
Mair J, Jago L
(2010)
The development of a conceptual model of greening in the business events tourism sector,
Journal of Sustainable Tourism
18
(1)
pp. 77-94
This paper examines the process of corporate greening, and proposes a general conceptual model of the process, which may be relevant in a number of different corporate sectors. The model includes drivers of greening and barriers to greening and also the organisational context in which greening decisions are taken. In addition, this paper considers the role of media coverage in influencing pro-environmental behaviour amongst organisations. The paper then tests the model in one particular tourism context - that of business events - in order to ascertain the specific nature of the corporate greening process in that context. The paper concludes that the general model may be applied to a number of industry sectors, and the model specific to business events tourism may be used to underpin future research in this area. © 2010 Taylor & Francis.
Jago L, Dwyer L, Lipman G, van Lill D, Vorster S
(2010)
Optimising the potential of mega-events: An overview,
International Journal of Event and Festival Management
1
(3)
pp. 220-237
Purpose: The purpose of this paper is to examine the reasons that mega-events rarely realise their potential for host destinations and to suggest issues that need to be addressed in rectifying this issue. Design/methodology/approach: The paper is based on a synthesis of the literature as well as the substantial event-related experience of the authors. Findings: The key reason that mega-events do not generate the expected benefits for the host destination is that event organisers and destination managers adopt a short-term perspective rather than seeing mega-events as part of a long-term strategy for the destination. Even the planned legacies are often not realised as resource constraints in the lead up to the staging of the event often results in resources being shifted away from planning for legacies and being allocated to helping cover the more immediate needs of the event. Research limitations/implications: If the mega-event knowledge portal that is proposed in this paper to help improve the overall contribution that mega-events make to host destinations is developed, it will prove to be a fertile source of data for longitudinal research in the field of mega-events. Originality/value: As so many mega-events fail to deliver the expected benefits for the host destination, this paper provides some useful insights into the key issues that need to be addressed in order to help overcome this problem. © Emerald Group Publishing Limited.
Li S, Jago L
(2013)
Evaluating economic impacts of major sports events - A meta analysis of the key trends,
Current Issues in Tourism
16
(6)
pp. 591-611
For many years there has been wide recognition of the economic impact that major sports events can generate in attracting visitors and event-related construction investment. This article seeks to provide a brief overview of the key approaches that have been used to assess the economic impact of major events over the past two decades including multiplier analysis, input-output modelling, and computable general equilibrium (CGE) modelling. The article also discusses some of the advantages and disadvantages of these approaches. In order to provide a platform for future research that draws upon existing research, the article then presents the findings of a meta analysis undertaken to examine the key patterns in economic assessments of major events based on previous studies reported in the literature. These reviews have been classified into three stages that are ordered chronologically and it can be seen that the range of issues covered, the depth of analysis, and the comprehensiveness of the evaluations increased across these three stages. This article finally summarises the key advances in approach that were made across these stages and proposes a future research agenda.
This article contributes to theory concerning collaborative innovation through stakeholder engagement with reference to Glasgow City Marketing Bureau's (GCMB) management strategies, which represent UK best practice in events procurement, leveraging and destination branding.
The research adopts a case study design to facilitate an in-depth evaluation of the DMO?s critical success factors. Multiple perspectives on GCMB?s collaborative innovation are achieved through semi-structured interviews with senior managers from the bureau, key stakeholders and other DMOs.
GCMB?s success results from long term, extensive, collaborative engagement, a unique institutional structure and sustained political and financial support through to transformational leadership, strategic event selection and targeted marketing through ?earned? distribution channels.
The study takes a single case study approach and focuses on GCMB?s event-led branding strategy. Given the importance but relative neglect of long term inter-personal relationships in collaborative innovation, future research should focus on the development of social capital and adopt a longitudinal perspective.
The paper provides insights into the collaborative innovation process with a range of stakeholders, which underpins GCMB?s events strategy and its leveraging of the city brand. In particular, the study highlights the need for entrepreneurial leadership and the development of long-term relationships for effective engagement with stakeholders.
Previous research has focussed on outcomes and neglected pre-requisites and the process of collaborative innovation between destination stakeholders. This study examines this issue from the perspective of a successful DMO and presents a conceptual framework and new engagement dimensions which address this gap in knowledge.
This thesis investigated the research impact discourse surrounding the REF?s 2014 (Research Excellence Framework) evaluation of research in the UK. The addressed knowledge gap dealt with critically evaluating the newly introduced disciplinary regime surrounding research impact and what influence it has on academic praxis and the research ecosystem as a whole. The utilised research methodology represented an evaluation of the research impact guidelines, submitted impact claims and interviews with academics. Specifically, a critical discourse analysis of the research impact case studies (in relation to tourism) and impact templates (of the submitting tourism studies faculties) was conducted. This was complemented with semi-structured interviews of tourism academics on all levels of the academic hierarchy.
The key findings are; firstly the research shows empirically that the newly introduced discourse of research impact shapes academic conduct to affiliate itself within the performance measures in a very pragmatic fashion (small scale and easy to reference). Secondly, the research showed that the research impact discourse disciplines behaviour along the entire chain of the social construction, from setting a word to the page all the way to employment decisions and universities budgets. Lastly, the analysis of the interviews showed the different levels of cognitive learning within the researchers? resulted in that each individual approached the same discourse differently, this multiplicity and the resulting uncertainty represents a force that is shaping the research ecosystem in its own right.
The work is original in that the here presented post-postmodern approach to studying (scientific) knowledge construction, not only offers an explanation of knowledge accumulation whilst still allowing being critical of it. The originality comes in that the research ecosystem approach allows a potential way to evaluate the vertical dimension of epistemology, allowing the dialectic to present a choice between different value assumptions shaping these disciplinary measures.
The purpose of this study is to examine the interaction effect between online Cause-Related Marketing (CRM) advertisements and brand reputation on consumers? brand evaluation in the hotel industry. Two experimental studies were conducted: (1) a survey-based experiment that demonstrates the moderating role of brand reputation, and (2) a laboratory experiment using psychophysiological measurements of emotional reactions that additionally examines the impact of consumers? emotional responses to CRM advertisements on hotel?s pro-social initiatives, thereby complementing Study I?s findings.
Staff retention is one of the main issues which the hotel sector faces in a challenging labour market. The concept of employer branding is an area which is gaining greater prominence in the industry as hoteliers strive to meet the challenges of a modern workforce. It should be considered that great work environments which retain employees do not emerge in a haphazard fashion, but through deliberate strategic initiatives (Dabirian et al., 2017). Today?s hotel workplace is further complicated by the number of generations which are currently working in the sector.
Human Resources literature has been distinguishing between how Generations X and Y should be dealt with in the workplace. It has emphasised the unique characteristics of each of these generational cohorts, emphasising specific characteristics for Millennials such as their propensity to change jobs quickly.
This study aims to explore the area of staff retention in hotels, the use of employer branding as a contributor towards higher retention rates and determines whether generational attributes play a role in staff choosing to stay with, or leave an organisation. It develops a conceptual framework to show the contributors towards a positive employer brand and through the analysis of interviews with hotel General Managers and hotel employees, it develops this framework to demonstrate the connection between benefits, working conditions, employer branding and staff retention. This framework is presented in three distinct phases, each underpinned by the research which precedes it. The evolving framework is informed by a review of literature and relevant models, the analysis of interviews with General Managers and the analysis of employee questionnaires.
This work strives to increase awareness of the concept of employer branding as it contributes towards the retention of employees and assesses the influence which generational characteristics have on employee retention.
This research finds that there is no longer a significant difference between how Generations X and Y should be treated with regard to their retention in the hospitality sector and that employer branding is a necessary strategic approach towards improving the image of a hotel and thereby increasing employee retention.
With increasing competition in hospitality and tourism companies, Corporate Social Responsibility (CSR) has been suggested as a strategy for generating goodwill and enhancing reputation among customers. As one of the marketing tools for implementing CSR, Cause-Related Marketing (CRM) ? which directly links product sales to the support of a charity ? has also become an important focus of attention in the hotel industry. Although CRM can generate positive impacts on business (e.g., financial benefit, improved brand evaluation), it can also backfire when consumers perceive that the hotel is using it mainly for its own benefit (i.e., profit motivation). Furthermore, if the hotel has a poor reputation, consumers would become more suspicious of a hotel?s involvement in social causes. That is, consumers will attribute more strongly a hotel?s self-serving motives (vs. public-serving) to CRM campaigns of less reputable hotels, suspecting that the hotels use the initiatives largely as a tactic to improve their reputation. In this sense, hotels have to consider strategies to introduce their CRM messages properly, and how to convey the hotel?s social motivation in order for the CRM to be effective in eliciting positive responses. In spite of the evidence that the potential risks of consumers? scepticism could lead to negative outcomes, there is a paucity of research explaining how to communicate CRM effectively with a consideration of perceived brand reputation. Therefore, this study aims to examine the interaction effect between advertising message framing (promotion-framed vs. prevention-framed) strategy and brand reputation (high vs. low) on consumers? brand evaluation (brand attitude, word-of-mouth, purchase intention) in the context of CRM in the hotel industry.
Employing a multiple quantitative methods approach with two experimental studies, data were collected through a survey-based experiment (Study I: self-reported measures) and a laboratory experiment (Study II: psychophysiological measures). Study I examined the moderating role of brand reputation as well as consumer-related factors (processing fluency, social cause attitude, perceived fit) to illustrate how the relationship between message framing and brand reputation can be explained. The experiment was executed online with 248 UK-based participants. As emotional arousal or engagement with advertisements has been proven to be an effective tool for social initiatives, Study II examined the impact of consumers? emotional responses during an exposure to CRM advertisements, thereby complementing Study I?s findings. Using physiological measurements of automatic emotional reactions through biosensors (eye-tracking, facial expression, skin conductance), the data collection and analysis were facilitated by the iMotions software platform. A total 67 UK-based respondents were involved.
This study found evidence that consumers prefer more prevention-framed messages (vs. promotion-framed) in CRM from hotels with a less reputable brand. That is, hotels with low reputation should point out the importance of avoiding a threat or danger in their charitable advertisements. This study extends prior research on the relative persuasiveness of message framing, revealing that the two types of CRM message strategies evoked by advertising lead to different attitude and behavioural changes. Additionally, focusing on the role of brand reputation and emotions, the current study contributes to knowledge on how hotels can mitigate the potential negative implications of CRM by choosing the right communication content.