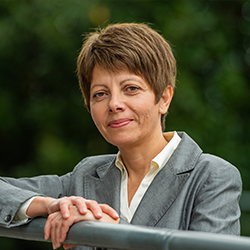 Dr Lucia Florescu
---
Lecturer in Medical Imaging
About
Biography
Lucia Florescu  joined the University of Surrey in  2017 as a Lecturer in Medical Imaging and  Wellcome Trust Fellow. Prior to joining Surrey, she worked in research and development at Elekta, acting as a Lead Physicist on the conception, development and implementation of cutting-edge technologies for image-guided radiation therapy and image-based radiation dosimetry. Prior to this, she was  an Associate Research Scientist at Columbia University, a Research Associate at  the University of Pennsylvania, a US Academy of Sciences (NRC) scholar at NASA Jet Propulsion Laboratory, California Institute of Technology, and a California Nano-Systems Institute & Hewlett Packard  postdoctoral scholar at the University of California Los Angeles. She has received her PhD in Physics from the University of Toronto.
Her research focuses on developing a fundamental understanding of the interaction between radiation and biological tissue and exploiting this to devise new techniques and image reconstruction algorithms for advanced biomedical tomographic imaging.
Research

Research interests

Optical Tomography, Computed Tomography, Cone-Beam CT, Photoacoustic Imaging, Functional Imaging

Inverse Problems, Interior Tomography, Radiation Transport , Machine Learning

Image Guided Radiation Therapy, Optical-CT Gel Dosimetry

 

I am actively recruiting PhD students for a number of projects, including

Polarisation-sensitive optical tomography
Deep learning for advanced CBCT reconstruction and image-guided radiation therapy
Cherenkov emission based optical tomography for functional image guided radiation therapy

For more information, please contact me at l.m.florescu@surrey.ac.uk
Supervision
Postgraduate research supervision
William Vale  " Artificial Intelligence for improving photoacoustic imaging for CAR-T cell cancer therapy ",  NPL iCASE EPSRC studentship" (2023- present)
Nicholas Leybourne (second supervisor) "Digital Positron Emission Tomography" (2022-present)
Clara Leboreiro Babe   (with Prof. Jeff Bamber, ICR),  "Photoacoustic imaging for the optimisation of   CAR-T cell cancer therapy of soft-tissue tumours: gene expression studies" (2021-present)
Jigar Dubal, "Optical Tomography for Functional Image Guided Radiation Therapy" (2019-present)
Matthew Faulkner, "Nonreciprocal Broken-Ray Tomography" (2018-present)
Kashyap Hebbar, Deep Learning for Advanced CBCT Reconstruction for Image-Guided Radiation Therapy (2023)
Shubham Gogri, Deep Learning for CT Reconstruction with Incomplete (2023)
Priyam Soni, "Deep learning for CT reconstruction with incomplete data" (2022)
Martin Wormwell "Cherenkov light based dosimetry of molecular radiation therapy"  (2022)
Sayorn Thangarajah, "CBCT reconstruction with incomplete data" (2022)
   Undergraduate Project supervision:
 Mohammed Al-Thani, Fan-beam CT reconstruction with incomplete data (2020-2021)
Elley Bridges, "Interior Tomography" (2019-2020)
Matthew Faulkner, "Optical CT reconstruction based on incomplete data: applications to radiation dosimetry" (2017-2018)
Teaching
Lecturer: EEE1033 Computer and Digital Logic, Department of Electrical Engineering, University of Surrey
Personal Tutor for undergraduate students.