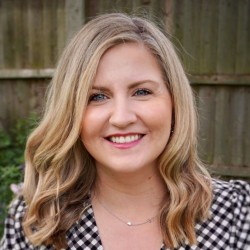 Lyndsay Spencer
---
Postgraduate Research Student
MNurSci, MSc and SCPHN
About
Lyndsay has a clinical background in adult nursing, graduating from the University of Nottingham's integrated Master of Nursing Science programme in 2011. After pursuing a staff nurse role in a busy Neurosurgical unit at the Nottingham University Hospital's Trust, Lyndsay went on to undertake an MSc in Public Health Practice at the University of Surrey in 2013, graduating with qualified Health Visitor status. Lyndsay's role as a health visitor involved working closely with the military community, including providing support to mothers with poor perinatal mental health. It was these experiences which ignited Lyndsay's passion for perinatal mental health research. The proposal for this research project was borne out of the findings and conclusions of her MSc Public Health Practice dissertation; "A grounded theory study of military mothers' experiences of the Health Visiting service: barriers and enablers to care".
Research

Research projects

The perinatal mental health lived experiences of non-serving British Army mothers. A Longitudinal Interpretative Phenomenological Analysis (LIPA) study.

Lyndsay's PhD seeks to understand the perinatal mental health lived experiences of non-serving British Army mothers. Utilising a Longitudinal Interpretative Phenomenological Analysis (LIPA) framework, insights and perspectives drawn from the lived experiences of mothers from this community will offer an overview of any health inequalities, with a view to making recommendations for future public health interventions and research.
Publications
This report explores how patients with malignant pleural mesothelioma (MPM) cope during the first three months following diagnosis. With the incidence of MPM rising and expected to peak between 2010 and 2015 it is timely to produce research evidence related to the patient's experience following a diagnosis and to explore how patients are supported in the early phase of this devastating disease. This study is concerned with how patients cope with this diagnosis from an emotional perspective; how they navigate their care pathway, manage debilitating symptoms such as pain, breathlessness and functional in-capacity and how they cope with living with an illness that has a poor prognosis.