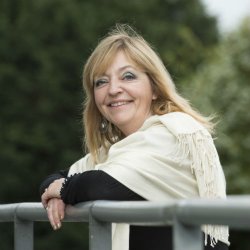 Professor Marion Wynne-Davies
---
Professor of English Literature
About
Biography
Professor Marion Wynne-Davies joined Surrey in 2007 and was responsible for establishing English as a discipline at the University. She also one of the first to pioneer the use of placements in English Literature and Creative Writing degrees in the UK. Before coming to Surrey, she worked at the universities of Dundee and Keele, after holding prestigious research fellowships at Liverpool and the Sorbonne.
Wynne-Davies is known internationally for her path-breaking work on Renaissance women dramatists, publishing a prize-winning edition of four plays in 1996. She has held research fellowships at the Folger, Huntington, Harry Ransom Center and Newberry, as well as living and working in the US, Canada, Germany and Japan.
Research

Research interests

Wynne-Davies is primarily known for her work on Renaissance Literature and on women writers. Currently, she working on a revisionist history of twentieth century literature that is based on the archival research into the PEN papers undertaken at the Harry Ransom Center.
Teaching
Wynne-Davies teaches a wide range of modules at Surrey, in particular Renaissance Literature, women writers and screenwriting. She also particularly enjoys teaching the postgraduate module, Gender and Identity: Marketing in Practice, for which she regularly received 100 per cent satisfaction scores from students.
Publications
Additional publications
Books
Margaret Atwood, Northcote Publishing, London, 2009
Women's Writing and Familial Discourse in the English Renaissance: relative values, Palgrave, London, 2007
Black British Canon? (ed. with Gail Low), Palgrave, London, 2006
Sidney to Milton, 1580-1660, Palgrave, London, 2002
Casebook on Shakespeare's 'Much Ado About Nothing' and 'The Taming of the Shrew', Macmillan, London, 2001
The Selected Poems of Sylvia Pankhurst (ed. primary text), Pankhurst Trust, Manchester, 1999. Published by the Pankhurst Centre and sold in aid of the Pankhurst Trust
Readings in Renaissance Women's Drama: Criticism, History and Performance, 1594-1998 (ed. with S.P.Cerasano), Routledge, London, 1998
Women Poets of the Renaissance (ed. primary texts), J.M.Dent, London, 1998
Women and Arthurian Literature: Seizing the Sword, Macmillan, London, 1996. Read a chapter from Women and Arthurian Literature: Seizing the Sword on Surrey Scholarship Online
Renaissance Drama By Women (ed. primary texts with S.P.Cerasano), Routledge, London, 1995
The Renaissance (ed.), Bloomsbury, London, 1992
The Tales of the Clerk and the Wife of Bath (ed. Chaucer's primary text), Routledge, London, 1992
Gloriana's Face: Women, Public and Private in the English Renaissance (ed. with S.P.Cerasano), Harvester, Hemel Hempstead, 1992
Essays and articles
'A scaffold, a banqueting house, a brothel and the East: innovative playing spaces in Early Modern English women's drama' in History of British Women's Writing (1500 - 1610), ed. Caroline Bicks and Jennifer Summit, London, Palgrave (2010)
'"Fornication in my owne defence": Rape in the Cavendish Family Writings,' in Expanding the Canon of Early Modern Women, ed. Paul Salzman, London, Ashgate (2010)
'New Perspectives on Drama' in History of British Women's Writing (1610-1690), ed. Mihoko Suzuki, London, Palgrave (2009)
'Orange Women, Female Spectators, and Roaring Girls: Women and Theater,' Medieval and Renaissance Drama in England, 21 (2009)
'The Liminal Woman in Mary Wroth's Love's Victory,' Sidney Journal, 26 (2009), pp.65-82
'The good Lady Lumley's desire: Iphigeneia and the Nonsuch banqueting house' in Heroines of the Golden StAge: Women and Drama in England and Spain: 1500 - 1700, ed. Rina Walthaus and Marguerite Corporaal Barcelona, Reichenberger Press, 2008, pp.111-128.
'"But now I see that heaven in her did link/ A spirit and a person": Elizabeth Cary présentée comme une saint' in Le mythe et la plume. L'écriture et les femmes en Grand-Bretagne (1540-1640), ed. Pascal Caillet, Armel Dubois-Nayt et Jean-Claude Mailhol, Valenciennnes, Presses Universitaires de Valenciennes, 2007.
'"To have her children with her: Elizabeth Cary and familial influence,' in Elizabeth Cary, ed. Heather Wolfe, Aldershot, Ashgate, 2007, pp.223-241
'Women of the Dundee Howff,' History Scotland 7:6, 2007, pp.36-41.