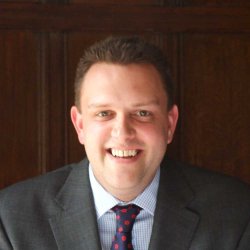 Mark Ashton
---
Senior Teaching Fellow; Deputy Director of Teaching and Learning
MRes BSc (Hons) AUS FIH
Biography
Mark graduated from the University of Surrey with a First Class BSc (Hons) in Hotel and Catering Management in 2001 where he also received Associateship of the University for distinction in his professional training year.
Following University, Mark enjoyed a career in four and five red star hotels becoming Food and Beverage Manager at the Five Red Star Athenaeum Hotel and Apartments on Piccadilly in London. Mark moved to Tylney Hall, a luxury Country House hotel in Hampshire, where we had spent his professional training year as Deputy General Manager, and became General Manager three years later. Mark's most recent General Mangers role was at the design-led, Aviator - a hotel by Tag, in Farnborough, where he and his team secured red star status for the hotel in less than twelve months and won a string of other awards.
Mark returned to Surrey University as an Associate Teaching Fellow in 2016 whilst also undertaking consultancy roles, and was appointed to be a permanent member of staff in September 2018 as a Teaching Fellow in Hospitality Operations Management; he is also Programme Leader for the BSc (Hons) International Hospitality and Tourism Management degree. Mark is a Fellow of the Institute of Hospitality and has recently completed a research degree in Service Process Design.
Areas of specialism
Hospitality Operations Management;
Service Design/Management;
Artifical Intelligence in Service Design;
Food and Beverage Management;
Restaurant Innovation;
Hospitality Management Education
University roles and responsibilities
Deputy Director of Teaching and Learning

Masters Business Plan Dissertation Lead

Editor - SHTM Weekly Industry Digest
My qualifications
2001
BSc (Hons) Hotel and Catering Management - First Class
University of Surrey
2020
Master's by Research
Bournemouth University
2021
Postgraduate Certificate in Teaching and Learning
University of Surrey
Previous roles
September 2018 -
July 2021
Programme Leader BSc (Hons) International Hospitality and Tourism Management
Affiliations and memberships
Institute of Hospitality
Fellow
Research
Research interests
My research interests align with my teaching and professional experience:
Hospitality Operations
Innovation and Development in Restaurant Operations
Service Process Design in Hospitality and 
People in the Hospitality Industry 
Hospitality Management Education 
Research projects
Building a Learning Community in Restaurant Innovation
Rationale
This module provides final year students with the opportunity to look in depth at the development of the restaurant industry drawing on current and historical operations and track their development from single unit to international chain. From a programme perspective it provides an opportunity to specialise in the consideration and appreciation of the complexity of food and beverage operations 
We are working to solidify further a sustainable learning community for the module that includes staff, students, industry professionals and analysts - it is this collaborative approach, and its impact on student learning/engagement/results that we want to understand better and evaluate through this funding  
The second rationale is to continue to up-date and improve the learning resources used to support the module (current main text is from 1992) 
Objectives
To obtain more detailed feedback/evaluation of the module from students and industry partners through focus groups with the objective of continuous improvement (2 student's focus groups with 10 in each and 1 industry partners focus group of up to 10)  
Continue to solidify the learning community across all stakeholders – we plan to run an industry partners focus group to understand their experience of the module, how the more open approach of encouraging attendance at multiple sessions worked and how they feel they can help support an even more engaged learning community 
Develop more up-to-date online learning resources (Case Studies and a student friendly Summary of the Key Theory used: Service Firm Lifecycle, SFLC) to better apply the SFLC to contemporary business cases and update the base theory 
Indicators of esteem
I was recognised as the Early Career Teacher of the Year for the School of Hospitality and Tourism Management in 2020
My teaching
Semester 1
Hospitality Events Management (Level 6)
Hospitality Operations Analysis (Level 7)
Hotel Operations Analysis (Level 7)
Semester 2
Gastronomy (Level 5)
Operations Analysis (Level 5)
Innovation and Development in Restaurant Operations (Level 6)
Digitial Service Design (Level 7)
I was recognised as the Early Career Teacher of the Year for the School of Hospitality and Tourism Management in 2020 
My publications
Publications
Purpose – Using the Delphi technique, this paper aims to investigate how human resource experts perceive service robots will impact leadership and human resource management in the hospitality industry. Design/methodology/approach – A three-stage Delphi study with hotel industry human resource experts was conducted to identify the key trends and major challenges that will emerge in the next ten years and how leaders should deal with the challenges brought about by service robot technologies. Findings – Results show that while service robots are anticipated to increase efficiency and productivity of hotel activities, they may also pose challenges such as high costs, skill deficits, and significant changes to the organizational structure and culture of hotels. Therefore, the anticipated applications and integration of robotic technology will require leaders of the future to carefully consider the balance between the roles of service robots and human employees in the guest experience, and to nurture a work environment that embraces open-mindedness and change. Originality/value – This is the first type of study to examine hospitality leadership and human resource management in the context of robotized hotels. This study has taken an important step to understand the leadership role in robotized hotels from a human resource perspective, and brings clarity as to how robotic technology can influence leadership in the future workplace.
Governments across the world have imposed strict rules on social distancing to curb the spread of Covid-19. In particular, restaurants have been impacted by government-mandated lockdowns. This study adopts a mixed methods approach to explore how Finnish high-profile restaurants used Instagram as a means for service innovation and diffusion during nine weeks of government-mandated lockdown. Comparatively analysing 1,119 Instagram posts across two time-stamps (2019 and 2020) and across 45 restaurants, as well as conducting five semi-structured interviews with restaurant managers, it is found that while the overall number of Instagram posts and likes on posts stayed relatively similar to the year prior, the number of comments increased significantly, suggesting a move towards a more didactic and dyadic form of Instagram communication. In addition, four digital service innovation strategies are identified: launching new service offerings and introducing new elements to existing service offerings, fostering social relationship with customers, exploring novel streams of revenue, and reinvigorating the brand's image. Implications to service innovation theory and practice are discussed, along with suggestions for future research.
Additional publications
Research Thesis
Ashton, M. (2020)  Robotics, Artificial Intelligence and Service Automation in Hotel Service Process Design: Can Customer Dominant Logic Provide Improved Value? Masters by Research Thesis Bournemouth University Research Online [BURO] - Robotics, artificial intelligence and service automation in hotel service process design: can customer dominant logic provide improved value? 
Journal Articles
Xu, S., Stienmetz, J. and Ashton, M. (2020), "How will service robots redefine leadership in hotel management? A Delphi approach", International Journal of Contemporary Hospitality Management, Vol. ahead-of-print No. ahead-of-print. https://doi.org/10.1108/IJCHM-05-2019-0505
Conference Papers
Tuomi A., Tussyadiah I., Ashton M. (2021) Covid-19 and Instagram: Digital Service Innovation in Top Restaurants. In: Wörndl W., Koo C., Stienmetz J.L. (eds) Information and Communication Technologies in Tourism 2021. Springer, Cham. https://doi.org/10.1007/978-3-030-65785-7_45.
Xu, S., Tuomi, A., Stienmetz, J., & Ashton, M. (2020, April). Esprit de Robo-Corps (EdR-C): Developing a scale for the acceptance of robotic co-worker in the hospitality and tourism environments. Stand-up Presentation at the 2020 TTRA Europe conference, Innsbruck, Austria.