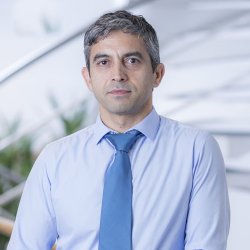 Professor Mehrdad Dianati
---
Professor of Connected Autonomous Vehicles
About
Biography
Mehrdad Dianati received his PhD degree in Electrical and Computer Engineering from the University of Waterloo, Canada, in June 2006. He is currently a Professor at the Institute for Communication Systems (ICS), home of 5G Innovation Centre (5GIC), formerly known as the Centre for Communication Systems Research (CCSR), which is a part of the Department of Electrical and Electronic Engineering, University of Surrey, UK.  
From June 2006 to June 2007, he was a Postdoctoral Research Fellow with the Telecom ParisTech in Paris, France, formerly known as Ecole Nationale Supérieure Des Telecommunications (ENST). In July 2007, he moved to the University of Surrey as an RCUK Academic Fellow where he became a Lecturer in June 2009 and a Senior Lecturer in April 2013 until April 2014.  
Prior to his PhD studies, he spent about 10 years, from 1992 to 2002, in the industry in various positions as a Senior Software and Hardware Developer, Director of Software Development Department and Senior Network and Cyber Security Consultant.
Professor Dianati has been actively involved with the relevant international professional bodies and research communities in his field. He is currently an Editor for IEEE Transactions on Vehicular Technology and IET Communications. In the past, he served as an Editor for the Wiley's Journal of Wireless Communications and Mobile Computing (WCMC) and the KSII Transactions on Internet and Information Systems. He has been a member of the organising committee of numerous international conferences such as the IEEE Vehicular Technology Conference (VTC). He occasionally provides expert opinion on the state of the technologies for the Connected Autonomous Cars to the UK government organisation and the public media. He has also given numerous invited and keynote presentations in the areas of Connected and Autonomous Cars and 5G Systems in the international conferences such as the IEEE WCNC in 2016.
University roles and responsibilities
Director of Admission for the Postgraduate Teaching Programmes at the Department of Electrical and Electronic Engineering
Affiliations and memberships
EPSRC Associate College
Member
Research

Research interests

Professor Dianati's current research mainly focuses on the development of ultra-low-latency, highly reliable and secured 5th Generation (5G) of Communications and Mobile Edge Computing (MEC) Technologies for the Connected and Autonomous Vehicles (CAV), Cooperative Intelligent Transport Systems (C-ITS) and Cyber Security of the Internet of Things applications (IoT). He is particularly interested in robust and secure Sensing and Perception for Cooperative Autonomous Cars as well as intelligent control of Cooperative Autonomous Systems. He is also passionate about Stochastic Systems and Information Theory as well as their applications in modern computing and communication systems.

Research collaborations

Between 2008 and 2016, Professor Dianati has secured 19 research grants, with a total value of approximately £9.5 million, as a Principal Investigator and Co-Investigator, from various sources including the Engineering and Physical Science Research Council (EPSRC) of the UK, the European Commission and the industry.

He currently leads three funded research projects, including the multi-disciplinary and multi-partner TASCC/CARMA project with a total value of approximately £5.2 million, jointly funded by the EPSRC and Jaguar Land Rover with in-kind contributions from Thales Group, Telefonica and HERE. In the past, he was the partner leader and work package leader for 16 other research projects. He had also served as the Work Area Leader and Deputy Work Area Leader at the 5G Innovation Centre of the University of Surrey.
Teaching
Professor Dianati has taught more than 40 offerings of a diverse set of 15 different subjects in Electrical and Computer Engineering at both undergraduate and postgraduate levels since 1995. He is the module leader and the director of the admission at the Department of Electrical and Electronic Engineering of the University of Surrey and a member of the external examination board of the MSc programmes at the Department of Networks and Digital Media at Kingston University.