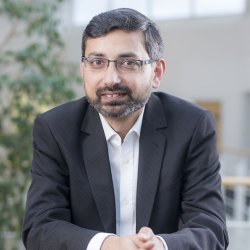 Dr Muhammad Imran Fellow IET, Senior Fellow HEA
---
Professor in Communications
DIC, MSc, PhD, SMIEEE, Fellow of Higher Education Academy
About
Biography
Dr Muhammad Ali Imran received his M.Sc. (Distinction) and Ph.D. degrees from Imperial College London, UK, in 2002 and 2007, respectively. He is currently a Reader in Communications in the Institute for Communication Systems (ICS - formerly known as CCSR) at the University of Surrey, UK. He has lead a number of multimillion international research projects encompassing the areas of energy efficiency, fundamental performance limits, sensor networks and self-organising cellular networks. He is also leading the new physical layer work area for 5G innovation centre at Surrey. He has a global collaborative research network spanning both academia and key industrial players in the field of wireless communications. He has supervised 20 successful PhD graduates and published over 150 peer-reviewed research papers including more than 20 IEEE Transaction papers. He has been awarded IEEE Comsoc's Fred Ellersick award 2014 and FEPS Learning and Teaching award 2014 and twice nominated for Tony Jean's Inspirational Teaching award. He is a shortlisted finalist for The Wharton-QS Stars
Awards 2014 for innovative teaching and VC's learning and teaching award in University of Surrey. He is a senior member of IEEE and a Senior Fellow of Higher Education Academy (SFHEA), UK.
 
He has given more than 5 plenary talks in international conferences including World Wide Radio Forum WWRF (2010), IEEE CAMAD (2012), IEEE VTS/EPSRC Commnet 2012. He has also delivered more than 20 invited seminars in international educational institutions and research centres of leading communication industry. He has presented tutorials on Self Organising Networks and Energy Efficiency in several international conferences: ICFCN Iraq, 2012; ICCSPA UAE, 2013; ICSICCST Pakistan, 2013; IEEE PIMRC UK, 2013; IEEE WCNC Turkey, 2014; IEEE ICC Australia, 2014; European Wireless Spain, 2014.  He is the founder of IEEE Workshop BackNets 2015.  He has chaired several tracks/workshops of international conferences: IWCMC, Global SIP, Crowncom, European Wireless, Stem 5G, ICC, VTC. He is guest editor for IEEE Communications, IEEE Wireless Communication Magazine, IEEE Access. He is an associate Editor for IEEE Comms Letters and IET Communications Magazine.
University roles and responsibilities
Faculty Lead - Curriculum Design for Engineering for Health

Coordinator for communications related curriculum and pathways update

Post Graduate Admissions Tutor (for Subcontinent Region and Greece)

Visiting Tutor to Professional Training Year Placement students

Member of course review panel

Member of subcommittee for Faculty Learning and Teaching Committee
Affiliations and memberships
Higher Education Academy
Senior Fellow
Technical experience
Service Desk Specialist (part-time)
2003 - 06
Information and Communication Technologies (ICT): IT support at Imperial College London.
Design Engineer
1999 - 2001
And-Or Logic, Inc. Islamabad, Pakistan
Research

Research interests

Energy Efficiency of Wireless Systems
Interference management for cellular communication
Emission reduction for wireless devices
Smart Spaces and use of technology for energy efficiency
Intelligent and Self-organising cellular networks
Communication techniques for next generation of cellular systems
Fundamental performance limits of wireless cellular networks

Research collaborations

He has active collaborations with researchers from different parts of the world: USA, Europe, Middle East, China, Brazil, Australia and the Subcontinent (India and Pakistan).

He has also lead the multidisciplinary research (the REDUCE project) collaborating with researchers in Psychology, Environmental Studies, Economic modelling and Scholarship of Teaching.
Teaching
ELEC III EEE 2033 (University of Surrey, UK):
Module Leader
Teaching Since 2012 
2nd Year UG course: 20 hours lectures covering Differential Equations, Laplace transforms and applications, Circuit Analysis and Communication Systems.
ELEC IV EEE 2038 (University of Surrey, UK):
Teaching since 2009
Electronics and Communication Systems: 10 Hours of Lectures for second year undergraduate students. 
EE2.COM EEE2040 (University of Surrey, UK):
Spring 2009, and since 2014
Wireless Communications: Lectures for second year undergraduate students. 
EE3.DCM - EEE3006 (University of Surrey, UK):
Module Leader
Since 2008
Digital Communication and Modulation: 20 Hours of Lectures for final year undergraduate students and MSc students. A group of around 100 students.
Emerging Technologies in Mobile Communications (University of Surrey, Short Course for Modular MSc):
Teaching since Spring 2010
Lecture Series (University of Engineering & Technology, Lahore, Pakistan):
Winter 2012
Fundamentals of Wireless Communications - short seminar
Lecture Series (University of Engineering & Technology, Taxila, Pakistan):
Winter 2012
Teaching the teachers: Wireless Communications - 20 Hours of Lectures 
Lecture Series (National University of Science & Technology, Pakistan):
Summer 2008
Wireless Channel Modelling and Simulations - 30 Hours of Lectures and Lab sessions
Demonstrations/Teaching Assistance (Imperial College London):
Fall 2002 - 06
Electronics Laboratory
Compilers Laboratory
First Year and Second Year Tutorials
Computer Programming Helpdesk
Academic supervision and examinations
PhD Graduated
[2008] Dr Konstantinou, Kostas – working in wireless communication consultancy
[2009] Dr Chatzinotas, Symeon – working in academia
[2010] Dr Katranaras, Efstathios – working in academia
[2010] Dr Kaltakis, Dimitrios – working in TFL
[2010] Dr Datta, Subha – working in chemical industry (optimisation)
[2010] Dr Majid, Muhammad – working in industry
[2011] Dr Khan, Ammar Hussain – Inmarsat, UK
[2011] Dr Shateri, Majid – Communications consultancy
[2011] Dr Shafqat, Ali – working in academia
[2011] Dr Hassaan Touheed – RIM Blackberry
[2012] Dr Amir Akbari – working in academia
[2012] Dr Razieh Razavi
[2012] Dr Glenn Aliu
[2012] Dr Kayode Onireti
[2013] Dr Mohammed Al-Imari
[2013] Dr Juan Awad
[2013] Dr Talal Alsedairy
[2014] Dr Wuchen Tang
[2014] Dr Ahmed Zoha
[2014] Dr Collin O'Reilly
[2015] Dr Amine Amich
[2015] Dr Fernando Reteagui
Current PhD Supervision
Writing up
Sobhan Navaratnarajah
Arsalan Saeed
Hossein Peyvandi
In Progress
Lei Wen
Iman Akbari
Adnan Zafar
Abdurahim Mohamed
Hafiz Attaul Mustafa
Jason Zhang
Yusuf Sambo
Selcuk Bassoy
David Muirhead
First Year
Chang He
Mona Jaber
David Owens
David Nwankwo
PhD Examined
[2010] Dr Sadegh Fazel-Falavarjani
[2010] Dr Mehrdad Shariat
[2010] Dr Mohammed Abaii
[2011] Dr Allahyar Yarmohammed
[2011] Dr Mo Zhu
[2011] Dr Ayesha Ijaz
[2011] Dr Olasunkanmi Durowoju
[2012] Dr Mahdi Pirmoradian – University of Kingston
[2012] Dr Noor I Abdul Razak – King's College London
[2012] Dr Ibrar Shah – University of Brunel
[2012] Dr Chong Han
[2012] Dr Syed Shah Irfan Hussain – UET Lahore, Pakistan
[2012] Sajid Bashir - CASE UET Taxila, Pakistan
[2013] Habibur Rehman - CASE UET Taxila, Pakistan
[2013] Aamer Hussain – EME NUST Pakistan
[2013] Azar Zarrebini_Esfahani – Kings College London
[2013] Dandan Liang – Southampton
[2013] Andrew Adekunle - Greenwich
[2014] Agyrios Kyrgiazos
[2014] Frieder Ganz
[2014] Talha Zahir
[2014] Imran Javed – UET Lahore Pakistan
[2014] Aamer Zaib– NUST Karachi
[2014] Chuyi Qian - Surrey
[2015] Danny Finn – Trinity College Dublin
MPhil/PhD Confirmation Exam
[2009] Ayesha Ijaz
[2009] Xiabo Yu
[2009] Bruce Mcaleer
[2010] Chong Han
[2010] Juan Awad
[2010] Chrysovalantis Kosta
[2010] Tomasz Mach
[2011] Bahareh Jalilli
[2011] Tomasz Mach
[2011] Parisa Chiraghi
[2011] Emmanouil Pateromichelakis
[2012] Jue Cao
[2012] Mohammed Sabagh
[2012] Jiancao Hou
[2013] Tengku Faiz Mohamed Noor Izam
[2013] Ricardo Bassoli
[2014] Guangyi Wang
[2014] Somsri Jarupadung
[2014] Riccardo Bassoli
[2014] Mahmoud Abdullahi
[2015] Sohail Taheri
[2015] Daniel Puschmann
PhD Thesis Review/Examination in Pakistan
"Multiuser Communication Techniques based on OFDM" by Mr Habib ur Rehman, CASE UET Taxila, Pakistan
"Symbol Detection in MIMO systems" by Sajid Bashir, CASE UET Taxila, Pakistan
"Range sidelobe suppression in phase coded radar applications" by Aamir Hussain, EME College, NUST, Pakistan
"Performance improvement of downlink beamforming algorithms in wireless channels" by Syed Shah Irfan Hussain – University of Engineering Lahore, Pakistan
"Cognitive Signal Processing Techniques for Secure OFDM-MIMO Wireless Communications",  Imran javed from UET Lahore, Pakistan
"Improving the Performance of Wireless Cellular Technology Using Adaptive Array Systems"Muhammad Yasin, NUST, Supervisor Dr Pervez
" Techniques for Performance Improvement of Cognitive Radio", Aamer Zaib, – NUST Karachi. Supervisor Dr Shaob Zaidi
Research Fellows
Dr Fabien Heliot
Dr Yinan Qi
Dr Efstathios Katranaras
Dr Jing Jiang
Dr Omer Waqar
Dr Amir Akbari
Dr O Onireti
Dr Chong Han
Dr Ayesha Ejaz
Dr Razieh Razavi
Dr Mohamed Al-Imari
Dr Wuchen Tang
MSc/MEng Project Supervision
[2008] Charles Acolatse
[2009]
Hunain Vohra
Maryam Riaz
[2010]
Mr Mohammad Irfan
Ms Panayiota Christodoulaki
Mr Rejoy George
Mr Subhankar Chatterjee
Mr Ali Torajizadeh
Mr M Hosseini
Mr Yogesh Apar
Mr Taimoor Zahid (examined)
[2011]
Mr Chinaemerem Nwankwo
Mr Zhipeng Chen
Mr Hamel Shah
Mr Rakesh Teja Matta
Mr Naif Aldaafas
Mr Apostolos Papoutsidakis
Mr Danial Ghabra
Mr Aji Valliyathuparampil Philip
Mr Arsalan Saeed
Mr Wenbo Fan
Mr Y Dong
Mr O Ajibawo
Mr Yousaf Sambo
Mr Tunmida Kuboye (examined)
[2012]
Mr Yahya Saeed
Mr Junwei Tang
Mr Maksym Iarovyi
Mr Kokogho Aghogho (examined)
Mr Sarang Dumbre (examined)
Mr Mayank Bhati (examined)
Ms Hoang Anh Tuan (examined)
MS Chen Yu (examined)
Mr Guangyi Wang (examined)
[2013]
Undergraduate Projects:
Firat Nur
Hao Zheng
Rajiv Packiyalingam
Yifan Wu
Shu Liu
Mohammad Devjianie
Quang Nguyen
[2014]
Terna Kpamber
Tristan Hughes
Ziad Azzabi
Charalampous Papaioannous
Dalia Abouelmaati
Theodorous Spathapoulous
Alexandros Karipidis
Ahmed Alkhouly
Faizan Shamim
M Saadullah Shirazi
M Aqib Saeed
[2015]
Daniil Chatzipanagiotis
Tim Hill
Lachezar Hubanov
Bruno Klopott
Cristian Mataei
Ugur Sahbaz
Jonas Urbona
Azam Beyk
Swarna Chetty
Paulo Klaine
Nihar Shah
Muhammad Asim Waheed
Professional Training Year Tutor
[2011/2012]
Mr Dominic Lane – CMAC Technology
Mr Fraser Mason – National Grid, Isle of Grain
Mr Alexander Meerman – ACE Axis
Mr William Burris– ACE Axis
[2012/2013]
Mr Luke Testa – Qualcomm Farnborough
Tristian Hughes – ARM Cambridge
Syed Rafique – Qualcomm Farnborough
Andreas Galanomatis – RIM Cambridge
[2013/2014]
Lachezar Hubanov – EnOcean Germany
Bruno Klopott – EnOcean Germany
Tim Hill - Qualcomm
[2014/2015]
Osama Al-Muqbel – Anite UK
Daniel Gautrey – Anite UK
Margarida Paixao – Anite UK
Pawel Zackiewicz – Anite UK
Personal Tutor
[2010/2011]
Nicholas Day
Hoa Do Danh
Ionnis Hadjicharalambous
Reinis Rudzits
Josh Wreford
Ahmed Al-Aidaus
[2011/2012]
Benedict Chapman
Szu-Hsun Chen
Christopher Corris
Ugur Sahbaz
Vijit Rakubala (joining 2012)
[2012/2013]
Samuel Tyler
Jacob Willey
Pawel Zackiewicz
[2013/2014]
Sebastian Goscik
Ow Chung
Somesh Tripathi
Mohamed Marmouri
Albert De Mello
MN Zainalddin
[2014/2015]
Omar Bahig
Hongxing Chen
Luke John Chew
Mazin Hussein
Mohamed Nurhanis Zainalddin