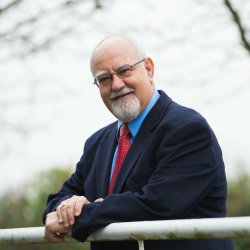 Professor Nickolaos Travlos
---
Professor of Finance and Accounting
PhD, MPhil, MBA, BSc
About
Biography
Professor Nickolaos Travlos joined the University of Surrey in September 2016 as Professor of Finance and Accounting. He has teaching and research interests in the areas of Corporate Finance, Financial Analysis, Financial Markets, Banking, and Mergers and Acquisitions. Prior to the University of Surrey he was at ALBA Graduate Business School (1992-2016) holding the Kitty Kyriacopoulos Chair in Finance and serving as its first Dean (1998-2016).
He has also taught at Boston College, City University of New York (Baruch College), New York University (L. Stern School of Business) and University of Piraeus (1990-1998), where he served as Chairman of the Department of Banking and Financial Management (1993-1997) and Director (founder) of the MSc in Banking and Financial Management (1997-1998). Moreover, he held the position of Distinguished Senior Research Fellow at Cardiff Business School (U.K.), 1998-2007.
Professor Travlos' research has been published in leading academic journals such as The Journal of Finance (10 papers); Journal of Accounting Research; Journal of Financial and Quantitative Analysis; Journal of Corporate Finance; Review of Finance; Financial Management; Journal of Financial Research, etc. His research findings have been cited widely in numerous international academic journals and text-books, while managerial implications of his work have appeared in the best relevant outlets. In 2008 Professor Travlos was recognized as one of the "most contributing" authors in the Journal of Finance (JF), "the gold standard in academic finance literature", over its six decades of existence. In addition, his published article "Corporate Takeovers Bids, Methods of Payment and Bidding Firms' Stock Returns" (The Journal of Finance, 1987b) was included in 1994 in the list of the twenty most influential published papers in Finance. Other published papers have been voted as the best papers appeared in the associated journals. He has served on the editorial Board of several international academic journals and has served as President/Chairman of several international academic Associations and Conferences. His research agenda includes Mergers and Acquisitions, Executive Compensation, Corporate Governance, Corporate Control, Dividend Policy, Ownership Structure, International Acquisitions, Leveraged Buyouts, Capital Restructuring and Raising New Capital.
He is a finance consultant and has served on the Board of Directors of several national and international firms. He was a member of the Board of the Hellenic Capital Market Commission from 2004 until 2009 and of the Hellenic Competition Commission from 2009 to 2012. He served as Chairman of the Board of the Athens International Airport (2013-2015) and vice-chairman of the Board of International Transparency - Hellas (2013-2016).
Teaching
Foundations of Finance and Investments (MANM097)
Publications
Additional publications
Refereed Articles in Scholarly Journals
Nickolaos G. Travlos with George Alexandridis, and Nick Antypas "Value Creation from M&As: New Evidence", Journal of Corporate Finance, 2017 (forthcoming) doi:10.1016/j.jcorpfin.2017.05.010
Nickolaos G. Travlos with Jay Dahya, Andrey Golubov, and Dimitris Petmezas "Governance Mandates, Outside Directors, and Acquirer Performance", Journal of Corporate Finance, 2016 doi:10.1016/j.jcorpfin.2016.11.005
Nickolaos G. Travlos with Andrey Golubov and D. Petmezas "Do Stock-Financed Acquisitions Destroy Value? New Methods and Evidence", Review of Finance 19 (6) (October 2015) doi:10.1093/rof/rfv009
Nickolaos G. Travlos with N. Karampatsas and D. Petmezas, "Credit Ratings and the Choice of Payment Method in Mergers and Acquisitions", Journal of Corporate Finance 25, 474-493, 2014 doi:10.1016/j.jcorpfin.2014.01.008 
Nickolaos G. Travlos with E. Oltheten, T. Sougiannis, and S. Zarkos, "Greece in the Eurozone: Lessons from a decade of experience", The Quarterly Review of Economics and Finance, November 2013
Nickolaos G. Travlos with G. Alexandridis, K. P. Fuller, and L. Terhaar, "Deal Size, acquisition premia and shareholder gains", Journal of Corporate Finance, 2013
Nickolaos G. Travlos with A. Golubov and D. Petmezas, "When it Pays to Pay Your Investment Banker: New Evidence on the Role of Financial Advisors in M&As", The Journal of Finance, February 2012
Nickolaos G. Travlos with E. Croci and D. Petmezas, "Asymmetric information and target firm returns", The European Journal of Finance, Vol. 18, No. 7, August 2012
G. Alexandridis with C. Mavrovitis, and Nickolaos G. Travlos "How have M&As changed? Evidence from the sixth merger wave", The European Journal of Finance, 1-26, 2011
Nickolaos G. Travlos with G. Alexandridis and D. Petmezas "Gains from M&As Around the World. New Evidence", Financial Management, December 2010
Nickolaos G. Travlos with G. Papaioannou and K.G. Viswanathan "Visibility Effects and Timing in Stock Listing Changes: Evidence from Operating Performance", Quarterly Review of Economics and Finance 49, 357 - 377, May 2009
Nickolaos G. Travlos with George N. Leledakis, George J. Papaioannou, and Nickolaos V. Tsangarakis "Stock splits in a neutral transaction cost environment: Evidence from the Athens Stock Exchange", Journal of Multinational Financial Management, 2009
Nickolaos G. Travlos with Philip J. Mcknight, T. Milonas and Charlie Weir "The Cadbury Code Reforms and Corporate Performance" Icfai University Journal of Corporate Governance, January 2009
Nickolaos G. Travlos with Nikolaos T. Milonas, Jason Zezhong Xiao and Cunkai Tan, "The Ex-Dividend Day Stock Price Behavior in the Chinese Stock Market", Pacific-Basin Finance Journal, Vol. 14, 2006
Nickolaos G. Travlos, with Vasilis Theoharakis and E. Oltheten, "Faculty Perceptions of Finance Journals: A Global View", Journal of Financial and Quantitative Analysis. March 2005
Nickolaos G. Travlos, with P. Protopapas and G. Tsagarakis "Mergers and Acquisitions in Greece: Stock Price Reaction of Acquiring and Target Firms", Spoudai, October-December 2003 (voted best paper for the year)
Nickolaos G. Travlos with G. Papaioannou and K.G. Viswanathan, "The Operating Performance of Firms that Switch their Stock Listing", Journal of Financial Research, Vol. 26, Issue 4, Winter 2003
Nickolaos G. Travlos with J. Doukas and M. Holmen, "Diversification, Ownership and Control of Swedish Corporations", European Financial Management, Vol. 8, Issue 3, September 2002
Nickolaos G. Travlos with J. Dahya and J. McConnell, "The Cadbury Committee, Corporate Performance, and Top Management Turnover", The Journal of Finance, 57 (1), February 2002
Nickolaos G. Travlos with L. Trigeorgis and N. Vafeas, "Shareholder Wealth Effects of Dividend Policy Changes in an Emerging Stock Market: The Case of Cyprus", Multinational Finance Journal, June 2001, Vol. 5, Issue 2 (voted best paper for the year)
Nickolaos G. Travlos with G. Papaioannou and N. Tsangarakis, "Valuation effects of Greek stock dividend distributions", European Financial Management, Vol. 6(4), December 2000
Nickolaos G. Travlos with J. Dahya, "Does the One Man Show Pay? Theory and evidence on the Dual CEO Revisited", European Financial Management, Vol. 6(1), 2000
Nickolaos G. Travlos with J. Barkoulas and K. Baum, "Long Memory in the Greek Stock Market", Journal of Applied Financial Economics, Vol. 10, 2000
Nickolaos G. Travlos with J. Barkoulas, "Chaos in an Emerging Capital Market? The Case of the Athens Stock Exchange", Journal of Applied Financial Economics, Vol. 8, 1998
"Sources of Gain from Domestic and International Acquisitions", Corporate Finance Review, Vol. 1, no 3, pp. 25-33, December 1996
Nickolaos G. Travlos with Gil Manzon and David Sharp, "An Empirical Study of the Consequences of US Tax Rules for International Acquisitions by US Firms", The Journal of Finance, December 1994
Nickolaos G. Travlos with Elizabeth Strock-Bagnani, Nikolaos Milonas and Anthony Saunders, "Managers, Owners and the Pricing of Risky Debt: An Empirical Analysis" , The Journal of Finance, June 1994
Nickolaos G. Travlos with Marcia Millon Cornett, "Going Private Buyouts and Determinants of Shareholders Returns", Journal of Accounting, Auditing and Finance, p. 1-3, 1993
Nickolaos G. Travlos with George Papaioannou and Elizabeth Strock, "Ownership Structure and Corporate Liquidity Policy", Managerial and Decision Economics, Vol. 13, pp. 315-22, 1992
Nickolaos G. Travlos with Sinan Cebenoyan and George Papaioannou, "Foreign Takeover Activity in the US and Wealth Effects for Target Firm Shareholders", Financial Management, pp. 58-68, 1992
Nickolaos G. Travlos with James Waegelein, "Executive Compensation, Management Ownership, Corporate Control and Abnormal Returns to Bidding Firms at Takeover Announcements", Managerial and Decision Economics, Vol. 13, pp. 493-501, 1992
Nickolaos G. Travlos with George Papaioannou, "Corporate Acquisitions: Method of Payment Effects, Capital Structure Effects and Bidding Firms Stock Returns", Quarterly Journal of Business and Economics, pp. 3-22, Autumn 1991
Nickolaos G. Travlos with Yakov Amihud and Baruch Lev, "Corporate Control and the Choice of Investment Financing: The Case of Corporate Acquisitions" , The Journal of Finance, pp. 603-16, June 1990
Nickolaos G. Travlos with Anthony Saunders and Elizabeth Strock, "Ownership Structure, Deregulation and Bank Risk Taking" , The Journal of Finance, pp. 643-54, June 1990
Nickolaos G. Travlos with Marcia Millon Cornett, "Information Effects Associated with Debt-for-Equity and Equity-for-Debt Exchange Offers" , The Journal of Finance, pp. 451-468, June 1989
Nickolaos G. Travlos with John Doukas, "The Effects of Corporate Multinationalism on Shareholders' Wealth: Evidence from International Acquisitions" , The Journal of Finance, pp. 1161-1175, December 1988
Nickolaos G. Travlos with Hassan Tehranian and James Waegelein, "The Effect of Long-term Performance Plans on Corporate Sell-Off-Induced Abnormal Returns" , The Journal of Finance, pp. 933-942, 1987
"Corporate Takeover Bids, Method of Payment, and Bidding Firms' Stock Returns", The Journal of Finance, pp. 943-963, 1987
Nickolaos G. Travlos with Hassan Tehranian and James Waegelein, "Management Compensation Contracts and Merger-Induced Abnormal Returns", Journal of Accounting Research, pp. 51-76, 1987 (Supplement)
Nickolaos G. Travlos with Marcia Millon Cornett, "An Examination of the Motivation for Leveraged Buyout Proposals" , Spoudai, pp. 177-202, January-June 1987