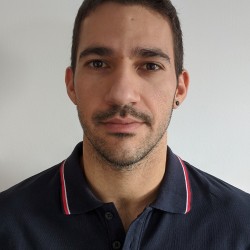 Dr Nikolas Makasis
---
Surrey Future Fellow in Sustainability, Civil and Environmental Engineering
PhD MSc MEng
About
Biography
Nikolas is a Surrey Future Fellow in the School of Sustainability, Civil, and Environmental Engineering at the University of Surrey. His work aims to contribute to the decarbonisation of our planet, currently focusing on how we can utilise the subsurface to sustainably and efficiently provide heating and cooling. 
In his previous role, Nikolas was a post-doctoral Research Associate at the University of Cambridge, working on large-scale subsurface modelling. Prior to joining Cambridge, he was a Research Engineer at the University of Melbourne, where he worked on the design of shallow geothermal technologies, expanding on his Ph.D. research, also undertaken at the University of Melbourne. Nikolas has an M.Sc. in Computing Science and an M.Eng. in Civil and Environmental Engineering from Imperial College London. 
Having a background in both engineering and computer science, Nikolas is passionate about applying computational, statistical and data-driven solutions to real world problems. He has been involved in a number of projects related to shallow geothermal technologies, such as the design of the Melbourne Connect Building heating and cooling system, currently operating using pioneering applications of this technology. He has substantial experience in the numerical modelling of heat transfer processes and fluid flow using finite element methods and has developed software for both design and educational purposes. The use of statistical and machine learning approaches is another key element of his work, providing insights on the complexities of real-world applications and creating tools to make efficient design and operation of new technologies accessible. 
My qualifications
2019
Ph.D. in Engineering
Thesis title: Further understanding ground source heat pump system design using finite element methods and machine learning techniques.
The University of Melbourne
2014
M.Sc. in Computing Science
Imperial College London
2013
M.Eng. in Civil Engineering
Imperial College London
Previous roles
2020 -
2023
Postdoctoral Research Associate
University of Cambridge
2019 -
2021
Research Engineer
The University of Melbourne
Affiliations and memberships
Honorary Fellow
The University of Melbourne
Research

Research interests

Nikolas is passionate about using innovative and novel approaches to contribute towards accelerating the urgently needed decarbonisation of the heating and cooling of our built environment. He has extensive experience with shallow geothermal energy technologies, deployed at both individual and district scales. Nikolas' recent focus has been on large-scale heat-network deployments, which can be more efficient than single installations, combining different demand profiles and incorporating multiple renewable energy technologies. In addition, he is interested in the thermal impact of anthropogenic infrastructure on the subsurface and the opportunities to use rejected heat for heating and cooling buildings, as well as repurposing infrastructure for geothermal energy provision.

Nikolas enjoys working with computational models and combining real data with simulations to better understand complex physical processes. He has expertise in finite element modelling, incorporating heat transfer and fluid flow physics, the use of AI and machine learning algorithms for data analysis, prediction, and tool development, and several programming languages such as Python, Java, and MATLAB. Moreover, he has been involved in several field tests, including thermal response testing for novel geothermal piles.

Among his research interest are:

Innovative design of shallow geothermal technologies
Smart controllers for geothermal heating and cooling systems
District heating systems and optimisation
Subsurface urban climate change and anthropogenic infrastructure 
Repurposing abandoned infrastructure to provide sustainable heating and cooling
Thermal energy storage and ATES systems