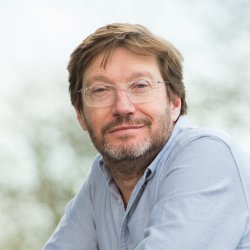 Rupert Flindt
---
Teaching Fellow in Recording Techniques
BSc FHEA MIPS
About
Biography
Before joining the department Rupert worked as a Senior Studio Manager with BBC Audio and Music for many years specialising in music mixing and training.
As well as teaching recording techniques for the Tonmeister degree course he is also a visiting lecturer to the BBC Academy, regularly working at the BBC Wood Norton training centre in Evesham. He also delivers training for the Institute of Professional Sound and other production companies.
As a Studio Manager and freelance Sound Supervisor, Rupert mixed all genres of music (with a particular interest in combining live orchestras with rock and jazz bands) both for the BBC and Independent broadcasters.
Radio, TV and Cinema Experience includes:
Studio recordings - BBC studios, Abbey Road, Air Studios etc
Broadcast events - BBC Proms in the Park, T in the Park, Glastonbury, Reading, The BBC Proms, TBI media etc.
Theatre events - The Olivier Awards, The Royal Opera House, Radio 2 Folk Awards etc.
Artists mixed have ranged from - Bon Jovi to Bryn Terfel, Randy Newman to Robbie Williams, Stereophonics to Shirley Bassey etc...
Performing groups recorded include:
BBC Concert Orchestra, BBC Symphony Orchestra, The Royal Philharmonic Orchestra, The Guy Barker Band, The BBC Big Band, The Britten Sinfonia, The Heritage Orchestra etc.
Rupert also served on the executive committee of the Institute of Professional Sound.
Publications
For subjective experimentation on 3D audio systems, suitable programme material is needed. A large-scale recording session was performed in which four ensembles were recorded with a range of existing microphone techniques (aimed at mono, stereo, 5.0, 9.0, 22.0, ambisonic, and headphone reproduction) and a novel 48-channel circular microphone array. Further material was produced by remixing and augmenting pre-existing multichannel content. To mix and monitor the programme items (which included classical, jazz, pop and experimental music, and excerpts from a sports broadcast and a lm soundtrack), a flexible 3D audio reproduction environment was created. Solutions to the following challenges were found: level calibration for different reproduction formats; bass management; and adaptable signal routing from different software and fille formats.