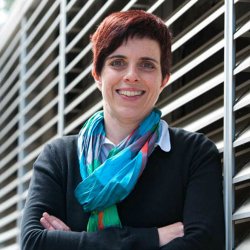 Silvia Pani
---
Senior Lecturer in Applied Radiation Physics
Biography
Biography
Silvia Pani was born and brought up in Udine, Italy.She obtained her "laurea" degree in 1996 and her PhD in 2001 from the University of Trieste. From 2000 to 2004 she worked there as a post-doctoral research assistant on the development of the first synchrotron beamline for "in vivo" mammography. During the same period she worked as a support scientist to external synchrotron users.In 2004 she was awarded a two-year Marie Curie Intra-European Fellowship, based at University College London, to work on breast imaging using X-ray diffraction CT.From Autumn 2006 to Summer 2007 she worked at UCL on imaging projects funded by the European Union and by a private company.In 2007 she moved to Queen Mary, University of London/Barts and The London NHS Trust, where she worked on a Home Office funded project for drug detection using X-ray diffraction.
In 2008 she joined the Physics Department at Surrey as a Lecturer.
Research interests
Development of X-ray techniques for medical imaging and non-destructive testing, in particular:
Breast imaging using conventional and novel techniques (diffraction, CT, phase contrast, K-edge subtraction).
Quantitative X-ray imaging with spectroscope detectors.
Transmission microCT for material and tissue analysis.
Diffraction microCT tissue characterization.
Transfer and adaptation of synchrotron-based techniques to the laboratory environment.
Homeland security (detection of illegal materials).
Research collaborations
Current and past collaborations include:
Detector Development Group, Rutherford Appleton Laboratories

School of Materials, University of Manchester

Radiation Physics Group, Department of Medical Physics and Bioengineering, University College London

Radiation Safety, Barts and The London NHS Trust

SYRMEP Group, University of Trieste/Sincrotrone Trieste SCpA

Counter Drug Technologies Team, Home Office Scientific Development Branch
Teaching
Undergraduate Level:
Year 1 Laboratories
Year 3/M Medical Imaging
Module Leader for PHY3045 Medical Imaging, PHY M043 Diagnostic Applications of Ionising Radiation Physics, PHYM048 Introduction to Biology and Radiation Biolog, and PHYM055 Experimental and Professional Skills for Medical Physics
Postgraduate level:
Radiation laboratories
Monte Carlo modelling (part of Extended Group Project)
Ultrasonics Lab (part of Diagnostic applications of non-ionising radiation)
Departmental duties
Programme Leader, MSc in Medical Physics
Radiation Protection Supervisor for X-ray labs
Special Needs Liaison Academic
Member of the Department Equality and Diversity Committee
Media Contacts
---
Contact the press team
Email:
mediarelations@surrey.ac.uk
Phone: +44 (0)1483 684380 / 688914 / 684378 Out-of-hours: +44 (0)7773 479911
Senate House, University of Surrey
Guildford, Surrey GU2 7XH
My publications
Publications
Pani S, Cook EJ, Horrocks JA, Jones JL, Speller RD (2010). Characterization of breast tissue using energy-dispersive and synchrotron X-ray diffraction computed tomography . Appl Rad Isot 68(10), 980-987.
Pani S, Cook E, Horrocks J, George L, Hardwick S, Speller R (2009). Modelling an energy-dispersive X-ray diffraction system for drug detection. IEEE Trans Nucl Sci.56(3), 1238-1241.Cook EJ, Pani S, George L, Hardwick S, Horrocks JA, Speller RD (2009). Multivariate data analysis for drug detection using energy-dispersive X-ray diffraction.IEEE Trans Nucl Sci 56(3), 1459-1464.
Esbrand C, Arvanitis CD, Pani S, Price BD, Griffiths JA, Metaxas M, Royle GJ, Noy M, Leaver J, Longo R, Rokvic T, Turchetta R, Georgiou H, Schulerud H, Speller RD (2009). Characterisation of the components of a prototype scanning intelligent imaging system for use in digital mammography: The I-ImaS system. IEEE Trans Nucl Sci 56(3), 1419-1425.Griffiths JA, Royle GJ, Horrocks JA, Hanby AM, Pani S, Speller RD (2008). Angular dispersive diffraction microCT of small breast tissue samples. Rad Phys Chem 77, 373-380.Castoldi A, Guazzoni C, Galimberti A, Hartmann R, Pani S, Royle G, Strüder L (2007). Application of Controlled-Drift Detectors in diffraction enhanced imaging of tissues. IEEE Trans Nucl Sci 54(5), 1474-1480.Pani S, Royle G, Speller R, Castoldi A, Galimberti A, Guazzoni C (2007). Use of a novel Controlled Drift Detector for Diffraction Enhanced Breast Imaging. Nucl Instrum Meth A 573, 133-136.