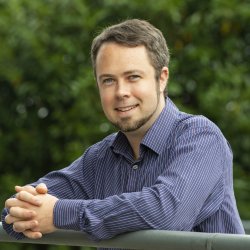 Dr Simon King
---
Research Fellow
EngD, BSc Hons
About
Biography
Biography
Dr Simon G King currently works as a Research Fellow at the Advanced Technology Institute (ATI) as part of the Nano-Electronics Centre (NEC). He is also an active member of the Institute of Physics.
Dr King is an alumnus of the University of Surrey (BSc Physics - 2010), and continued at Surrey to complete his doctorate (2014 - "Novel Electrospinning Techniques with Nano-materials").
After a brief period working is the financial sector, Dr King returned to Surrey as a Research Fellow within the University of Surrey's Electrical and Electronic Engineering department, in Prof Ravi Silva's Nano-Electronics Centre.
Dr King specialises electrospinning (included nanofibre production and analysis), and nano-materials (including carbon nanotubes and graphene). His current primary research project is titled 'Manufacturing Lightweight Carbon Nanotube Electrical Cables', funding by the EPSRC.
Research Interests
Large-area Electrospinning
Electrospinning of nano-materials (inc. CNT and Graphene)
Composite Materials and nano-material enhanced composites
Thermoelectrics
Energy Harvesting
Printed flexible sensors/switches/transistors
Nano-material manipulation and processing
Carbon Motors
Collaborators
Revolution Fibres Ltd. (New Zealand)
Thomas Swan & Co. Ltd. (UK)
KYMIRA Ltd. (UK)
University of Bristol (UK)
Areas of specialism
Electrospinning;
Carbon Nanotubes;
Graphene;
Composite Materials;
Raman Spectroscopy;
Electron Microscopy
Affiliations and memberships
MInstP
Member of the Institute of Physics
Research

Research projects

Manufacturing Lightweight Carbon Nanotube Electrical Cables

CNTs have already demonstrated to exhibit electrical properties that exceed that of copper, yet remaining up to 10x lighter. However, with the current inability to grow CNTs to any required length they must be manipulated and processed before they can be utilised. This project uses electrospinning to develop a manufacturing solution to produce and process the CNT wires. this includes managing and healing any structural defects within a CNT network, effectively 'welding' them together. This welding will effectively eliminate the tube-to-tube resistances currently faced in CNT electrical devices and allow for large-scale application.