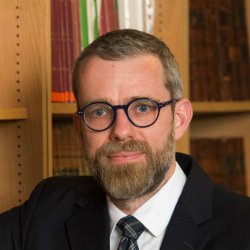 Biography
Biography
Dr Stephen Bero joined the School of Law in 2017 as a Lecturer in Private Law, after earning a PhD in philosophy from the University of Southern California. Prior to that, he received a JD from Columbia Law School, practiced law for several years in the litigation department of a large commercial law firm in New York, and served as a law clerk for judges at the trial and appellate levels of the U.S. federal courts. He is a Research Fellow of the Surrey Centre for Law and Philosophy.
Research interests
Dr Bero's main research interests are in tort law and tort theory, philosophy of law, and moral philosophy.
Affiliations
Surrey Centre for Law and Philosophy
Departmental duties
Dr Bero is the Director of the law school's JD Pathway Programme, described below.
The JD Pathway (or Senior Status) Programme
The law school's JD Pathway (formerly, Senior Status) Programme is a 2-year, graduate-entry LLB programme designed for students who already hold a university degree in a subject other than law. Students enter the programme with second-year status (that is, at level 5 rather than level 4, under the Framework for Higher Education Qualifications in England, Wales, and Northern Ireland). They are largely taught in tutorial groups made up of other graduate-entry students, and they undertake a rigorous and comprehensive course of legal training. Both years of study are counted for purposes of classifying the resulting LLB, which is a qualifying law degree in England and Wales.
Complete information about the structure of the JD Pathway/Senior Status Programme—including compulsory and optional subjects of study, learning outcomes, assessment methods, etc.—is available in the programme catalogue and in the current programme handbook. (Please note that we are no longer accepting new applications to this programme.)
For Prospective Employers – Dr Bero (contact info above) is very happy to answer any questions that prospective employers may have about Senior Status or JD Pathway students and graduates, the course of study they pursued, or the resulting LLB degree. 
For Current Students and Graduates – For the benefit of current students and graduates of the JD Pathway/Senior Status Programme, Dr Bero is available to answer any questions that prospective employers may have, or to provide a letter explaining the nature of the programme. You are also welcome to refer prospective employers directly to Dr Bero. In addition, we are always happy to hear from our Senior Status and JD Pathway graduates! Please do not hesitate to contact Dr Bero with news, comments, or questions.