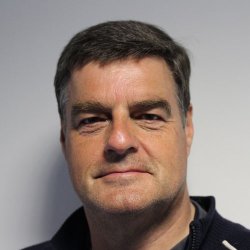 Dr Steven Hinder
---
Experimental Officer, Manager of the Surface Analysis Laboratory
My publications
Publications
The ultra-low-angle microtomy (ULAM) technique has been developed to impart a cross-sectional, ultra-low-angle taper through polymeric materials such as coatings and paints. ULAM employs a conventional rotary microtome in combination with high-precision, angled sectioning blocks to fabricate the ultra-low-angle tapers. Subsequent investigation of the tapers produced by ULAM may be used in conjunction with X-ray photoelectron spectroscopy (XPS) or time-of-flight secondary ion mass spectrometry (ToF-SIMS), for compositional depth profiling or ?buried? interface analysis. Variation in the selection of the ULAM taper angle and/or the analysis interval size employed enables depth resolution at the nanometre or micrometre scales to be achieved.
In the work described here scanning electron microscopy (SEM) and atomic force microscopy (AFM) have been employed to investigate the morphology and topography of the surfaces resulting from the ULAM tapering process. It is demonstrated that a correctly mounted polymeric sample, sectioned with a sharp microtome knife, displays little perturbation of the resulting polymeric surface after ULAM processing. Additionally, SEM analysis of the interface region between a poly(vinylidene fluoride) (PVdF) topcoat and polyurethane (PU) primer exposed by ULAM processing reveals that the interface region between the two coatings possesses a well-defined boundary. No evidence of polymeric smearing across the interface is observed. XPS compositional depth profiling across a ?buried? PVdF/PU interface, exposed by ULAM processing, is employed to demonstrate the utility of the ULAM technique.
Data produced using both unsized and aminopropyltriethoxysilane (APS) coated fibre will be shown and discussed. By applying a novel method of single fibre thermal conditioning (sf-TC) it was found that retained fibre strength is, in some cases, underestimated and that the temperature range 400-500 °C is the most critical for thermally induced strength loss. This is not related to degradation of the APS surface coating, but rather is likely linked to fundamental changes occurring in the glass network or at the fibre surface. X-ray Photoelectron Spectroscopy (XPS) analysis of treated fibres was performed, but it was not possible to measure any significant changes in surface chemical state. Analysis of water volatilized from unsized fibre was performed using a furnace connected to quadropole mass spectrometer. An asymptotic minimum in volatilized water is reached between 400-500 °C.
Danesh A, Davies MC, Hinder SJ, Roberts CJ, Tendler SJB, Williams PM, Wilkins MJ
(2000)
Surface characterization of aspirin crystal planes by dynamic chemical force microscopy,
ANALYTICAL CHEMISTRY
72
(15)
pp. 3419-3422
AMER CHEMICAL SOC
Lei C-H, Ouzineb K, Dupont O, Routh AF, Gundabala VR, Hinder SJ, Keddie JL
(2007)
Lateral distribution of surfactants in waterborne pressure sensitive adhesive films: Theory and experiment,
ABSTRACTS OF PAPERS OF THE AMERICAN CHEMICAL SOCIETY
233
AMER CHEMICAL SOC
Etacheri V, Michlits G, Seery MK, Hinder SJ, Pillai SC
(2013)
A highly efficient TiO2-xCx nano-heterojunction photocatalyst for visible light induced antibacterial applications.,
ACS Appl Mater Interfaces
Visible-light-induced antibacterial activity of carbon-doped anatase-brookite titania nano-heterojunction photocatalysts are reported for the first time. These heterostructures were prepared using a novel low temperature (100 °C) non-hydrothermal low power microwave (300 W) assisted method. Formation of interband C 2p states was found to be responsible for the band gap narrowing of the carbon doped heterojunctions. The most active photocatalyst obtained after 60 minutes of microwave irradiation exhibits a 2-fold higher visible-light induced photocatalytic activity in contrast to the standard commercial photocatalyst Evonik-Degussa P-25. Staphylococcus aureus inactivation rate constant for carbon-doped nano-heterojunctions and the standard photocatalyst was 0.0023 and -0.0081 min-1 respectively. It is proposed that the photo-excited electrons (from the C 2p level) are effectively transferred from the conduction band of brookite to that of anatase causing efficient electron-hole separation, which is found to be responsible for the superior visible-light induced photocatalytic and antibacterial activities of carbon-doped anatase-brookite nano-heterojunctions.
Hinder SJ, Grilli R, Rustame M, Santos WIA, Baker MA, Costa I
(2014)
A surface analytical investigation of cerium-based conversion coatings deposited onto an AA2024-T3 aluminium alloy cladding layer,
Surface and Interface Analysis
46
(10-11)
pp. 735-739
Copyright © 2014 John Wiley & Sons, Ltd.Cerium-based conversion coatings are being investigated as alternatives to chromating treatments for the corrosion protection of aluminium and its alloys because of the environmentally unfriendly nature of the chromating process. This study investigates the surface film composition, structure and corrosion performance following a two-step surface treatment for an AA2024-T3 clad aluminium alloy. The two-step treatment comprised of an initial cerium conversion process involving immersion in an aqueous solution containing Ce3+ ions at 75°C followed by immersion in a propylene glycol solution at 75°C. The coating surface morphology, composition and structure have been studied using SEM, XPS, Auger spectroscopy and Fourier transform infrared spectroscopy, while corrosion resistance was evaluated using electrochemical impedance spectroscopy. The coating formed by the two-step treatment is an interconnecting fibrous (pseudo) boehmite layer with the incorporation of Ce3+ in the film. This two step treatment coating exhibits high impedance compared with the coatings formed through exposure to just stage 1 or stage 2 of the two-step treatment and shows good potential for improved corrosion protection.
Audronis M, Hinder SJ, MacK P, Bellido-Gonzalez V, Bussey D, Matthews A, Baker MA
(2011)
A comparison of reactive plasma pre-treatments on PET substrates by Cu and Ti pulsed-DC and HIPIMS discharges,
Thin Solid Films
520
(5)
pp. 1564-1570
Abstract PET web samples have been treated by magnetically enhanced glow discharges powered using either medium frequency pulse direct current (p-DC) or low frequency high power pulse (HIPIMS) sources. The plasma pre-treatment processes were carried out in an Ar-O2 atmosphere using either Cu or Ti sputter targets. XPS, AFM and sessile drop water contact angle measurements have been employed to examine changes in surface chemistry and morphology for different pre-treatment process parameters. Deposition of metal oxide onto the PET surface is observed as a result of the sputter magnetron-based glow discharge web treatment. Using the Cu target, both the p-DC and HIPIMS processes result in the formation of a thin CuO layer (with a thickness between 1 and 11 nm) being deposited onto the PET surface. Employing the Ti target, both p-DC and HIPIMS processes give rise to a much lower concentration of Ti (
Hinder SJ, Watts JF, Lowe C
(2004)
Interface analysis and compositional depth profiling by XPS of polymer coatings prepared using ultra-low-angle microtomy,
SURFACE AND INTERFACE ANALYSIS
36
(8)
pp. 1032-1036
JOHN WILEY & SONS LTD
Surface-sensitive techniques have been employed to characterise a model polymer substrate surface, poly(ethylene terephthalate) (PET), after a reactive sputter pre-treatment using magnetically enhanced Cu or Ti sputter targets in a mixed Ar-O 2 glow discharge plasma. The plasmas are produced using either medium-frequency pulsed direct current (p-DC) or low-frequency high power impulse (HIPIMS) sources. X-ray photoelectron spectroscopy (XPS), time-of-flight secondary ion mass spectrometry (ToF-SIMS) and sessile drop water contact angles were employed to investigate changes in PET surface chemistry and properties following surface modification using different p-DC and HIPIMS process parameters. The XPS results indicate that the chemical composition of plasma-treated PET surfaces (p-DC or HIPIMS) depends strongly on the processing parameters employed such as sputter target material, magnetic array type and power supply technology. XPS results demonstrate that the sputter target material employed is of primary importance as it dictates the quantity of metal deposited/implanted into the PET surface. XPS results show that the use of a Cu target resulted in