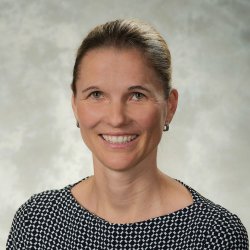 About
Biography
Dr Susanne Becken is a Vice Chancellor Research Fellow at the University of Surrey. She is also a Professor of Sustainable Tourism at Griffith University in Australia  where she was the founding Director of the Griffith Institute for Tourism. In addition, Susanne works as a Principal Science Investment Advisor for tourism in the Department of Conservation, New Zealand. She has published over 100 articles on sustainable tourism, climate change and tourism resource use. Susanne is a member of the Air New Zealand Sustainability Advisory Panel, the NOW Transforming Travel Advisory Board, and an invited expert on the Whitsunday Climate Change Innovation Hub. Susanne is a Fellow of the International Academy of the Study of Tourism.
Research

Research interests

My expertise lies in the application of systems thinking to the wider socio-economic aspects of tourism. Key areas of my research include the efficient use of natural resources, climate change mitigation and adaptation, environmental policy and human behaviour. 

Current projects include:

- Mainstreaming climate change adaptation into tourism policy in Thailand

- Developing a monitoring system of aesthetic value for the Great Barrier Reef using Artificial Intelligence

- Carbon reduction measures by airlines - enough to decarbonise air travel?

 

 
Publications
Highlights
Becken, S. (2019). Decarbonising tourism: Mission impossible? Tourism Recreation Research. DOI: 10.1080/02508281.2019.1598042
Le, D., Scott, N., Becken, S., & Connolly, R. (Published online). Tourists' aesthetic assessment of environmental changes, linking conservation planning to sustainable tourism development. Journal of Sustainable Tourism. DOI: https://doi.org/10.1080/09669582.2019.1632869.
Becken, S., Connolly, R.M., Chen, J. & Stantic, B. (2018). A hybrid is born: integrating collective sensing, citizen science and professional monitoring of the environment. Ecological Informatics, 52, 35-45.
Becken, S. & Shuker, J. (2018). A framework to help destinations manage carbon risk from aviation emissions. Tourism Management, 71, 294-304.