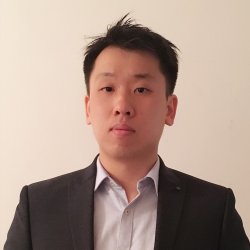 Biography
Dr Teng Zhang is a lecturer in Automotive Engineering in the department of Mechanical Engineering Sciences. He obtained his PhD from National University of Singapore in 2014 on multi-scale modelling of organic solar cells. Before joining University of Surrey, he spent 3 years as a research associate at Imperial College London working on modelling and testing of high energy-density lithium-sulfur batteries for automotive applications. He contributed to several UK and EU projects in collaboration with industry, such as the 'REVB (Revolutionary Electric Vehicle Batteries)' and the 'ECLIPSE (Next-generation Battery Technology for Space Applications )' projects on lithium-sulfur batteries, and the 'ALICE (Advanced Lithium-Ion Capacitor Electrodes )' project on lithium-ion capacitors.
My qualifications
2014
PhD in Chemical and Biomolecular Engineering
National University of Singapore
2010
BEng(Hons) Engineering Science
National University of Singapore
Research
Research interests
I'm interested in exploring strategies to improve the mechanistic understanding, system-level design, and control of energy storage systems through modelling and characterisation of the underlying electrochemistry and transport phenomena at different scales. My on-going research covers:
Multiscale modelling of lithium-sulfur batteries
Electrochemical and lithium-ion capacitors
Solid-state batteries
Battery thermal management
Research projects
A fully-funded PhD studentship is available on multiscale modelling and degradation study of lithium-sulfur batteries. If you are interested please contact me for details.
My teaching
ENG2123 -Control (module leader)
ENG2093 - Numerical and Experimental Methods
ENGM268 - Advanced Powertrain Techonology
ENGM247 - Dissertation Project
My publications
Publications