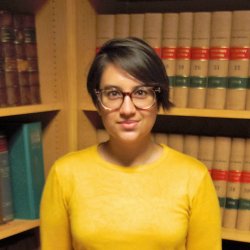 Thekli Anastasiou
---
Teaching Fellow
LLM in Public International Law; LLB Law
About
Biography
Thekli joined the School of Law in September 2019. She is teaching constitutional law, administrative law and European Union law. She previously studied public international law at the University of Leiden, and she is pursuing her PhD at the University of Sheffield. Her research combines international refugee law, international human rights law and international environmental law to bridge the legal protection gap for climate change related migration. She previously taught public law, international law and migration law at the University of Sheffield.
Teaching
Public Law 1: Constitutional Law
Public 2: Administrative Law
European Union Law 1
European Union Law 2
Foundation Year: Contemporary issues in law
Publications
Highlights
Thekli Anastasiou and Bríd Ní Ghráinne, Editorial: Environmental Displacement in 2018 – Current Protection Challenges (RLI Working Paper Series: Mini-volume on Environmental Displacement, 2018).
Anastasiou, T., Public International Law and Migration in Berhman S., and Kent A. (Eds), Climate Refugees: Beyond the Legal Impasse? (Routledge Studies in Environmental Migration, Displacement and Resettlement, February 2018)