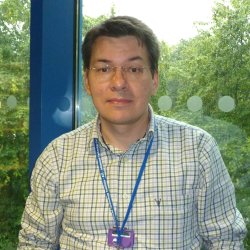 Dr Vladimir Palitsin
---
Laboratory Manager
PhD in Physics
---
Academic and research departments
About
Biography
Vladimir joined the Surrey Ion Beam Centre (IBC) as a Research Fellow in March 2006 to work on development of the new nanobeam facilities, the Horizontal Nanobeam and the Vertical Nanobeam.
He holds MSc in Physical Electronics from Tashkent Technical University (1985) and PhD in Physics from the University of Warwick (2006). During PhD work in the group of Professor Mark Dowsett he was engaged in development of MEIS/SIMS for surface and thin film analysis and in the evaluation of the ultra low energy SIMS (uleSIMS) as a mass spectroscopic technique in the applications to archaeometry and cultural heritage.
Before this he worked as a scientific researcher at Arifov Institute of Electronics, Uzbek Academy of Sciences (1985-2000), and as a visiting researcher in the I.U.T. Berlin (1997-2000) and the University of Antwerp (2000-2002).
Some of his earlier projects include development of the Ion Mobility Spectrometers and detectors for forensic and environmental trace analysis, ion sources for mass spectrometry and detectors for the gas chromatography. During that time he has also gained an extensive practical knowledge of SIMS as well as MEIS, SEM and XPS techniques.
The primary objectives of his current research are development of the novel analytical techniques in the IBC. These include the ambient pressure MeV energy mass spectrometry (MeV SIMS) with (sub)-micron resolution, and application of proton (ion) beam writing (PBW) technologies for 3D-micromachining of high aspect ratio microstructures: lab-on-a-chip, neural biosensors, micro-fluidics devices, micro-actuators.
Research

Research interests

Development of analytical instrumentation, systems engineering
Mass spectrometry and imaging mass spectroscopy
Ion beam applications for material analysis and material modification
Charged particle optics
Microfabrication using ion beam technique