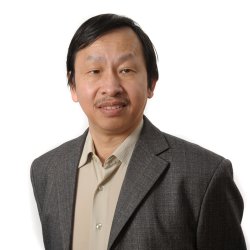 Dr Wei Xu
---
Senior Lecturer
BEng Materials Engineering (Tsinghua), PhD Mechanical and Manufacturing (Birmingham)
About
Biography
I am a Senior Lecturer at the University of Surrey.
Honours and awards
Best Paper Award, International Conference, Recent Advances in Mechatronics, ICRAM' 95
Henry Lester Trust Scholarship, 1993/94 and 1994/95
Guest, Keen and Nettlefold (GKN) Scholarship, 1992/93 (Birmingham)
IAEA fellowship, 1988/89.
Research

Research interests

Finite Element Modeling and Surgical Instruments Design
Osseointegration and biomechanics
Medical Applications of Smart Materials / sensor/ actuator (Shape Memory Alloy and Piezoelectric).

Current research courses

3D FE Modelling of Implants for trans-femoral Osseointegrated Percutaneous Attachment of Prosthetic Limbs.
Publications
W. Xu and T. King, "A New Type of Piezoelectric Motor Using a Roller Clutch Mechanism", Mechatronics, Vol. 6, No. 3, pp. 303-315, 1996.
W. Xu, and T. King, "Flexure Hinges for Piezo Actuator Displacement Amplifiers: Flexibility Accuracy and Stress Considerations", Precision Engineering (ASPE), Vol 19, No 1, pp 4-10, July 1996
T. King and W. Xu, "The Design and Characteristics of Piezomotors Using Flexure Hinged Displacement Amplifiers", Robotics and Autonomous Systems, No. 19, pp. 189-197, 1996
W. Xu and T. King, "Investigation of the Characteristics of a Harmonic Piezomotor", The 3rd International Conference on Mechatroncs and Machine Vision in Practice, Sept. 18-20 1996, Guimaraes, Portugal
T. Frank, W. Xu and A. Cuschieri, Shape Memory Applications in Minimal Access Surgery - The Dundee Experience, Second International Conference on: Shape Memory and Superelastic Technologies: Engineering & Biomedical Applications, Mar. 2-6 1997, Pacific Grove, CA USA
W. Xu, T. Frank, G. Stockham and A. Cuschieri, Application of finite element analysis to geometrically complicated SMA actuator components, 6th International Conference on New Actuator, June 17-19 1998, Bremen, Germany
W Xu, G. Stockham, T. Frank, A. Cuschieri, Memory alloy fixator system for suturing tissue in minimal access surgery, Annals of Biomedical Engineering, Vol.27, pp. 663-669, 1999.
W. Xu, T. G. Frank and A. Cuschieri, Development of SMA fixation devices for minimal access surgery, First European Conference on Shape Memory and Superelastic Technologies, Sept. 5-9 1999, Antwerp Zoo, Belgium
T. King and W XU, The Construction and Characteristics of A Piezoelectric Motor Using a Harmonic Drive, Applied Mechanics and Engineering, Vol 5, No 1, 2000.
Wei X, Crocombe AD and Hughes S, Finite element analysis of bone stress and strain around a distal osseointegrated implant for prosthetic limb attachment, Proc ImechE pt H, Journal of Engineering in Medicine, 214, 595-602, 2000