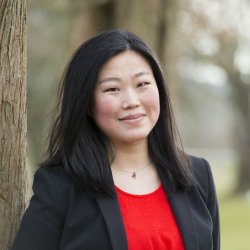 About
Biography
Dr. Wen (Stella) Tian is a Research Fellow associated with the Digital Visitor Economy Theme. She has received her PhD degree in Information Systems jointly awarded by the City University of Hong Kong (CityU) and the University of Science and Technology of China (USTC). She has a strong cross-disciplinary research background of studying the behavioral, managerial, technological, and societal impact brought by the development of digital technologies. She has worked in CityU and the University of Hong Kong before joining the University of Surrey.
Dr. Tian has also been an active entrepreneur in the smart city industry before relocated to the UK. She has been a co-founder of an IT startup creating cloud computing platforms for healthcare, education and government sectors in Shanghai (2012-2014). She has volunteered to serve as the Chief Director for the NGO "Shanghai Lujiazui Intelligent Community Information Development Center"(2013-2015). During which time, she has led several high profile smart city projects funded by the Shanghai Science and Technology Committee (STCSM).
Research interests
Online Community, Sharing Economy, Visitor Experience, Technology Innovation, Collaborative Learning
Research collaborations
Dr. Tian is the leading researcher in the "International Academic Cooperation Training Program" (2016-2019) between School of Hospitality and Tourism Management (SHTM), University of Surrey and the Economics and Management School (EMS), Wuhan University (China).
Publications
Yang, Y., van Aalst, J., Chan, C. K. K., & Tian, W. (2016). Reflective assessment in knowledge building by students with low academic achievement. International Journal of Computer-Supported Collaborative Learning.
Zhao, X., Liu, H., Tian, W., Zeng, Z., & Ye, L. (2013). Context-Aware Strategies For Recommender System On A Professional SNS Platform. Paper presented at the Proceedings of the 2nd International Conference on Computer Science and Electronics Engineering.
van Aalst, J., Chan, C. K. K., Tian, S. W., Teplovs, C., Chan, Y.-Y., & Wan, W.-S. (2012). The Knowledge Connections Analyzer. Paper presented at the Proceedings of the 10th International Conference of the Learning Science.
Tian, S. W., Yu, A. Y., Vogel, D., & Kwok, R. C.-W. (2011). The impact of online social networking on learning: a social integration perspective. International Journal of Networking and Virtual Organisations, 8(3-4), 264-280.
Tian, W., Vogel, D., Ma, J., & Gu, J. (2011). IS-Supported Managerial Control for China's Research Community: An Agency Theory Perspective. InternJournal of Global Information Management (JGIM), 18(4), 53-81.
Gu, J., Lin, Y., Vogel, D., & Tian, W. (2011). What are the major impact factors on research performance of young doctorate holders in science in China: a USTC survey. Higher Education, 62(4), 483-502.
Yu, A. Y., Tian, S. W., Vogel, D., & Kwok, R. C.-W. (2010). Can learning be virtually boosted? An investigation of online social networking impacts. Computers & Education, 55(4), 1494-1503.