Special track: Human Rights and Major Events
We welcome contribution on topics related to gender, entrepreneurship, and social policy in tourism – exploring how intrapreneurship and entrepreneurship in all forms can make hospitality, tourism, travel, and events industries pathways for more equality, diversity and inclusion (EDI) within the sector, economies and societies.
Human Rights and Major Events topics
These include, but are not limited to the following areas:
Human rights issues associated with the hosting of major events
Technology and Human Rights issues in events
Exploitation and Workforce issues in events
Leveraging the benefits of events for regeneration and development
Sustainability in events
The United Nations Sustainable
Development Goals and events
Human Trafficking and Events
Eventification and Festivalisation
Virtual, Hybrid and Immersive Events
Events for peacebuilding and reconciliation
Inter-disciplinarity in events research
Dark Events
Events, Protests and Social Movements
Ethics and Events
How to contribute
There are two ways to contribute to this track:
Oral presentation. SUBMISSION CLOSED. Outcomes will be communicated to authors by 3 February 2023. Please use the submission template (docx) to update your contribution
Poster/interactive media presentation. SUBMISSION CLOSED. Outcomes will be communicated to authors by 24 February 2023.
Contact
For more information regarding this call, please contact Special Track. HaRM Chairs: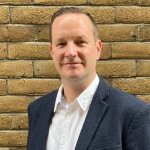 Dr James Kennell
Associate Professor in Events & Hospitality
Biography
James is a Reader (Associate Professor) in the School of Tourism and Hospitality Management at the University of Surrey. He carries out research into a range of issues in events, tourism and hospitality, with a specific focus on how politics and policy affect the governance of these industries.