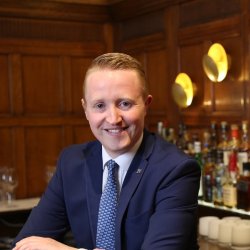 Alex Wilson
"Surrey is very good at connections with the industry. The people I met will be lifelong friends and the whole Surrey environment was so vibrant."
Course
International Hospitality Management BSc (Hons)
Alex graduated from Surrey in 2012 with a BSc in International Hospitality Management. He is Front Office Manager at five-star Brown's Hotel in Mayfair and is a government advisor on education and training in the sector, as well as volunteering for charities.
In 2019 he was named as the winner of the Young Achiever Award in the Vice-Chancellor's Alumni Awards.
What does it mean to be chosen as the winner of the Young Achiever Award?
It was a big surprise and shock! I'm immensely proud and it's a great platform to inspire students and other young people about not just entering the hospitality sector but any field they want to go into.
What attracted you to choose the University of Surrey to study for your degree?
I originally wanted to be a chef and won the Springboard charity's FutureChef competition in 2005. I subsequently spent a three-month internship in the kitchen at Claridge's but realised I was much more interested in the front of house roles. My college encouraged me to apply to Surrey and I remember attending the open day and hearing Professor Graham Miller giving a great introductory talk. I was absolutely sold and told my parents this is where I am going to spend the next four years of my life.
What were the best things about your course?
The people – both classmates and the excellent academics. There were students from all around the world and that experience stands me in good stead at Brown's where we have 40 nationalities. The course was a very good balance of practical and academic and Surrey is very good at connections with the industry. The people I met will be lifelong friends and the whole Surrey environment was so vibrant.
How did you change as a person during your time as a Surrey student?
Before my placement year, I lived at home and travelled to the University every day. I was extraordinarily fortunate to gain a place in the Royal Household for my placement – more than 300 people applied for the position. I had to move to London as a result and I learnt such a lot about myself and what I was capable of. It may sound trite but I really did go away as a boy and come back as a man. 
I wouldn't be where I am today without Surrey.
What is your strongest or happiest memory of your time at Surrey?
There isn't just one. The Food and Wine Society was a big plus and, of course, working at Buckingham Palace is a stand-out memory. I was also really proud when I learnt I had achieved the highest First in the School for my year.
Tell us a little bit about your work
My work is a lot about people – whether it is looking after our guests or training the team to offer excellent customer service. We focus on building relationships to ensure people want to come back. I have been at Brown's for three years and I see myself being with Rocco Forte in the long term. It's an organisation that really allows you to bring your own personality to the business. I hope to travel to Shanghai as we are building a new hotel there and help with the pre-opening in early 2020.
What are your business challenges?
Recruiting young people into the business and then ensuring we keep them interested to stay. Retention can be hard but we are fortunate that we have people at Brown's who are very familiar faces to our guests.
What do you consider to be a career highlight?
Definitely being part of the Royal Household but, more recently, being invited onto two government panels – Business and Administration and Hospitality and Tourism. They are looking at the new T levels, vocational qualifications that make the industry more accessible to young people from all backgrounds. I am the youngest member of the panel and there is a great weight of responsibility to get things right as we are developing the high-end strategic vision for the next five years. It's a real privilege to be part of it.
What are your goals for the future?
Surrey really set me up and forged my direction and I want to be a leading hotelier within the next 10 to 15 years. I have always been very career-driven but there is a degree of luck involved and I have been able to achieve what I have because of the people who have guided me along the way.
Tell us about your other charity roles
I have so far mentored three students for Springboard, which is focused on giving young people from less privileged backgrounds the skills they need to secure employment in the hospitality, leisure and tourism industries. I am also involved with the Institute of Hospitality and its annual awards programme.
I regularly come back to Surrey to give talks and I am still connected with my senior school, sponsoring a prize for food technology and giving advice on CVs and personal statements.
Do you see yourself as a role model?
If people can see what I have achieved, I hope that might help with their careers. I tell students to make the most of the Surrey experience and try everything they can – those extra bits in your first two years can play a big role in getting the placement you want. If you can look back and say 'I couldn't have done any more than I did' then you will be on your way to a successful career.
Discover more about our courses in hospitality, events, tourism and transport.