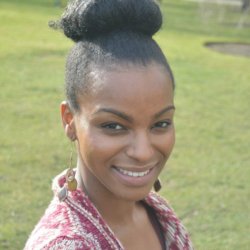 Ann-Marie Msichili
"The placement and in fact my whole degree has been beneficial to discover what I enjoy doing and what my strengths are."
Course
Criminology and Sociology
Placement company
International Recruitment Office, University of Surrey
"Studying criminology and sociology at the University of Surrey meant I could explore the two areas that I was interested in, leaving my career journey open to both disciplines. The Sociology department really helps you develop your understanding and support you to achieve to the best of your ability. This is due to the lecturers being approachable and down to earth because for me it is important that I can relate to them.
The academics are very knowledge on their areas so I trust that the information they give me is reliable. I particularly enjoy the theory based modules of both criminology and sociology.
You learn a balanced mix of classical theorists and more contemporary ones, alongside the extremely valuable research methods.
The University of Surrey has given me the space to develop myself personally through the diverse people I have met and activities I have taken part in. The environment is peaceful and I find the members of University staff positive and helpful. This is a reason why I wanted to work for the University during my professional training year.
During the year, I was part of the team in the International Recruitment Office where I was responsible for answering the queries of prospective international students. It has been amazing representing the University and travelling around the UK and abroad to speak to schools about the University. I have found the placement valuable for my degree as I am able to see how the values, opinions and concerns of different cultures affect their experiences of education.
The placement and in fact my whole degree has been beneficial to discover what I enjoy doing and what my strengths are. Now I am considering a career in international social policy and working in human rights, particularly concerning education.
This course is definitely something to invest in as the criminology and sociology academics are dependable and understanding people. The degree does not only encourage you to reflect internally on your own life, but also gets you to think critically about all the issues concerning society."
Discover more about our sociology and criminology programmes, including our BSc Criminology and Sociology.