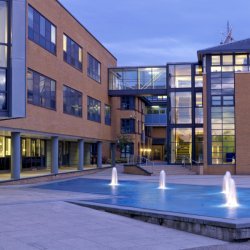 Ben Clewer
"Seeing as this is my seventh year here at Surrey now, apparently I like the place! My ultimate goal is to work on human spaceflight missions, in either the mission concept or design stages."
"Outer space has always been a dream of mine, since I first visited NASA's Kennedy Space Centre as a young child.
I decided during my time at secondary school that I wanted to work in the space industry as a career and planned to either go into either engineering or astrophysics.
In the end, it was working with physical hardware that excited me the most so I took the electronic engineering path towards a career in the space industry.
I never planned to do a PhD actually, I spent five years of undergraduate and masters going "I don't want do to a PhD". However, when I was applying for graduate jobs, I saw a post advertised by my then lecturer, and now supervisor, about a PhD in space weather radiation and in the atmosphere and monitoring it for its potential effects on the aviation industry. So I went for the interview and came out really enthused about the research topic, how promising it was and especially that it could have an impact on the aviation industry on a global scale.
I did a MEng degree with an industrial placement in space technology and planetary exploration (now known as MEng Electronic Engineering and Space Systems) here at the University of Surrey. My Professional Training placement year was spent with Analog Devices, Inc based in Newbury, UK in their Automotive Applications Department.
"I was in the right place already in terms of field expertise."
Already knowing my supervisor as a lecturer was also of huge benefit as it meant I could hit the ground running from the start as it were, rather than spend time getting to know a new place and research team.
Being in a department dedicated to space research, as well as having the time flexibility to continue my sporting hobbies has been great. The biggest challenge has been to try and think academically about research, rather than as an engineer, which is tough for me!
My supervisor, Keith Ryden, has been extremely helpful in helping me progress through my PhD so far. Simple things make a big difference, such as having an 'open door' policy where I can knock on his office door anytime I need, or allowing me to go on a work trip with other research assistants if it will benefit me. But mainly he lets me work at my own pace and create my own work flow and deadlines, which allows me the flexibility I like when working.
"I would recommend doing a PhD here at Surrey."
I am in the interesting position in that, technically, I am a student at two universities. Whilst I work here at Surrey, I am part of the NERC SCENARIO programme run at the University of Reading and am part of cohort of students spread across Surrey and Reading. 
This allows me to draw on expertise and experience at both universities. In terms of resources, most of the information and equipment I use is based within the Space Environment team and lab at the Surrey Space Centre.
As well as being a member of the University of Reading, as stated above, my research is funded by the National Environmental Research Council (NERC) and the Met Office. I was able to take a trip down to the Met Office station in Camborne to assist with the launch of another Surrey radiation detection payload, attached to a weather balloon, and will have future opportunities to fly and conduct flight trials on the Met Office research aircraft, based out of Bournemouth. In addition, the research will also work with the National Propulsion Laboratory (NPL) and Public Health England (PHE).
Being only a year into my research, there isn't too much to shout about yet. However I have managed to get the first prototype radiation unit working with an Android smartphone app I have developed. Whilst I had done programming through my undergraduate degree, smartphone application development wasn't something I had tried. Having the ability to create my own Android applications is definitely a big achievement for me and one that will certainly open doors for future career options.
Being as this is my seventh year here at Surrey now, apparently I like the place! The campus is lovely to walk around and is nicely separated from the town. However my real love here is the Team Surrey Ballroom and Latin Club. I've been with the club six years and served on its committee for four of them. It's such a friendly club where everyone comes to do something new they haven't tried before: ballroom dancing. I started as a complete beginner in 2012, and now compete at the highest level of university competitions in the advanced group. I won the Team Surrey Bob Anderson trophy at Colours Ball 2017, awarded to the most dedicated individual to a single club in all of Team Surrey, which was a real honour for me.
"It's true what they say about Team Surrey, you bleed Blue and Gold!"
The campus location and being close to London is always useful, it makes going to the West End theatres or music concerts at the O2 or Wembley nice and easy.
But being able to make international friends at the University is great too.
Recently, I got the chance to go to Romania to visit my Team Surrey Ballroom Dance partner and her family, somewhere I would never have planned to go otherwise.
What do I plan to do following my PhD? That's always a tough question! There's scope for me to stay here at Surrey even longer and continue the research on after the PhD as a Research Assistant, but we'll see when I get there. My ultimate goal is to work on human spaceflight missions, in either the mission concept or design stages. However, working at a space weather centre is also a realistic and potential option too, such as the Met Office Space Weather Centre."
Discover our programmes in electrical and electronic engineering, including our PhD Space Engineering.