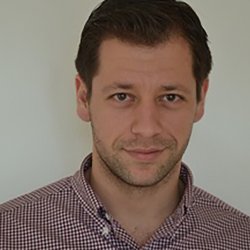 Evangelos Alexakis
"As I progressed throughout my degree, I developed as an individual and as part of a team."
Course
Structural Engineering MSc
"Structural Engineering is one of the most challenging disciplines of engineering. Surrey's MSc programme gave me the opportunity to meet the needs of engineers engaged in the field of structural engineering, and enhance my expertise in this area.
As I progressed throughout my degree, I developed as an individual and as part of a team. Having studied full-time, the course pushed the boundaries of what I thought I could achieve, which was really rewarding.
Experienced academic members of staff, in combination with visiting specialist lecturers, greatly enhanced my analytical problem-solving skills and the support facilities provided me with all the necessary resources to complete a number of challenging projects.
Surrey's MSc in Structural Engineering was a career-orientated course, covering both theoretical and practical design considerations, which enabled me to gain a deeper understanding of the field thus providing me with the means to get where I am today; working as a Structural Engineer in the oil and gas industry."
Discover more about our civil and environmental engineering programmes, including our MSc Structural Engineering.