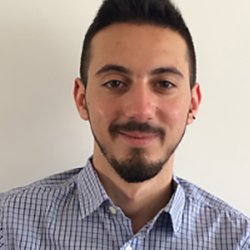 George Kapetanios
"I'm in a great position as Surrey has prepared me well for a career in academia or industry."
Course
Information Systems
"I received my bachelor's degree in Computer Science from the University of Crete in Greece. I'm now studying an MSc in Information Systems within Surrey's Department of Computer Science.
I'm passionate about developing software and have a real desire to see the managerial and theoretical side of computing. Deciding to come to Surrey to study Information Systems was a natural choice for me as it's one of the best universities in the UK, and I thought that the Department's research fields and range of modules will give me an edge over other candidates from other universities.
I was a bit terrified at first at coming to a new country, but as I got to know my colleagues, who were wonderful, and with the warm welcome that I received from staff and lecturers, Surrey started to feel like home in no time.
Some of my favourite modules include 'Information Security Management', 'Challenges for Computing Professionals' and 'Project Management and Business Strategy'. The project management module enabled me to participate in the organisation and execution of a conference and I even got to meet an IBM project manager and chat with him, one-to-one. 
I've regular meetings with my supervisor regarding the progress of my dissertation. I'm extremely grateful for their availability, willingness to answer questions and also want to stress that it's not just the supervisors who are good at communication – all lecturers within the Department are more than happy to chat and discuss the subject with you.
As for the future, I could either take a PhD to progress in university teaching, or apply my knowledge within specific companies. I'm in a great position as Surrey has prepared me well for a career in academia or industry. Acting as the course's representative also enabled me to represent my colleagues and improve my people skills."
Discover more about our computer science programmes, including our MSc Information Systems.