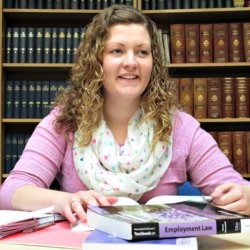 Grace Housden
"I have been able to tailor my degree to my own interests and future career."
"After attending the open day at the University of Surrey, I came away realising exactly what the LLB Law programme had to offer.  It was important for me to be fully informed about my university choices. A unique opportunity that the University of Surrey provides is the professional training year and ultimately I felt Surrey was a place where I could enjoy my time at university. 
I am interested in Law because I like the links it has to current affairs. It is a versatile subject and while there is a defined career path (if you choose the solicitor or barrister route), many non-law related companies regard it as a very well respected degree discipline.
The structure of the course at the University of Surrey is flexible where in your second and final year you have a wide range of choice in modules. I have been able to tailor my degree to my own interests and future career. The School of Law has some excellent facilities such as the Law library and the computers are available whenever you need them. My lecturers are friendly and approachable as there is an open door policy whereby you can ask questions during their office hours. I also like the fact the tutorials are taught in small groups as this has allowed me to improve my understanding of areas which are often difficult to grasp within a comfortable setting.
Outside of my studies, I have had the opportunity to represent the University as a student ambassador. I have taken a lot out of this role. Not only has it meant that I have been able to socialise with friendly people from different degrees and in different years, I have also developed a lot of key skills that I will need for future employment.
I have changed so much as a person as a result of coming to the University of Surrey. I have learnt a lot about myself and what I want to achieve. This is thanks to all the opportunities that Surrey has to offer. I am currently applying for training contracts which sponsor and pay for the Legal Practice Course, as well as offering two years of fixed employment and training that is required to qualify as a solicitor.
The time I have spent at the University of Surrey has flown by but I have got a lot out of my time here, as well as making the best of friends!" 
Discover more about our law programmes, including our LLB Law.