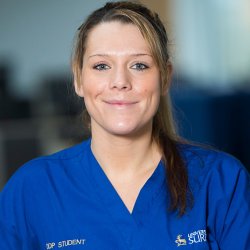 Katy Bridges
"The staff at Surrey are really helpful and supportive."
Course
Operating Department Practice
"I decided to study my programme after talking to an operating department practitioner who explained their role to me and inspired me to go down this route. I was proactive and applied for a job as a Healthcare Assistant, working on a daily basis with operating department practitioners, and this only enhanced my determination to pursue a career in this interesting and demanding field.
I choose the University of Surrey because of the links they had at the hospital I wanted to work at and their impressive performance in the league tables.
The aspects of my course that I've enjoyed the most have been varied. I really enjoy being on placement and gaining experience whilst increasing my confidence, but I also really enjoyed Anatomy and Physiology in my first year. These modules were really interesting and gave me a really good knowledge base that I was able to build on in my second year whilst taking my intra-operative and post-operative lessons.
My greatest achievement in 2015 was being able to develop not just my practical skills during my placement and putting myself outside my comfort zone, but also improving my essay writing skills.
I undertook my placement at East Surrey Hospital. All placement students were given a portfolio with specific criteria to achieve and I was able to spend time orientating myself in a new role. I really enjoyed getting more involved with the procedures and learning new skills in anaesthetics.
I believe that placements are an important experience in which you are given the opportunity to build your skills and confidence. Being an operating department practitioner is a very practical role, so simply learning the theory behind it would not suffice.
I think Surrey is a fantastic university to train at, so I'm very happy I made the decision to come here. The layout of their Operating Department Practice programme is great, providing you with both a placement and the time to study the theory."
Discover more about our health sciences programmes, including our DipHE Operating Department Practice.