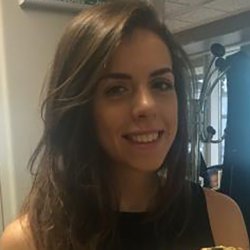 Keryn Landey
"My biggest achievement on placement was being recommended by my manager for the Lloyds Banking Group Graduate Leadership Risk Programme."
Course
Mathematics BSc (Hons)
Placement company
Lloyds Banking Group
When Keryn Landey attended an assessment centre for Lloyds Banking Group as a prospective placement student, she never suspected that a year later she would be sitting on the other side of the table!
Demonstrating the excellent impression Keryn made at the company during her Professional Training placement, she was asked to observe and instruct students at several assessment days, which gave her an interesting insight into what assessors are looking for.
"I worked within the Group's Mortgages Operation and CA&D (Customer Analytics & Decisions) department, and was given a high level of responsibility throughout my placement year.
I played a lead role in a business change project which saw hardware upgrades for over 1,200 colleagues – a task that required me to chair meetings, approve sign-offs, and influence and challenge the decisions of colleagues, including those senior to me.
Just three months into my placement, I was given a 'Riskognition' award in recognition of my hard work on the project. I was praised for being a key driver in the project and for its success – something I'm really proud of.
My final project – an analytical investigation into how the Group could improve its Mortgage Behaviour model – required me to work independently as the sole driver. This project incorporated all the key skills I had developed throughout my placement, both technical and analytical. It included doing a lot of coding on a software called SAS, presenting an overview of my investigation to senior colleagues, and rebuilding the model for investigative purposes.
I also learned the importance of social interactions at work as a way of boosting morale. I organised and ran a weekly 'bake off' every Monday, when colleagues would bring in a bake on a theme, and everyone in the department would try a piece and vote for their favourite. It was really good fun and resulted in colleagues actually looking forward to work on Mondays!
However my biggest achievement on placement was being recommended by my manager for the 2017 Lloyds Banking Group Graduate Leadership Risk Programme. Following an interview and presentation, I have secured a conditional offer for the highly competitive scheme and I am excited about returning to Lloyds Banking Group when I graduate from Surrey!
In addition to a graduate offer from one of the UK's leading financial institutions, the key thing I have gained during my Professional Training placement is confidence. During my first and second years, my confidence and self-esteem were low, and without my personal tutor, I would have struggled. My placement year really taught me the value of self belief. My confidence and belief in my own ability have developed massively as a result of my placement year."
Read about our mathematics programmes, including our BSc Mathematics.