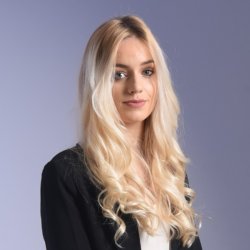 Sophie Bradbury
"Staff and students will encourage you to be the best you can be."
Course
International Events Management BSc (Hons)
When searching for a university that matched my ambitions, Surrey stood out as a top contender. Being so close to London, it presented attractive career opportunities, in regards to the Professional Training Year and graduate opportunities. I first came to the University on the open day and fell in love with the campus, the course leader and happy atmosphere that the University had.
During my time here, I made some life-long friends and even met my fiancé! I ran my first event, became a Student Union Executive, went on a volunteering trip in collaboration with the University in Fiji, dined with the Chancellor on my graduation day, became Placement Student of the Year for my faculty, and worked in the press department at BMW for a year, working on press launches and flying all over the world. I am forever grateful for the best four years of my life at Surrey.
"The course was made up of diverse and interesting modules in a wide variety of business areas, that help you to develop business acumen and the confidence to develop your ideas."
The stand-out highlights of the course were the interactive and practical modules, where you plan and run your own events in a small team. It was great fun to apply your learnings in a practical way and so few university courses offer this opportunity.
I currently work as an Event Executive in a large corporate subscription and networking business. The work focuses on building and strengthening business-to-business relationships through organising and hosting key industry events, such as awards ceremonies, careers fairs, conferences, exhibitions and festivals. The work is diverse, and I love working for a company that covers a plethora of brands; it really mixes up the work, which is important for me.
At Surrey, the experience in industry was invaluable and I learned many things, both about myself and about the world of events. The Professional Training Year made me realise that I wanted to pursue a life-long career in events. It also taught me that whilst I wanted to work in events, I needed to work within an industry I am passionate about.
To new and prospective students, I would advise you to get as much experience as you can and say yes to every opportunity. Get a part-time job in events, work those one-day event opportunities your course leaders present to you, say yes and build a reputation for yourself and the opportunities and benefits will follow. Secondly, fall in love with your career choice and always keep an open mind.
Staff and students will encourage you to be the best you can be. The University of Surrey offers you many opportunities to try new things and push your boundaries. Never be afraid to take these opportunities and always keep your eyes open for the next opportunity to develop yourself and your career.
Discover our programmes in hospitality, events, tourism and transport, including our BSc (Hons) International Event Management course.