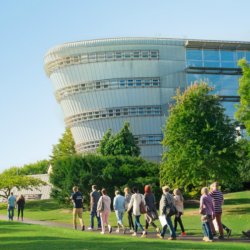 Yue Cao
"I was fascinated by the development of the internet."
"I came from China to study a PhD at Surrey on 'Geographic Routing in Delay/Disruption Tolerant Networks'.
I chose to research this subject because I was fascinated by the development of the internet, especially 'Delay/Disruption Tolerant Networks' (DTN). I explored the rising popularity of the Global Positioning System (GPS) throughout my studies and analysed how this system helped those on DTNs.
During my PhD, I was lucky enough to have had nine conference papers and six journal papers accepted, and benefited from great supervision. My supervisor provided me with academic advice for my research, as well as tips on article writing.
I'm now working as a Research Fellow in Surrey's Centre for Communication Systems Research. My long-term aim is to become a Professor, specialising in mobile wireless network communications.
To anyone out there considering a PhD in Electronic Engineering, I would say go for it, but also that it's important to be self-motivated, ambitious and hard-working."
Discover more about our engineering courses.