2000 to 2009
Find out where has life taken Surrey alumni who graduated between 2000 and 2009.
Yasir Khan, MSc Tourism Management (2009)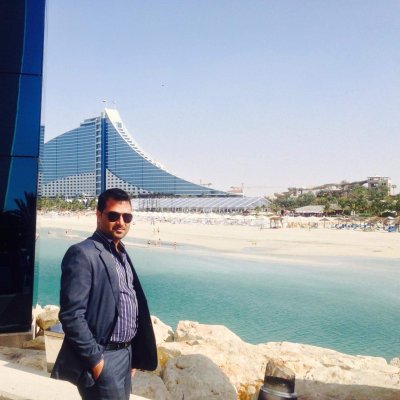 I currently run a travel agency with the name of HYK TRAVEL in Dubai (UAE) since 2019, after finishing my Msc in Tourism Management from Surrey back in 2009, I worked for different travel and tourism companies in UK, Pakistan and UAE and eventually ended up starting my own travel company.
I also have been mentoring students at Surrey and feel privileged to be part of the alumni network. Every now and then I follow the footmarks of our teachers at Surrey and try to share the knowledge that was once given to us to others by giving lectures on tourism in different universities. Surrey was a life changing experience and it gave me a direction to where I am now, no doubt that it is one of the best places to be if you want to pursue your career especially in Tourism and hospitality.
Petar Curic, MMus (2009)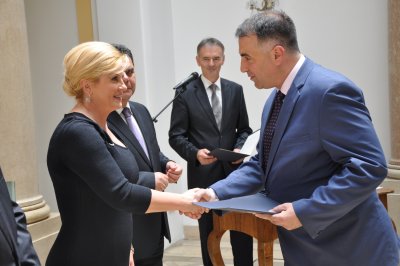 I have recently been appointed as a member of the President's own Advisory Board for Nation Branding of the Republic of Croatia. The President of Croatia, Mrs Kolinda Grabar-Kitarovic, has formed this presidential committee inspired by the Branding Croatia Conference which I personally founded and have continuously presided over since 2014. I am pictured with her.
Arsalan Hussain, MSc Management Information Systems (2008)
Life has been a rollercoaster since I graduated from Surrey. I got twins after marriage and moved to Saudi Arabia, I have taken the big challenges for new start-ups. Recently, I have been working with Noon.com as Sr. Regional IT Manager, one of the biggest start-ups in the Middle East and challenging Amazon in the region.
Professor Ismail Abbas, PhD Chemistry (2007)
After gaining a PhD in Chemistry from the University of Surrey (UK) in 2007, I worked for two years as Production Chemist at Oxford Chemicals Ltd (UK) before re-entering academia with Lebanese American University (LAU) and Beirut Arab University (BAU) in 2009. I am currently a full professor of Chemistry at Lebanese University where I teach different chemistry courses. The main focus of my research is Environmental pollution and protection. My work involves 1) Solid Waste Management 2) Synthesis and applications of supramolecular compounds. 3) Designing and constructing pilot plants for the removal of heavy metals, toxic anions, and organic pollutants from wastewater and 4) developing of ion-selective electrodes.
Overall, I believe my job has brought me much more joy than challenge. "It is so enjoyable to watch students and postdocs grow in their experimental acumen, their command of the literature, and their ability to stand on their feet. I am fortunate enough to have this job and I do think it is the best job in the world.
Kelvin (Choong) Yeo, MSc Signal Processing & Machine Intelligence (2007)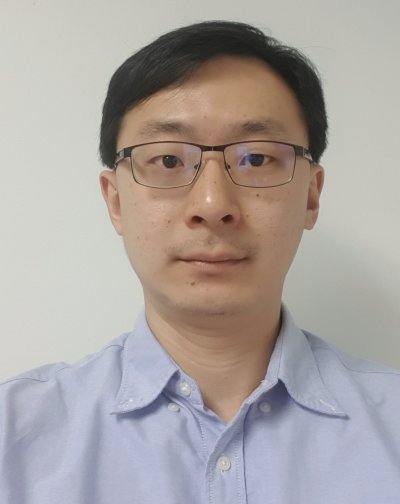 Once graduated, I went to Singapore and landed a job in National Instruments as an Internal Sales Engineer in 2008. I then joined Darco Engineering Pte Ltd. From handling water treatment to handling wastewater treatment projects, operations and services, I've advanced to the Sales & Service Manager in the organisation. I hope to reconnect with my course mates and house mates. Miss Surrey and the UK and hope to visit it with my wife and children soon!
Professor Michail Toanoglou, MSc Tourism Management (2006)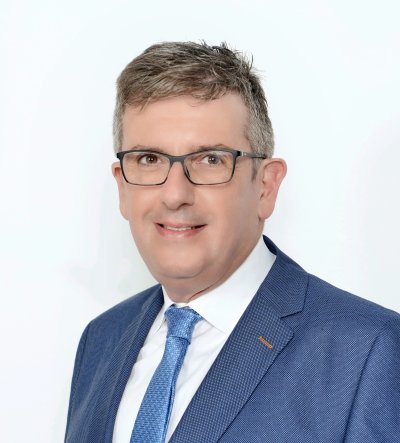 I have been actively involved as a General Manager and Consultant in Destination Sustainable Management and Marketing for regional organizations. For more than 25 years I was managing 4 & 5-star hotels in Greece and has provided competitive added value in various tourism and hospitality development projects.
I also have an academic and research background with fifteen years of teaching experience in higher tourism and hospitality education and being involved in projects in sustainable tourism development and destination management & branding. With significant consulting contribution in private and public sectors, I implemented strategic development projects for regional public authorities and hotel companies. I have essential publications in sustainability and carrying capacity and with a further contribution to international tourism and hospitality conferences I keep an active bond with the global tourism and hospitality academia.
Since 2015 I have teaching and administrating roles as a professor organizing undergraduate and graduate programs of Hospitality and Tourism in Woosong University and now in Jeonju University in South Korea.
I am active member of the following Organizations 
EPOT - Tourism Think Tank (Founding Member)
GSTC (Global Sustainable Tourism Council), 
PATA (Pacific Asia Travel Association), 
AMFORHT – World Association for Hospitality and Tourism Education & Training.
Robert Smith, BSc Business Management (2006)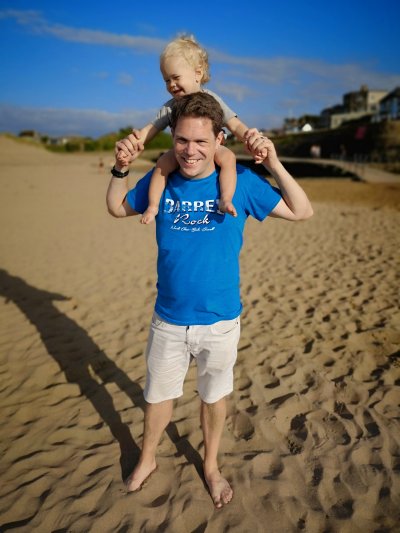 Following graduation I qualified as a chartered management accountant, training at Philips Electronics in Guildford before moving on to other companies such as Alliance Boots & KFC. Now I am a global finance project manager for a pharmaceutical firm and spend a lot of time between the UK , Tokyo & Chicago.
Ahmed Abdulqader, PhD Accounting (2006)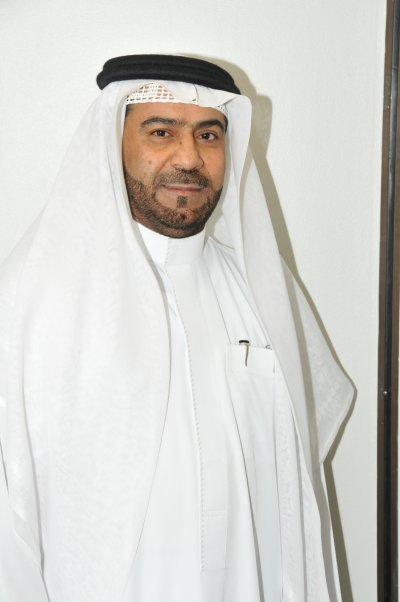 I took my BSc in Accounting at University of Bahrain in 1985, which gave me the opportunity to work for one of the largest audit firms, Peat Marwick International (now called KPMG). In 1987 I moved to the Ministry of Finance and National Economy as an auditor, and subsequently Director of Audit in 1995. During this period, I received an MBA from the University of Bahrain and became a Certified Public Accountant. In 2003, I was appointed by a Royal Decree to be the Deputy to the President of the National Audit Office of Bahrain. My PhD opened the door for me to practice as Assistant Professor at the University of Bahrain after I decided to leave the National Audit Office in 2013.  I now have my own small financial and administrative consulting company. Of course, my gold life achievement, was to marry the most beautiful woman in my life and become a father of two daughters and three sons, and the grandfather of two beautiful girls and two handsome boys.
Mohamad Abou Laban, MSc Management (2005)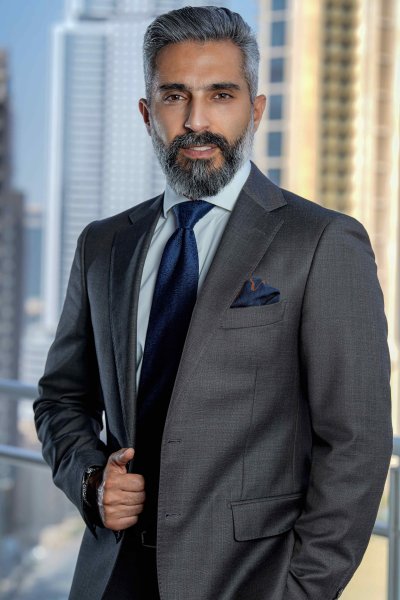 I celebrated a double success this month. I am Chief Executive Officer of Deyaar Facilities Management and was presented with the 'CEO of the Year' award at Innovations in Facilities Management Awards 2021, held in Dubai by Construction Business News ME and crowned FM Executive of the Year title at the Facilities Management Middle East Awards 2021.
I have ensured that no staff were laid off in 2020 due to the pandemic, and neither were pay cuts introduced. We retained all our staff and grew our workforce by 32% compared to 2019; which resulted in a 25% growth in revenue compared to 2019. I've won this on behalf of the team. The team has been great in supporting each other and delivering exceptional services during the pandemic and even before it
Dr Neil Bruce, MSc Multimedia Signal Processing and Communications (2005)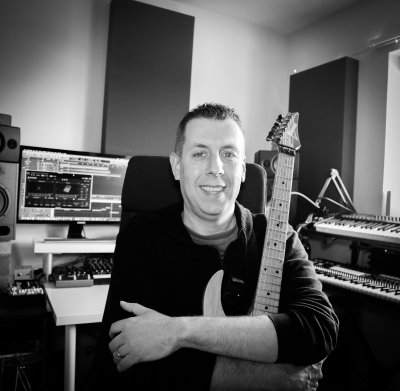 I am a sound artist, designer, recordist, and composer who attended Surrey to do a MSc in Signal Processing. My time at Surrey led me on to completing a PhD. I specialise in creating immersive sound-worlds, creating sonic content for film, games, apps, audio brands, installations, VR, AR and public spaces, as well as soundscape research work based around soundscape simulation.
My creative and research practice involves using sounds, field recording, sampling, soundwalking and composition to examine and reconsider the psychological impact of soundscape on wellbeing and understand the emotional impacts of sounds. 
Additionally, I have performed as a guitarist both solo and with various musicians all around the world and have worked in the studio with iconic artists such as Al Green, Barbara Cooke, Jimmy Page and Robert Plant. With over 40 million streams, I also release music and sound art under the name Light B4 Sound.
Benjamin Fredlund, BEng Civil Engineering (2005) and MSc Water and Environmental Engineering (2006)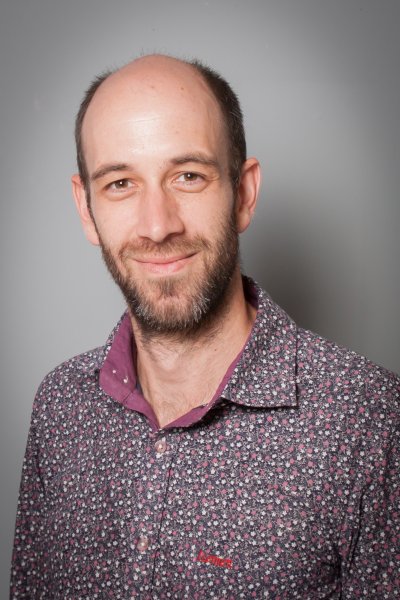 I am based in Durban, South Africa where I currently lead the Africa Water & Wastewater Treatment team for engineering company AECOM. I'm responsible for a wide range of municipal and industrial treatment and infrastructure projects across Africa.
Minis Terlidis, MSc Structural Engineering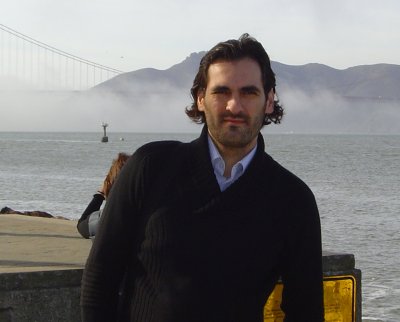 Almost 15 after my graduation, life has taken me into interesting routes. After having lived in various countries, e.g. UAE, USA, Belgium, Vietnam and others I returned to my home country Greece to work for one of the world's largest investment companies, BlackRock, for property investment. Along the way I met my wife, married and had a son named Nicholas. My professional journey recently took me into investing, developing and managing  boutique hotels and we are also developing one more. I always remember my days at Surrey, as the most joyful ever, while the skills I learned during that time are an invaluable asset for my professional career.
Will Hall, BSc Business Management (2005)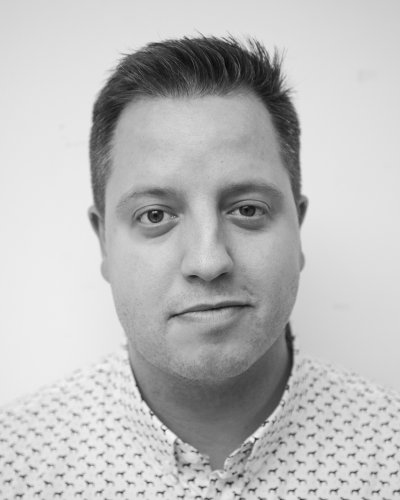 Since Surrey, I've forged a career in branding. Living in Bath and working in London, I am Strategy Director for one of the world's oldest and most successful brand agencies: Landor. I work with and for some of the world's biggest brands, from Barclays and BP to the Football Association and Starbucks. No day is ever the same, and I'm constantly inspired by the brilliance of others. I'm married to the love of my life, Pollyanna, and we're expecting our first child in August.
Andrew McAllister, MEng Electrical and Electronic Engineering (2005)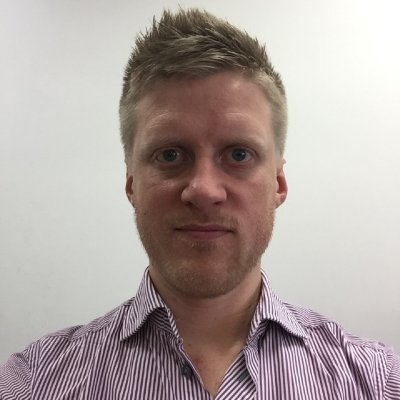 I have worked in a number of industries doing electronics/product design/development inc test equipment (Gen3 Systems), automotive Perei/Lite-Wire, military (DRS UK), Retail (DisplayData), gas (Linde/BOC). I have worked as an employee since I had a paper-round at 12 until this year. I have been steadily been building my own business in my spare time over the last seven years (mainly over the last two years) whilst getting married and having my first child to now dedicate my working life to my business which is now able to support my family. Work/life balance has been a struggle, now finding my feet as a business owner, able to direct the business and implement best practices and put all of my experience into practice.
Socrates Delaportas, MSc International Marketing Management (2004)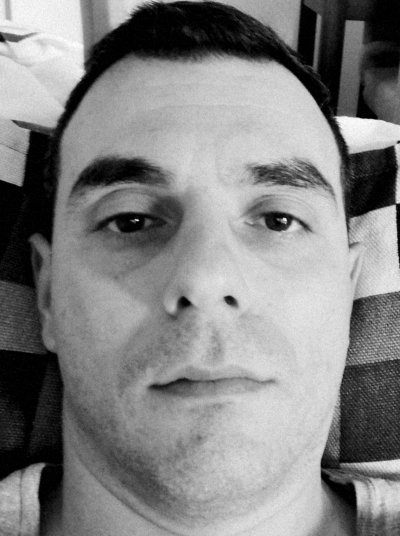 Life in and studies in UniS has been a milestone for my life since when I graduated I was only 24 and now I am 39 already. I have family and have been working for many years in the maritime industry where knowledge of management, international trade and, of course, the international living of UniS assisted me in adopting the global character that the maritime industry has.
Ben Morales Frost, CertHE Stage Management and Technical Theatre (2003)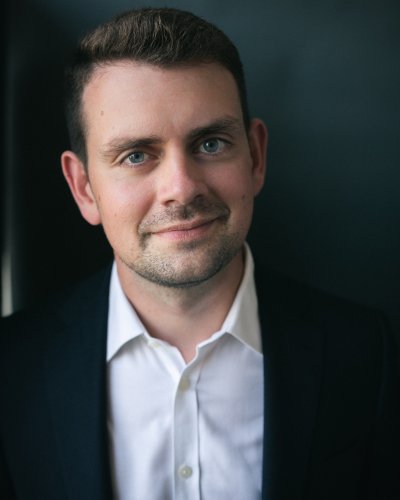 I have spent the last few years composing scores for several feature films, a Channel 4 reality production, and a number of musicals including The Sorcerer's Apprentice which opened to a streaming audience during lockdown. The show is now being prepared for a larger live version in London 2022, in addition to a new musical version of Graham Greene's Our Man In Havana opening at the Watermill Theatre. I am also planning to release an EP of original music later in 2021.
Shatha Al Maskiry, MBA (2003)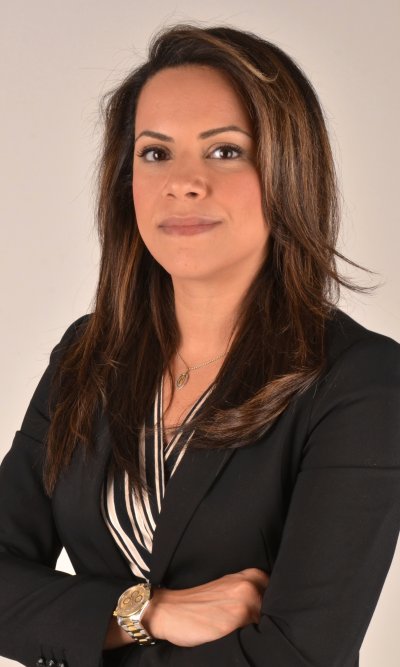 After graduating, I joined Shell Oman Marketing and spent just under two years as the Head of Treasury and MIS. I then rejoined PwC for two years in the USA as part of the Leadership Team for System & Process Assurance. I've spent the last 10 years with Protiviti in Oman, and I'm currently the Country Managing Director. Today, I'm part of the leadership team at a Middle East level.
Steve Motion, BSc International Hospitality and Tourism Management (2003)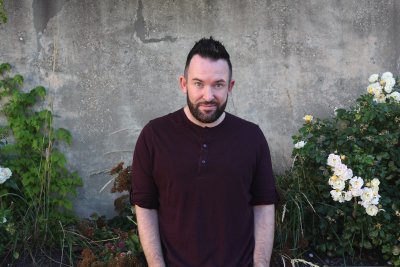 After graduation, I worked in hotel and restaurant management for seven years in Radisson Blu, TGI Fridays and Pret a Manger before recognising the growth in the restaurant technology adoption and joining Bookatable.com. I helped scale the business to its acquisition by Michelin in 2015. I then took my tech experience to the USA, moving to New York for three years to lead a new restaurant discovery and mobile payment app called Velocity. I then came back to the UK briefly to consult for Zonal, the UK's leading restaurant and bar EPOS solution. Missing the US and proudly securing an Exceptional Ability Visa in 2018, I'm now the Director of Sales and Marketing for a Washington DC-based restaurant CRM company called Venga.
Ruth Wolseley, Midwifery Studies (2003)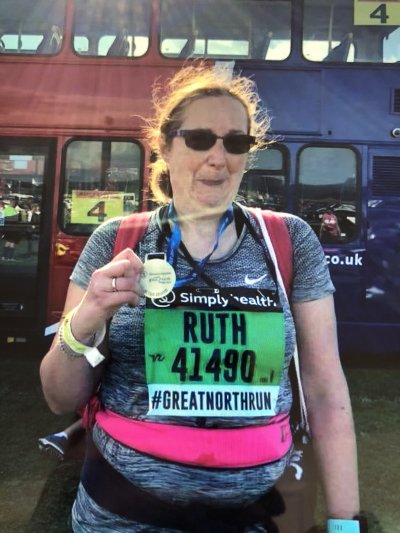 I moved to Newcastle a year after graduation and have stayed there ever since. I work at the RVI the Tertiary referral centre for the North East so I have gained so much experience. I completed my post registration degree in 2017. I still love to travel and experience new things including abseiling Table Mountain,  zip lining in Dubai and learning a new martial art at Tiger Mauy Thai in Phuket. Last year I did my First Great North Run which was amazing and definitely aiming to do it again. I was one of the choir members who flash mobbed the Proms in the Park for the BBC. I'm a member of the Surrey Angels and am so proud of how they have grown since our little band of five first competed all those years ago. I'm still and geek and proud of it. Had a wonderful time at Surrey and can't believe it's been 20 years since I began.
Sally Wooding, BA Combined Studies (2002)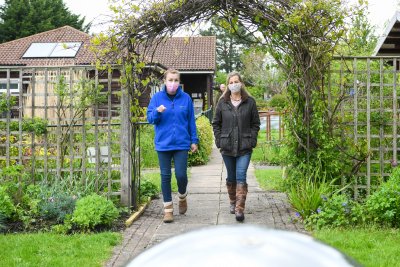 I have spent the last ten years working as a fundraiser for a small charity local to the University, based in the village of Normandy. The Therapy Garden offers social, educational and therapeutic horticulture to those members of our community living with mental health challenges. The last two years have certainly been a challenge for fundraisers because of the pandemic, and the demand for the services of the Therapy Garden have gone through the roof as people work through the challenges of anxiety and depression that have been the fallout from the lockdowns. However, I love the work which is so rewarding and enjoy remaining in the area, practically in the back garden of the University! I even had the honour to welcome HRH the Countess of Wessex to the Garden earlier this year!
Associate Professor Lisa Heather, BSc Biochemistry (2002)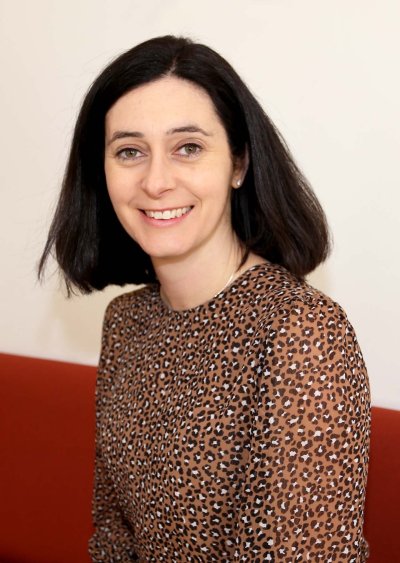 During my time at Surrey I was inspired by one of my lecturers (Prof Jack Salway) to pursue a PhD in metabolism. I completed a PhD at the University of Oxford in cardiac metabolism and it's role in diseases of the heart.
In 2011 I was awarded an RD Lawrence Early Career Fellowship from Diabetes UK followed by a British Heart Foundation Fellowship in 2018, to establish my own research group at the University of Oxford studying the metabolic effects of type 2 diabetes on the heart. My research has featured in the Guardian, Daily Express and i newspaper. We are trying to understand how diabetes causes increased risk of heart failure, and to develop new therapeutic approaches to reverse this. 
Kristina Evelyn, MBA (2002)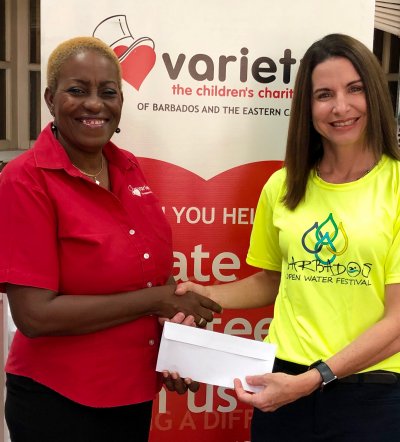 While studying via distance learning for my MBA, I was working with Ernst & Young in my homeland of Barbados. Since then, when I had young children, I became self-employed and am now running two international sporting events on the island - Run Barbados Marathon Weekend and Barbados Open Water Swim Festival. I have been an avid sportsperson my entire life so enjoy marketing, promoting and organising sports tourism events. With this new path and the ever-changing marketing landscape, I had to return to school to study digital marketing! Never too old to learn. The picture is of our annual donation from the Swim Festival to our charity partner Variety - The Children's Charity. Both events support charity, junior sportspeople and active lifestyles. In my spare time I also volunteer with a charity called the Ubunye Challenge which assists with early childhood education in poor, rural areas in South Africa.
Janet Wardle, BSc Combined Studies (2002)
News from me is simple - I have been growing happily old in my own home in Surrey. The previous years spent as a travelling UN wife. These years have provided an opportunity to indulge in archaeology, in which I took my BSc with Surrey. My house is 200 years old; it was once a pottery. Absalom Harris was a tenant before he went to Wrecclesham. Many hours spent researching in the excellent Surrey History Centre at Woking led to the discovery of the original 'Fine', when land was taken out of the 'Bishop of Winchester's Waste'. 1832 Parliament passed the Commutation Act, when the Tithe system was changed to monetary and caused as much furore as our present Brexit. Ancient Deeds reveal the ambitions of the owner, a farmer and potter, William Etherington his life and times as a Victorian. Absalom Harris potted here as a tenant aged 23 years old. He began his family, with two sons born in these cottages. We have raised three children likewise. I almost have a paper ready to print so my next hope is authorship.
Marguerite Shepherd, MSc Information Systems (2001)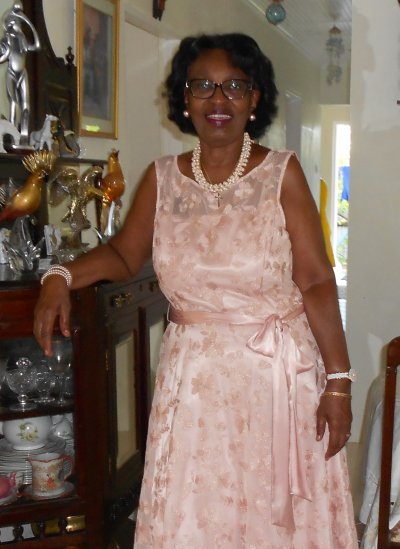 I was promoted to Manager of Information Systems at the Customs and Excise Department. I was involved in setting up the ASYCUDA plus + systems, which was a modernization project to upgrade several departments, including the VAT Division. Since then I have retired and enjoying myself cruising, sea-bathing and taking in some horse racing.
Christine Crouch, BSc Applied Psychology and Sociology (2001)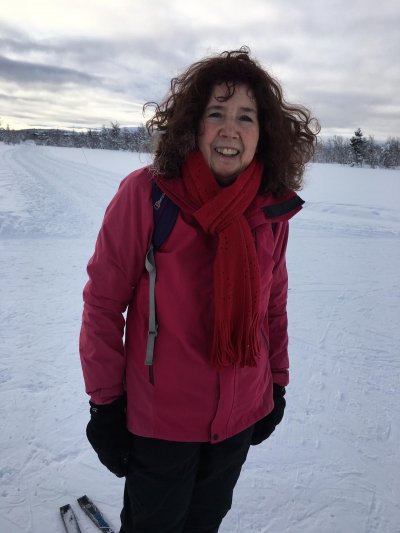 I went to work as project assistant for the NHS Modernisation Agency at the Royal Surrey County Hospital, then became Theatre Project Analyst and eventually went to work at St Peter's Hospital, Chertsey as an Information Analyst where I worked my way up the various pay grades and acted as Information Manager for nearly two years in 2010 and 2011.  I am currently retired and have a beautiful granddaughter, now aged 18 months.
Sigga Eyrun Fridriksdottir, Diploma in Musical Theatre (2000)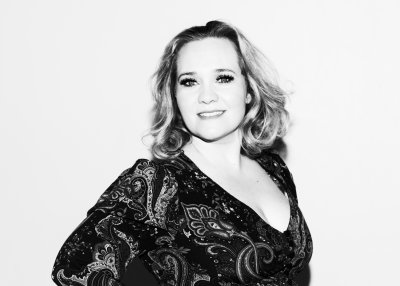 I graduated from Guildford in 2000 from the Musical Theatre One Year program.
Since then I have been busy doing voiceovers for cartoons in Icelandic (Joy in Inside Out, Peppa Pig's voice, Judy Hopps in Zootropolis to name a few). I have worked in major musical productions at the National Theatre of Iceland and the Reykjavik City Theatre, I was runner up for Iceland's preliminaries for Eurovision in 2014 and am currently an actor in residency at The National Theatre of Iceland.
Natasa Diamanti, MA Translation (2000)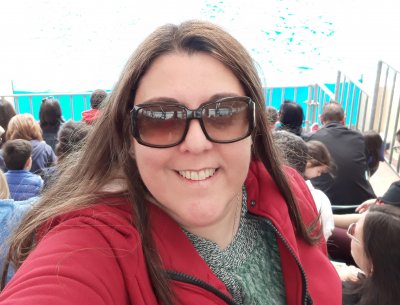 Back to my hometown, Mytilene-Greece, working as an English teacher in state schools, and married with twins (a son and a daughter).