For business
We are engaging business and building partnerships.
At Surrey Business School, we've created a vibrant and stimulating environment in which our faculty, students and alumni work with corporate businesses, SMEs, start-ups, national and local policy-makers, government and the third sector.
Engaging with business and developing partnerships is at the heart of the vision of Surrey Business School. Using a hands-on approach, we reach-out and collaborate with different industries to create new and innovative ways of improving business practice, pioneer research with real-world application and deliver a world-class education and learning experience.
As well as working closely with a broad spectrum of businesses, agencies, governmental bodies and charities; Surrey Business School also invites a select number of organisations to become recognised as working more formally in partnership with us. Our partners benefit from knowledge exchange, support for their strategic aims, and access to world-class research and excellent graduates.
There are a number of ways you can work with our students, faculty and other partners, in order to benefit from our research and teaching:
Testimonials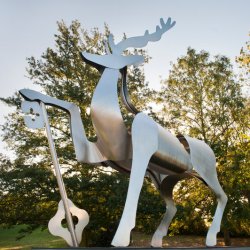 "I can collaborate with some of the best business minds in the world. I gain a competitive edge, as well as access to the best graduate talent."
Gavin Whichello, Owner and Chairman, Qube Learning
Contact us
Whether you work with us already, or are interested in how a partnership with Surrey Business School can help you achieve your business goals in the future, please come and talk to us about how we can work together.
Who we work with
At Surrey Business School, we've created an innovative and stimulating environment in which our academics, students and alumni work with international corporate businesses, SMEs and government, offering bespoke consultancy and applied education programmes.