Study
Our courses have been developed alongside industry leaders, to ensure you have the skills required for your chosen profession within the translation and interpreting field.
What our students say
Read our student profiles to discover first-hand what it's like to study with us.
The course is well organised; not only does it focus on practical skills, such as simultaneous and consecutive, but also on interpreting theory.
GLORIA TRASATTI, MA INTERPRETING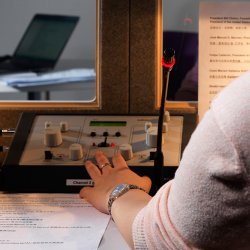 Facilities and software
You'll benefit from excellent facilities, including specialist software to support corpus-based analysis, subtitling, computer-assisted translation and terminography and audio-description. We're also home to state-of-the-art interpreting facilities with integrated videoconferencing.
Language support
We have a dedicated team here to support your language needs throughout your studies.