Postgraduate courses
Every day in the life of a translator and interpreter is different and requires creative decision-making, and up-to-date knowledge and skills. As a student on our courses, you'll learn for the real world, giving you the skills required for your chosen industry.
What our students say
Read our student profiles to discover first-hand what it's like to study with us.
The course is well organised; not only does it focus on practical skills, such as simultaneous and consecutive, but also on interpreting theory.
Gloria Trasatti, MA Interpreting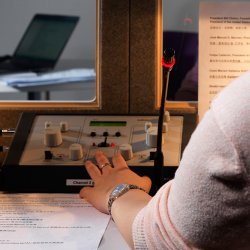 Study abroad
You have the opportunity to acquire international experience as part of your studies, by taking advantage of exchange agreements with our partner universities.
Locations of our partner universities include France, Germany and Spain.
Facilities and software
You'll benefit from excellent facilities, including specialist software to support corpus-based analysis, subtitling, computer-assisted translation and terminography and audio-description. We're also home to state-of-the-art interpreting facilities with integrated videoconferencing.
Language support
We have a dedicated team here to support your language needs throughout your studies.
Highly customisable courses
You can choose from a range of optional modules
You can customise your learning for your chosen career
Language-pair specific practice
We combine translation with technical, business and financial texts
We also conduct consecutive and dialogue interpreting
Transferable skills
We encourage the development of communication, project management and business skills
Our courses help prepare you for your chosen profession
Industry links
We regularly invite experienced professional translators and interpreters to give talks and contribute to modules
We develop our courses with industry leaders to ensure they are relevant
Virtual internships
Our internships enable you to collaborate with language service providers throughout the year
Opportunity to create a professional engagement portfolio for potential employers
Graduate employment
Recent graduates have gone on to work as translators, interpreters and project managers

Scholarships and bursaries
Discover how we may be able to support your studies with a host of bursaries and scholarships directly from the University of Surrey and external providers.