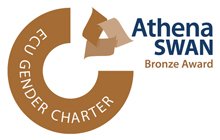 Gender equality in the Department
Our Department is proud to hold an Athena Swan Bronze award. The Athena Swan Charter is a global initiative which aims to support and transform gender equality within higher education and research, with awards that are given to institutions that recognise their commitment to advancing women's careers in science, technology, engineering, maths and medicine.
Athena Swan Charter
Help institutions achieve their gender equality objectives
Assist institutions to meet equality legislation requirements
Use a targeted self-assessment framework to help applicants identify areas for positive action
Support the promotion of inclusive working practices.
Steps to success
We outlined a number of actions we planned to take in our submission to help us achieve gender equality.
Building awareness
Produce a newsletter to provide visibility and awareness of Athena Swan actions to staff and students
Enrolment rates
Improve the number of applications from women by 4% and enrolment rates by 2%
Promoting our women
Build on advertising of our female staff and student careers, activities and achievements
Equal opportunity
Make the ratio of appointments to applications for both men and women candidates the same by 2023/24
PhD applicants
Increase our female applications, especially from our own undergraduates, to gain more female PhD students
Promotion prospects
Maximise women's success in promotions to at least as high as men
Celebrating women in our department
Professor Anne Skeldon tells us about research on mathematical models for sleep, light and the body clock, and predicting the effect of moving school start times and of permanent daylight saving.
Meet the committee
The Athena Swan team is composed of a diverse group of staff and students, all working to implement the changes envisioned in the action plan.